Founded in 1902, National Fuel Gas (NYSE:NFG) is often overlooked by most utility and natural gas investors. This mid-cap company has all the natural gas bases covered - natural gas regulated utility, natural gas E&P, natural gas pipelines, and natural gas storage. If you like natural gas as a long-term investment, NFG should be strongly considered for your portfolio. NFG offers pipelines and E&P diversification for gas utility investors and utility exposure for pipeline and E&P investors.
Natural Fuel Gas serves 732,000 customers through its regulated gas utility in the greater Buffalo area, down the eastern shore of Lake Erie to Erie, PA, and over to Jamestown, NY, and Sharron, PA. The utility segment will contribute about 25% of anticipated 2012 earnings. There is not much exciting about the utility segment, except for the traditional stability of earnings and investor returns. Like many natural gas utilities, NFG is expected to suffer a decline in utility operation profits as warm weather has reduced demand - not a new story and one that is happening throughout the natural gas industry.
The Pipeline and Storage segment is another steady-Eddie, contributing about 23% of anticipated 2012 earnings. The expansion of this segment should generate a bit of excitement. The segment uses the name National Fuel Gas Supply and Empire State Pipelines. Combined, these two units own almost 3,000 miles of pipeline along with 27 wholly owned and four jointly-owned storage facilities in Upstate New York. The pipelines extend from southwestern Pennsylvania, to the Canadian border and from the Canadian border to Syracuse, where it connects with pipelines traveling south to NYC. With its physical location in the northern Marcellus, NFG is primed to provide transportation and storage for an increasing production footprint. Management will continue to expand its gathering pipeline and processing assets in unison with growth in overall Marcellus production.
Natural gas marketing is a very minor segment, generating about 2% of anticipated 2012 production.
Natural gas exploration and production will generate the balance of 2012 earnings, or about 50%. NFG operates two E&P businesses, Seneca East and Seneca West. Seneca East drills for natural gas, both wet and dry, in the Marcellus and onshore Gulf Coast, and Seneca West focuses on California oil assets. This segment should register high on investor's excitement meter.
NFG reported FY3rd-quarter production numbers of 22.1 Bcf, representing 20% sequential and 31% year-over-year growth. Seneca West produced 9.7 MBbls/d at a realized price of $99.81.
The largest E&P opportunity is NFG's acreage in the Marcellus. The firm currently owns the mineral rights on 975,000 acres outright, mainly in NY, and PA, and leases another 30,000 acres. Since there is no pressure to produce, Seneca can delay drilling without affecting ownership of the mineral rights. In times of low natural gas prices and oversupply, this differentiation allows for better management of assets for the long term.
There are 84 million shares outstanding and NFG has a market cap of $4.5 billion with long-term debt of $3.3 billion. Earnings per share for the FY3rd quarter were $0.52, down slightly from last year. According to its recent conference call, management has provided EPS guidance for this year and next year, with a midpoint of $2.40 for 2012 and $2.60 for 2013. NFG pays a dividend of $1.46 for a yield of 2.7%, in line with other gas utilities and higher than most natural gas E&Ps. With a reduced capital expenditure budget for 2013 due to weak gas prices, operating cash flow should just about cover cap ex including drilling about 110 wells.
As assets increase over time in the Pipeline and Storage segment, there is the opportunity for National Fuel Gas to join the trend of spinning off MLP-like assets. EQT recently spun off its pipeline assets into a MLP, EQT Midstream Partners (NYSE:EQM) and Plains All American (NYSE:PAA) continue to drop-down assets into PAA Natural Gas Storage (NYSE:PNG). For longer-term investors, this could unlock additional shareholder value. However, the segment doesn't currently have the critical mass needed to be an attractive stand-alone MLP.
Mario Gabelli's Gabelli Utility Fund (MUTF:GABUX) owns 5.6% of NFG shares, and the fund keeps buying. From the fund's 2nd-quarter report:
NFG is a diversified natural gas company. NFG owns a regulated gas utility serving the region around Buffalo, NY, gas pipelines that move gas between the Midwest and Canada and from the Marcellus to the Northeast, and an oil and gas exploration and production business. NFG's regulated utility and pipeline businesses, as well as its California oil production business, provide stable earnings and cash flows to support the dividend while the natural gas production business offers significant upside potential. NFG's ownership of 800,000 acres in the Marcellus shale, including 745,000 acres in the shale fairway of Pennsylvania, holds enormous natural gas reserve potential and we believe the position could be worth $3.6 billion based on recent comparable transactions. Despite the decline in natural gas prices leading to lower production levels, we continue to expect significant long-term earnings and cash flow growth from gas production and remain excited about the expansion potential of the strategically located pipeline network. The Company has increased its dividend for over forty consecutive years.
The last line is worth repeating - "The Company has increased its dividend for over forty consecutive years."
In the fall of 2010, the company began floating the concept of bringing along a money partner to hasten development of its Marcellus E&P opportunities and speculation drove share prices up to the $75 range. In the summer of 2011, the company announced it had decided to go it alone, causing the speculative bubble to burst and share prices fell precipitously to below $55. With the recent collapse of natural gas pricing, share prices continued their decline to below $45, but have recovered a bit to the low $50s. A three-year chart: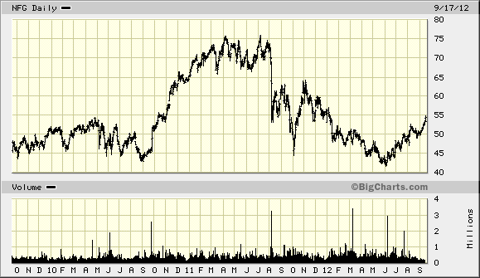 More conservative natural gas E&P investors should like the stability of NFG's utility and pipeline businesses. More speculative utility and pipeline investors should like the upside provided by the E&P business. National Fuel Gas should be worthy of both types of investor's time and effort for further research.
Author's note: See important disclaimer in Mr. Parepoynt's profile
Disclosure: I am long NFG. I wrote this article myself, and it expresses my own opinions. I am not receiving compensation for it (other than from Seeking Alpha). I have no business relationship with any company whose stock is mentioned in this article.