The shares of Green Dot (NYSE:GDOT) fell 60% at the end of July and it seemed that market conditions would dramatically turn against it. But since hitting a low of $9, cooler heads have prevailed and the shares have rallied back to $13. Is there more upside?
Here is a good succinct overview of what it does. Green Dot:
Offers general purpose reloadable prepaid debit cards, and cash loading and transfer services. The company''s products include Green Dot MasterCard, Visa-branded prepaid debit cards, and various co-branded reloadable prepaid card programs; Visa-branded gift cards; and MoneyPak and swipe reload proprietary products that enable cash loading and transfer services through its Green Dot Network. [Yahoo]
We think that there are at least five reasons why the shares of Green Dot are still a pretty good buy.
The market has priced in competitive concerns
There was a whopping 60% fall in the share price on July the 27th. Superficially, this was rather curious, as the company missed earnings by less than 10 percent, earning 35 cents per share (36 cents even if the discontinued TurboTax program would have been factored in) instead of the expected 38 cents. However, summing up the reasons for the dramatic decline, here is the WSJ:
Green Dot - which relies heavily on retail partners including Wal-Mart Stores Inc. (NYSE:WMT), 7-Eleven and other stores to sell its cards - surprised analysts late Thursday by cutting its adjusted earnings forecast for the year to between $1.29 and $1.32 per share from an earlier forecast of $1.65 to $1.70 per share. The Monrovia, Calif.-based company's executives said they expect more retail partners, including some that currently have exclusive contracts with Green Dot, to introduce competing products in the coming months and next year, and that some competitors were becoming more aggressive in offering upfront payments to retailers to get their cards on store shelves.
New competition comes from banks like Citibank and JPMorgan Chase, both of which started issuing prepaid cards (see links). Apart from competitive threats, the company also had a major ramp-up in security procedures, which also impacted the bottom line.
The stock has recovered quite well from the lows of $9 to about $13 today. At that stock price of $13 (Monday afternoon), the company is valued at 10 times this year's expected earnings. Next year, $1.30 in earnings are also expected, so no dramatic decline in earnings as a result of the more competitive environment.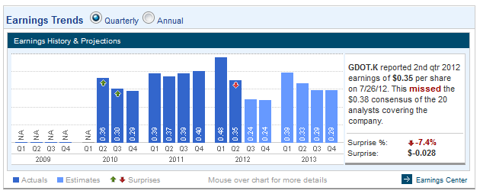 Perhaps one should also consider something else that the WSJ article mentioned:
Prepaid-card products have proliferated in recent years as more companies try to win a piece of a market that is expected to grow by several hundred billions of dollars in the coming years.
So, apart from becoming more competitive, the market is also likely to grow rather nicely. And indeed, while earnings are expected to be relatively stagnant next year, revenues are still expected to grow from $538M this year to $556M the next. One of the reasons these cards are popular is that regulation is relatively favorable. The cards are exempt from the Durbin amendment provision of the Dodd-Frank bill which cut merchant fees for debit cards in half when used at retail outlets.
One might also have a look at what the company argued about concerning the possible impact of the competitive threat:
Though we don't feel like we have enough data or historical experience to accurately predict what will happen to our volumes at other retailers that moved to a nonexclusive format, given this uncertainty, we have taken what we believe to be a conservative view of how sales might be negatively impacted. [Q2CC]
During the Q&A session, the CFO answered to a specific question regarding which retailers will come with their own card:
we're not saying anyone who will or won't because some of these contracts haven't been decided and as we sit here today for this conference call, we're in the middle of at least 2 different deal negotiations at 2 of our top 5 retailers. So it's hard to say. In our forecast, we've assumed that everybody would be doing something that could be injurious to our business and that's the nature of the forecast. [Q2CC]
So the new guidance is basically a worst case scenario.
Valuation
The price-earnings ratio of 10 becomes much cheaper if you consider the whopping net cash position. At the end of Q2 (June):
We ended the quarter with $275 million of total cash and investment securities, including $121 million of unrestricted cash and cash equivalents, $141 million of investment securities, $13 million of restricted cash and no debt. [Q2CC]
That's $6+ per share or almost half the company's share price. And it is not like it is bleeding cash, the business also produces good operational cash flow. PiperJaffray models $1.03 in free cash flow (FCF) for 2013, and this is the worst case scenario.
It is rather curious that while there are 20 analysts with a neutral rating, 1 sell rating and 3 buy ratings, the average price target is nevertheless $16+.
New channels and partners
There are quite a few new initiatives planned.
1) Entering the higher education sector through a partnership with an as of yet undisclosed partner (which we believe to be Sallie Mae) could:
potentially provide meaningful tailwinds beginning in 2013 and continuing over time. [Q2CC]
The entry in the higher education sector would allow Green Dot a captive market, providing accounts to students for refund disbursement and general banking needs.
If successful, this could potentially open the way for Green Dot to add additional banking services and morph into a more sophisticated financial institution.
2) A partnership with UniRush, issuer of the successful Visa prepaid RushCard. Green Dot Bank will be the exclusive issuer of the retail version of the card.
3) The Category of the Stars marketing program, involving some of the most trusted products like the RushCard, Green Dot Visa (the no.1 selling mass market brand), the AARP AMasterCard and NASCAR Visa.
4) Green Dot is also ready to roll out a beta of a new mobile-centric checking account product in Q4, the fruits of the Loopt acquisition, and had this to say on it during the Q2CC:
this new checking account product has the potential to be transformative to our business in other channels like the education and online channels, because the usage and retention characteristics we believe will be more akin to a checking account than a prepaid card.
A little later, in the Q&A session with analysts, the CEO added some color:
There's a lot of customers out there that we believe like prepaid but a lot of others in the household under $75,000 a year market segment that would think of themselves as more a checking account customer as opposed to a prepaid customer. So we think it is an important product, and one that could yield opportunity for us. So I would say it's more about expanding our products to new customer segments within our target demographics.
Management hasn't modeled any revenue or profit from these new initiatives either, and needless to say, at present they just generate cost, here is CFO Keatley in the Q&A section of the latest CC, when asked for the projected five points drop in EBITDA:
We had several expenses this year we -- that we talked about earlier. We are rolling out our new bank, rolling out our new processing platform. And those initiatives don't really moderate or adjust with revenues. They're not variable expenses. So with the guide down on revenues, a lot of that lost revenue flows more or less directly to margin and disproportionately impact our margin for the year.
Cash
We've already highlighted the whopping cash position. There are three ways this could be put to use, by no means mutually exclusive:
A dividend
A share buyback
An acquisition (or acquisitions).
Management indicated during the latest (Q2) CC that it is studying the opportunities and possibilities.
Take-over target
Another possibility is a take-over by any big player for which a take-over would be cheaper and/or faster than building from scratch. That would probably not be a big bank but more like a big retailer. Wal-Mart already has a 6% stake in the company.
The advantages for a take-over are rather straightforward. The first is that new players are entering the market, which is a lot easier if one buys the dominant player. This will be all the more attractive as it is difficult to argue that the company is expensively valued. As a bank, it's also worth keeping in mind that Green Dot has zero credit risk.
Q3
The third quarter could actually surprise on the upside. Here is what CEO Streit had to say about the timing of the competitive impact:
Well, we know that there are 2 retailers, albeit not exclusive, starting in October. So let's called Q4. But you're right. Nothing happening necessary prior to that, that we're aware of.
And CFO Keatley chiming in:
we've taken a pretty severe view of the impact of those retailers going nonexclusive. So even though it's a fairly small portion in the year, we assume they -- a pretty dramatic hit just to get a good handle on a conservative view of what the impact could be.
Risks
The company is very dependent on Wal-Mart (62% of operating revenue) and for obvious reasons, it didn't comment on a question about whether Wal-Mart would be introducing any competing product. The new risk control procedures disproportionately impacted Wal-Mart revenue though:
if you back out the TurboTax and the Wal-Mart revenue, the Green Dot brand grew a little over 30% year-over-year in terms of revenue.
However, it is no secret that Wal-Mart could be introducing competing products, especially by American Express:
It [American Express] also has been testing the sale of a prepaid card marketed under the name "bluebird" in some Wal-Mart stores, news of which caused Green Dot's shares to drop in March. Green Dot is the exclusive manager of Wal-Mart's prepaid MoneyCard, which is issued by a bank subsidiary of General Electric Co. (NYSE:GE) and is sold in the retailer's stores and online. [WSJ]
Apart from that, our only other concern is that the markets are due for a bit of a breather, although we don't expect this to affect the shares of Green Dot too much. Under $13 there is still plenty of upside, we think. Should Monday's little sell-off continue into Tuesday, it's certainly still an attractive entry point.
Disclosure: I have no positions in any stocks mentioned, but may initiate a long position in GDOT over the next 72 hours. I wrote this article myself, and it expresses my own opinions. I am not receiving compensation for it (other than from Seeking Alpha). I have no business relationship with any company whose stock is mentioned in this article.