Simon Property Group (NYSE:SPG) operates as the largest retail REIT in the U.S. financial sector. Besides its domestic footprint, the company has an extensive global presence in Europe and Asia. The company showed stronger than expected revenues and funds from operations when it reported its performance for 2Q2012. Much of this improvement in the performance was associated to its international footprint. The appointment of Matthew Lentz as chief investment officer reflects the management's resolve towards international investments. The company is also benefiting from rising U.S. shopping center rents. Looking at the growth prospects being offered by overseas expansion, we continue to recommend the stock as a buy.
Domestic Retail Sector Developments
Amidst scant development of new shopping centers in the U.S. over the second quarter of the current year, commercial rents and occupancies are on the rise. Total space occupied increased by 2.06 million square feet. Vacancy rates, which had reached a 12-year high, fell as well. For the second consecutive quarter, shopping center vacancies fell to 10.8%, from 10.9% in the first quarter of the current year. Average rents increased from $16.49/square foot a year ago to $16.55/square foot by the end of the second quarter.
Global Retail Sector Development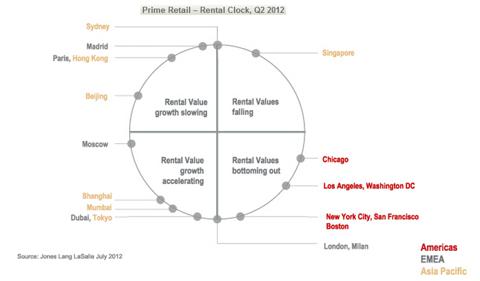 Source: joneslanglasalle.com
Much of the future growth in the company's revenues and funds from operations is dependent on the expansion of its global footprint. The management at Simon Property has been pursuing an aggressive global expansion policy. The remainder of the investment thesis will aim to discuss some of its major overseas investments.
In Europe, retails with international repute are expanding into prime retail markets. This is why rents on these prime locations in Paris, Amsterdam, Frankfurt and Munich have surged 6.3%, 3.4%, 3.6% and 3.1%, respectively, when compared to the previous quarter. Demand for these upscale locations will drive rents further up in the second half of the current year.
On the other side, the ongoing economic and debt crisis in the continent has resulted in low demand for secondary retail locations, which has in turn created a downward pressure on rents and has increased vacancy rates.
In the Asian region, the situation is favorable. As the graph given above shows, this region enjoys the highest prime rental value growth acceleration. Rents have been on a rise, particularly in Moscow, Shanghai, Mumbai, Dubai and Tokyo. The growing concern over global economic growth has resulted in many retailers with international repute increasing their presence in Dubai; thus the hike in rents.
China's retail markets have continued to demonstrate strong growth on tight supply and healthy demand. Rents in Hong Kong have risen by 3% QoQ and 14% when compared to the previous year. With the exception of Singapore, growth in rents of upscale retail locations in South East Asia has been positive.
International Investments
Simon Property Group has investments in 325 properties in the U.S., while it has Premium Outlets in Japan, South Korea, Mexico and Malaysia. Currently, 5.4% of the company's net operating income accrues from its international operations. Among the international operations, the company has a stake in the Paris-based Klépierre SA, or Klépierre, which owns over 260 shopping centers in around 13 countries in Europe. Also, the company has signed a memorandum of understanding with Bailian Group to jointly develop a Premium Outlet in Shanghai, China. The company also intends to develop additional Premium Outlets. The company has also entered into a venture with BR Malls to develop outlets in Brazil by 2013.
Disclosure: I have no positions in any stocks mentioned, and no plans to initiate any positions within the next 72 hours.
Business relationship disclosure: The article has been written by Qineqt's Financials Analyst. Qineqt is not receiving compensation for it (other than from Seeking Alpha). Qineqt has no business relationship with any company whose stock is mentioned in this article.