I always enjoy coming across lesser-known companies who have stellar dividend track records. Although I had heard of Leggett & Platt (NYSE:LEG) and briefly skimmed over the stock in the past, I did not appreciate its impressive dividend history until doing this analysis. A mid-cap ($3.5 billion) company that has been paying a dividend for 73 years and increasing that dividend for 40 years deserves more attention. Well LEG, you've caught my attention.
Company Description: LEG is a diversified manufacturer that conceives, designs, and produces a broad variety of engineered components and products that can be found in most homes, offices and automobiles. LEG operates in four business segments: Residential Furnishings, Industrial Materials, Commercial Fixtures & Components and Specialized Products.
LEG is part of the Consumer Goods sector and Home Furnishings & Fixtures industry. Current yield is 4.6%.
Dividend Reliability: A stock's dividend safety and reliability is determined by its dividend payment history, its current financial health, and its volatility in relation to the market as a whole. A total of five points are available.
The number of Consecutive Dividend Payments -10 to 25 Years = 1 Point; More than 25 Years = 2 Points
Free Cash Flow Payout Ratio - Less than 80% = 1 Point
Debt to Total Capital - Less than 75 % = 1 Point
Beta < 1.0
Dividend Growth: Although growth isn't as important when we are buying for current income, we still want a history of increases as well as demonstrated ability to keep up with inflation. A total of three points are available.
Number of Consecutive Dividend Increases - 10 to 25 Years = 1 Point; More than 25 Years = 2 Points
3 year avg dividend growth rate > Inflation (3%) = 1 Point
Fair Value: If we're going to buy a stock, we don't want to purchase it when it's overvalued. We will evaluate an income stock's valuation by its P/E and Yield. Total of two points are available.
Current P/E < avg 5 Year P/E = 1 Point
Current Yield > avg 5 Year Yield = 1 Point
| | | | |
| --- | --- | --- | --- |
| Factor | What we want | Actual | Points |
| Dividend Reliability | Consecutive dividend's paid > 10 years | 73 years | 2 |
| | Free Cash flow payout ratio ttm < 80% | 54% | 1 |
| | Debt to total capital ttm < 75% | 44% | 1 |
| | Beta < 1.0 | 1.15 | 0 |
| Dividend Growth | Consecutive dividend raises > 10 years | 40 years | 2 |
| | 3 Year Avg dividend growth rate > inflation (3%) | 3.8 % | 1 |
| Fair Value | Current P/E < Avg 5 Year P/E | 22.7 < 30.4 | 1 |
| | Current Yield > Avg 5 Year Yield | 4.6 < 5.1 | 0 |
| | | | |
| | Total Score | | 8/10 |
Strengths - Diversified customer base among its four business segments. A strong market position compared to its competitors. Wide product range. Strong R&D with over 1,000 patents.
Weaknesses - Declining revenues in recent years due to divesting of businesses.
Opportunities - Divestment of non performing businesses could have a positive effect on the overall financial health of the company. Acquisitions of higher growth companies. International expansion.
Threats - Inflation, commodity prices, and foreign exchange rates can negatively affect profit margin. An increase in demand of higher end foam mattress vs LEG's mattress spring technology. Increases in minimum wage.
Competitors: The company's competitors include Hooker Furniture Corp (NASDAQ:HOFT), Flexsteel Industries (NASDAQ:FLXS), Ethan Allan Interiors (NYSE:ETH), and Genuine Parts Company (NYSE:GPC).
Conclusion - LEG scored 4 points in dividend reliability, 3 points in dividend growth, and 1 point in fair value for a final score of 8/10 points, which rates it as a Strong Income Stock.
If you look at LEG's financials the past 10 years you would see large decreases in revenue and income. This observation would give most investors pause, but this was a strategic move by the company. In 2007 the CEO, David Haffner, pointed the company in a new direction that included divesting low-performing businesses, returning more cash to shareholders, and improving margins and returns. We are now starting to see that transformation in LEG's financial reports, and it looks as though it may be a leaner and more efficient company than in the past. LEG has also been able to grow its dividend per share without growing its total dividend payout for several years now due the company's stock repurchase plan that has been continually reducing the number of outstanding shares.
With LEG's excellent dividend history, low FCF payout, low debt to total capital, and near certainty of continued annual dividend increases the stock looks like a safe buy for income seekers.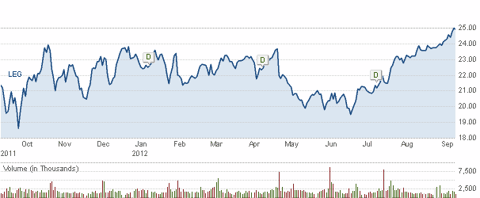 Note - This analysis is intended to give investors a general overview of a stock's dividend income highlights that I feel are important. The analysis can be used to help determine whether further, deeper examination should be done. As always, investors should do their due diligence before buying a stock.
Disclosure: I have no positions in any stocks mentioned, and no plans to initiate any positions within the next 72 hours. I wrote this article myself, and it expresses my own opinions. I am not receiving compensation for it (other than from Seeking Alpha). I have no business relationship with any company whose stock is mentioned in this article.