Yesterday evening, I walked into a McDonald's (NYSE:MCD) restaurant to inquire about the New York City law that bans the sale of sodas and sugary drinks larger than 16 ounces and the potential effects on revenue. The measure was approved by the city's health board by a vote of eight to zero and will take into effect on March 12, 2013. Once in effect, restaurants will have nine months to submit facility changes before facing a $200 fine.
I walked into the restaurant, got in line, and was kindly greeted by the cashier. "Good evening, would you please tell me how many ounces are in your small, medium, and large cups?" I asked.
To my surprise, the three cashiers at the front did not know the answer so they called the manager.
The manager happily gave me the answer while I wrote down the details: small (16oz), medium (21oz), and large (32oz). When I asked about the effects of the law, she explicitly showed concern stating that the large cup is the most popular size. Before leaving, I also asked about the average number of individual small, medium, and large sodas sold on a daily basis. She quickly printed a daily report, thoroughly looked at the sales for the prior day and said, "72 small… 94 medium and… 116 large." I thanked her for the assistance, wrote down the beverage sales price, and happily went home to analyze the data.

On average, this restaurant generates about $134,575.5 in revenue per year from the sale of individual medium and large sodas (excludes combo drinks). In New York City, there are about 400 McDonald's restaurants. Thus, as soon as the law comes into effect in New York City and assuming all restaurants in NYC generate the same annual sales from soda, McDonald's will forgo over $53 million in revenue from fountain drinks (assuming all restaurants are wholly owned, not franchises). Although the ban does not limit the number of 16 oz drinks purchased by consumers, I am assuming the sales of medium and large sodas will be lost entirely because it is inconvenient for consumers to be carrying multiple sodas.
Furthermore, I was informed the restaurant sells 2,000 meals per day on average and the price difference between the regular and large combo is about 60¢. I will assume there's a 30¢ fee to upgrade the fries from regular to large and another 30¢ to upgrade the regular size drink to a large. Since the consumer can still order large fries, the foregone revenue to the restaurant will be 30¢ per meal (combo) from the sale of a smaller soda that does not exceed 16 oz. Therefore, the daily foregone revenue per restaurant is $600 or $87.6 million annually for all restaurants in NYC, which brings the total loss in revenue to over $140 million per year from the soda ban policy.
Please note does this ban does not apply to venues unregulated by the city, such as 7-Eleven. That means you can go to McDonald's, or any fast food restaurant of your choice, order French fries and a sandwich and run across the street to 7-Eleven and grab their famous 40+ ounce Big Gulp.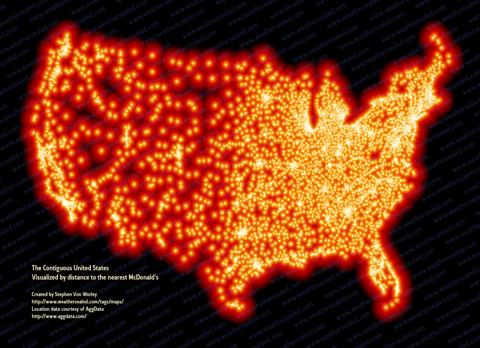 *The contiguous United States by distance to the nearest McDonald's. NYC is one of the cities with the highest concentration of McDonald's.
Health activists are very concerned about obesity in the United States - according to the Department of Health, more than 50% of adults are overweight in NYC and nearly one in five kindergarten students are obese. The ban in NYC could spark similar moves in other cities and around the country. If that were to occur, the famous fast food chain, which has 14,000 locations around the country, could lose billions of dollars in revenue annually.
New York City Mayor Michael Bloomberg may as well have said, "This new law will help reduce obesity, reduce tooth decay, and raise a boatload of money for New York City!" I believe the policy is insulting to citizens because Mr. Bloomberg is implying we lack the necessary intelligence to make basic consumption decisions such as the amount of soda we drink. However, I have a strong conviction the ban will go into effect next year due to the extensive evidence that strongly supports a relationship between sweet drinks and obesity, which kills over 5,000 people per year.
Many critics have expressed their concern that this measure will lead to small businesses losing revenue, while others say it restricts consumers' freedom to buy beverages as they see fit. Currently, organizations around New York City are considering suing the city to get the ban overturned.
Other restaurants in NYC directly affected by this ban include Wendy's (NYSE:WEN), Burger King (BKW), Yum! Brands (NYSE:YUM) and beverage companies like Coca-Cola (NYSE:KO) and Pepsi (NYSE:PEP).
McDonald's has an annual revenue of $27B and 1.02B shares outstanding, thus a $140 million drop in revenue may seem an insignificant catalyst unlikely to move the stock price. Its revenue per share would drop from $26.43 to $26.29. However, returns to fast-food restaurant shareholders would definitely be materially adversely affected by the potential loss of billions of dollars in revenue that would send stocks tumbling down if this policy were to start making its way around the country. Evidently, the financial impact of this ban would differ from company to company.
In my opinion, this will not happen because fast food chains and food industry lobbyists will join forces to fight vigorously against health and government agencies to avert such policy from being implemented throughout the country. In this situation, I will make use of my grandfather's advice that it's always better to be prepared for the worst case scenario.
Disclosure: I am long MCD. I wrote this article myself, and it expresses my own opinions. I am not receiving compensation for it (other than from Seeking Alpha). I have no business relationship with any company whose stock is mentioned in this article.