Tempur-Pedic (NYSE:TPX) is a leader in the mattress and pillow market. With a history of R&D back to the 1970s, Tempur-Pedic has a proven advantage over traditional foam and air mattresses and pillows. Everyone has seen those ads with the couple jumping on the bed with a wine glass on the other end. They haven't run those ads in years, but it owns a space in your head. At first glance, Tempur-Pedic is simply a better quality product in an increasingly competitive environment.
(click images to enlarge)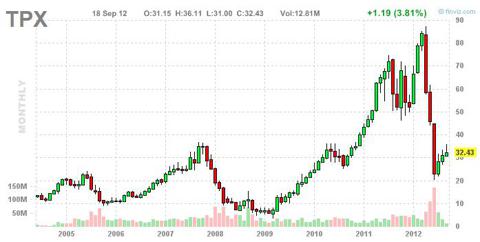 Management came out and said fierce competition in the specialty mattress segment (a market they created and owned for the past two decades) caused the company to miss estimates and lower guidance. Now usually these mass sell-offs do go too far in the other direction -- the test is to stay calm and figure out the "new" intrinsic value based on rational and conservative expectations for the future.
I modeled out three scenarios for the company. The first is what the Street is now expecting (all figures in Millions of U.S. $ except per share items):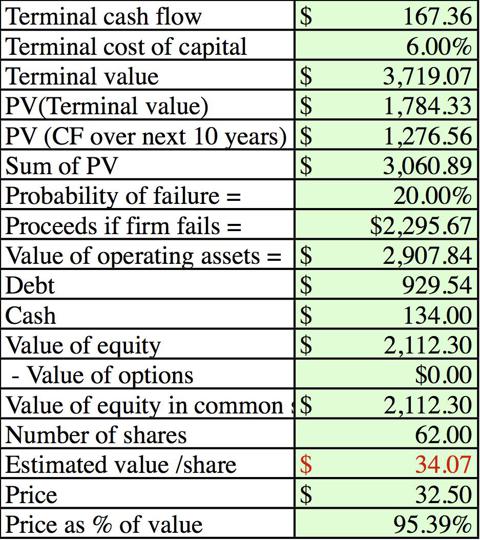 I bought in at $32.50, and Tempur-Pedic closed trading today at $32.72. This is very close to what this model suggests. The key inputs here are:
4.5% sales growth over the next five years
18% pre-tax operating margins
20% probability of failure and 75% of the value of operating assets being sold in a liquidation
This is the worst case scenario. This is a huge reason why I like the name. As Ben Graham used to say, find companies that the market is pricing to be "worth more dead than alive."
This being said, this is expecting growth to track global GDP, significant margin compression, as well as a chance of failure in the next five years, all of which I disagree with. The chart below illustrates what Tempur-Pedic's intrinsic value is if things stay the same: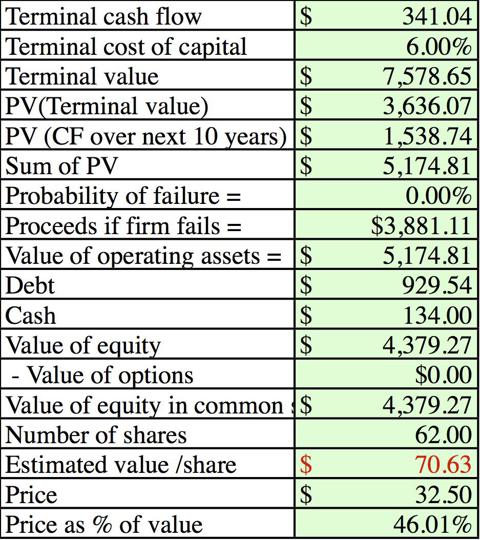 To start with, this is not completely unrealistic, as the stock has peaked at about $86. The key inputs here are:
Maintaining 12% sales growth over the next five years (same as the last five years)
Maintaining 22.5% operating margin (current)
No chance of failure over next five years
I believe the sales growth is in the realm of reason, though I'd be lying if I said I could predict it with any certainty. The operating margin, however, will come under pressure, as management has suggested it will increase advertising efforts to battle competitors.
All of this modeling, however, is useless unless I think that Tempur-Pedic has an economic moat that can continue to generate high returns on capital. I did this by seeing how it compares to its competitors -- Sealy (ZZ), Select Comfort Corp. (SCSS), and Mattress Firm Holding Corp. (NASDAQ:MFRM):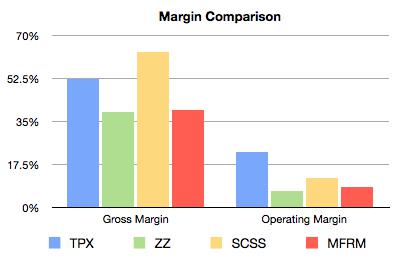 While all the publicly listed competitors -- with Sealy (ZZ) being the main one -- have gross margins close to 40% (an important Buffett indicator of purchasing power), none of them have adequate operating margins over 20%, except Tempur-Pedic. For me this a huge component of the value thesis for Tempur-Pedic.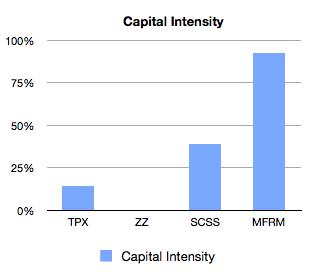 The chart depicts capital intensity as measured by Capital Expenditures/Net Income. Sealy has a net loss. The other two firms have to invest massive amounts to earn money. While this is on a GAAP basis, the fact that neither of them is below 25%, while Tempur-Pedic is at 14%, is encouraging.

What's wrong here is that Tempur-Pedic is the cheapest of the group. Whether it be EV/EBITDA, P/E, or FCF yield, it's priced like its future growth is worth less than Sealy, which has yet to even prove it can make money in the market! That's something that definitely has to turn some heads. It sure did for me.
Based on that bottom-up approach, I have included my price target below based on these four key inputs:
Sales growth of 8% over the next five years (halfway between analysts' expectations and past growth)
Operating margins of 20% (halfway between the worst margin over the past 10 years and the current margin)
No chance of failure over next five years
Maintenance of above-average returns on invested capital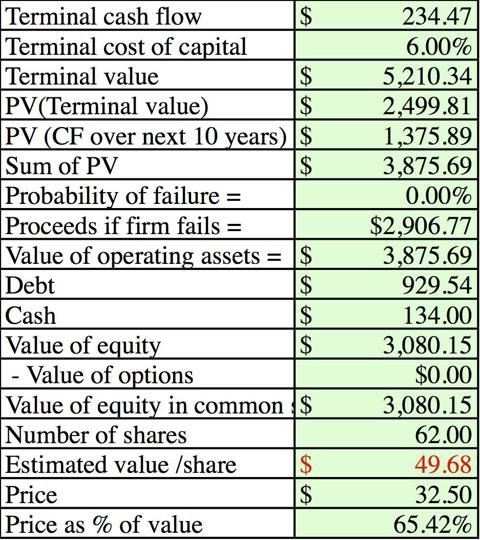 With a PT of $50 and an average cost of $32.50, that's a return of 53.85%. Within my estimated time horizon of two to three years, that's a compounded annual return of between 15.44% to 24.03%.
Disclosure: I am long TPX. I wrote this article myself, and it expresses my own opinions. I am not receiving compensation for it (other than from Seeking Alpha). I have no business relationship with any company whose stock is mentioned in this article.