Yet another anticipated dividend increase is here. Microsoft (NASDAQ:MSFT) has just announced a dividend increase of 15%. The new dividend of 23 cents a share will start from December of this year, with an ex-dividend date in November. Even though a lot of technology companies have started paying dividends of late, a lot of dividend investors still shy away from these companies, either viewing them as turbulent growth stocks or as risky investments overall.
But Intel (NASDAQ:INTC) and Microsoft are two names that must be on the watchlist (if not on your portfolio yet) if you are on the lookout for diversified increasing dividends. In this piece, written back in May, we compared the dividends of Intel and Microsoft. Both companies have increased their dividends since. So it's prudent to go back and check the story. This piece extrapolated Intel's returns with the new increase and pull back in stock prince in mind. And Microsoft is not to be left behind. So let us get into the details.
Basics: Microsoft has been paying dividends since 2003, but the dividend growth rate has just recently picked up steam in the last 5 years.
Payout Ratio: First up, the payout ratio has ballooned to 46%, while it was at 30% during the last article. Investors need not fret much about it because Microsoft took some one time charges in its latest quarter and hence reported its first ever loss as a public company in July 2012. But, given the company's steady business one can safely assume the earnings per share will stabilize soon. Sure, its not an Apple (NASDAQ:AAPL) to rocket along in terms of earnings growth but it's a steady player nonetheless.
Current Yield: The new current yield works out 3%, a level Microsoft has not seen in quite some time since breaking out of the $25 range.
Dividend Growth Rate: With this dividend increase, the last 5 year average dividend growth rate has moved to 18.3%, up from the 17% before that.
Even though the dividend growth rate has increased, let us still use the same "conservative" 10% over the next 10 years for the extrapolation, just like we did the last time.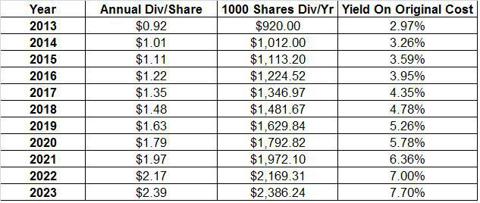 We see that the dividends per share and yield on cost almost triple if the company continues paying out a good fraction of its earnings as dividends.
Cash on hand: Not many companies have such rich cash reserves as Microsoft. In spite of the recent losses and being on an acquisition binge, the company is sitting on about $60B. That should comfort investors about their dividends.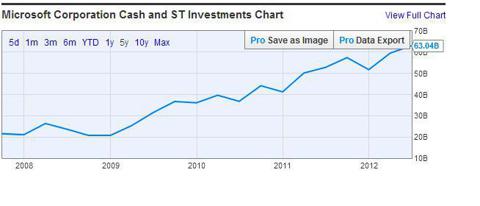 (Source: Ycharts.com)
Conclusion: All the talk about slowing PC sales not withstanding, Microsoft is slowly turning into a safe haven for income seeking investors. Even though the "Win-tel" partnership seems to be in trouble in the actual business world, these two companies are slowly building a partnership, slowly breaking the general belief that technology companies cannot be part of an income seeking portfolio.
Disclosure: I am long AAPL. I wrote this article myself, and it expresses my own opinions. I am not receiving compensation for it (other than from Seeking Alpha). I have no business relationship with any company whose stock is mentioned in this article.
Additional disclosure: Long Intel through selling Jan 2014 puts.