While investors keep losing faith in Facebook (NASDAQ:FB), we believe the stock has a higher potential for upside. As the recent dip in shares has shown, FB was highly overvalued at an IPO price of $38. However, the current price of $21.6 is a more reasonable one, considering that FB is trading at similar multiples to other Internet giants. Moreover, the social media giant has approximately $10 billion in cash, which comes down to almost $5 per share. The major concerns for current shareholders remain lockup expirations and a dip that would follow. We believe such a dip can be a very good entry point for new investors. We are bullish on FB's long-term mobile advertisement growth, but are recommending a hold position because of expected dips post-lockup expirations later this year.
Lockup Expirations
The biggest catalysts for Facebook, for the time being, are the expiration dates of its lockups. Improved Q2 2012 results were not enough to warrant investor confidence in a future for Facebook. The company reported revenues of $1.18 billion and EBIT of $515 million. By the end of August, the stock price had already fallen more than 40% from its pre-earnings announcement value. As the number of tradable shares increased, chances remain of FB slumping further. The first lockup expired on Aug. 16, bringing approximately 271 million shares to the market. After the lockup expiration, the shares slumped below $20 a piece for the first time since Facebook's blockbuster $38-a-share IPO. Over the course of the next eight months, more lockups will expire in November, December, and May of next year, taking the share float beyond 2 billion shares.
In a recent filing with the SEC, the company disclosed that CEO Mark Zuckerberg would not exercise his options. The most important lockup expiration was also moved up by the company, and is now going to take place on Oct. 29. This lockup expiry is a significant one, as it concerns employee stocks. While there is a low probability that major FB investors, such as Microsoft (NASDAQ:MSFT) and Goldman Sachs (NYSE:GS), will give up their shares so soon, the same cannot be said for the employees. Most of these employees have already lost half the IPO value while waiting for lockup expiration. Moving up the lockup expiration dates, along with restricting the CEO from selling his stake, are moves aimed at restoring investor confidence.
The company currently has approximately $10 billion in cash, courtesy of its IPO. According to SEC filings, some of this cash will be used to support the crashing stock price. The company plans to withhold approximately 101 million shares (43%) owned by company employees. This is common practice with companies that go public. The net effect will be similar to a share buyback. At a price of around $19, it will amount to the net effect of an approximately $2 billion buyback.
Mobile Monetization
Another big challenge for Facebook is monetizing its mobile user base. According to Facebook statistics, there are more than 955 million active users of the social network in the world, and there are more than 500 million daily active users. Most importantly, 543 million active users are using Facebook mobile products, which makes up approximately 56% of its total active user base. The shift in Facebook users to smartphones has created a number of revenue generation problems. There was a rapid decrease in growth of ad impression revenue, primarily due to a failure on the part of FB shifting advertisements efficiently to smartphones. Another major concern remains shifting Facebook's gaming applications from PCs to smartphones. This initial inability to effectively convert revenue generating capability to smartphones has hurt both payments (gaming) and advertisement revenue growth.
The social giant has been focusing solely on correcting these fatal errors, according to FB's CEO. Speaking to Techcruch, in his first interview since the IPO, Zuckerberg admitted that the company missed a trick by not focusing on smartphones sooner. He also explained how the company had focused more on HTML 5 when it should have been focusing on smartphones. The market reacted positively to the interview, with the stock going up approximately 3%. The increase in the number of mobile-sponsored stories from one per day to two to six per day (according to Morgan Stanley) is a good start.
According to reports, these sponsored stories bring in more advertisement revenue, as compared to standard desktop ads. The sponsored mobile advertisements have a very high click-through rate (13 times). Moreover, as Facebook is charging a higher amount per ad, these ads can be 11.2 times money per impression as compared to advertisements on desktops. The recent inclusion of a Facebook application in Apple's (NASDAQ:AAPL) iOS 6 is another major step toward an effective mobile monetization strategy. Analysts are expecting sales of the iPhone 5 to be around 250 million units. FB's stock has increased almost 10% in value since the iPhone 5 launch. The Facebook app was not integrated in previous iOS versions, and users had to download one if they wanted to use Facebook on their iPhones.
Valuations
The table shows multiples for other online companies comparable to Facebook.
| | | |
| --- | --- | --- |
| | EV/EBITDA | PE |
| Facebook | 15.1x | 46x |
| Amazon (NASDAQ:AMZN) | 30x | 95x |
| EBAY | 13.5x | 21x |
| Priceline (PCLN) | 14.3x | 20x |
| Google (NASDAQ:GOOG) | 9.9x | 16.5x |
| LinkedIn (LNKD) | 134x | 93x |
| Average | 33 | 41 |
Source: Barclays.
If we look at the EV/EBITA multiple, Facebook is trading at low multiples as compared to AMZN and LNKD. The valuations are approximately similar to EBAY and PCLN on EV/EBITDA.
Analyst Opinion
As can be seen in the chart given below, a majority of analysts have a Hold position on the stock. No analyst has a sell or underperforms position in the current month. This shows that most analysts believe the stock is priced correctly at present.
Click to enlarge image.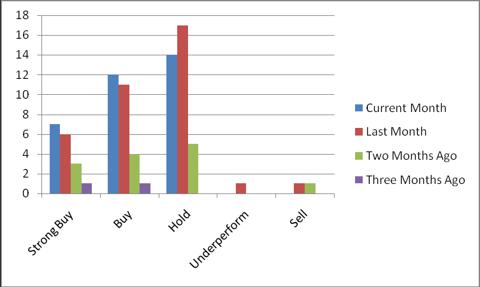 Source: Yahoo Finance.
Conclusion
We believe that the recent improvement in mobile advertisement has significantly improved long-term prospects for consumers. The stock is currently priced right, but there is the potential of a further decrease due to lockup expiration. Due to our belief in FB's long-term growth, we recommend that any post-lockup expiration dips will be an ideal entry point into the stock. We are bullish on FB's long-term growth prospects, but are recommending a hold position due to the expected dips on lockup expirations.
Disclosure: I have no positions in any stocks mentioned, and no plans to initiate any positions within the next 72 hours.
Business relationship disclosure: The article has been written by Qineqt's Technology Analyst. Qineqt is not receiving compensation for it (other than from Seeking Alpha). Qineqt has no business relationship with any company whose stock is mentioned in this article.