The first time I ever heard about Master Limited Partnerships (MLPs) was in 2001, when my friend and former co-worker, Malcom Day, started a fund dedicated to investing in MLPs. I actually thought it stood for "Malcom's Little Project" until he joined Eagle Global Advisors in 2003. One of the early investors to recognize the potential of the asset class, Malcom and his team now manage over $1.2 billion in MLP assets on behalf of their individual and institutional clients and recently launched a mutual fund available to the public, Eagle MLP Strategy Fund Class A (MUTF:EGLAX). There is also an institutional class of shares (MUTF:EGLIX). Here is a link to the prospectus.
MLPs have been performing well in recent years as investors have come to appreciate the growth and income characteristics of the asset class. It probably doesn't hurt that bond yields are at generational lows! The Alerian MLP Index (AMZ), which consists of "the 50 most prominent energy MLPs" according to Alerian's description, has posted a 5-year price return of 34.2% and a total return (including dividends) of over 89% (through 9/14), but it is up just slightly in 2012 after recovering from a steep sell-off in June: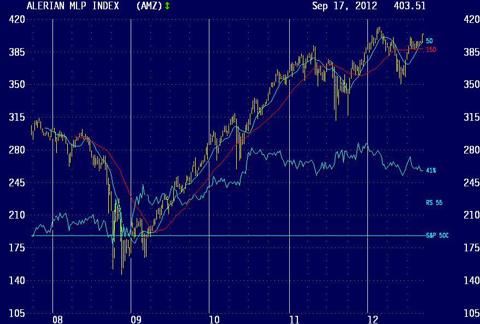 Of course, this is a price return, and the total return, including dividends, is a bit higher at about 8.6% YTD, which is behind stocks but ahead of bonds. While demand is high, as evidenced by the recent actions by JP Morgan to cap the popular ETN, JP Morgan Alerian ETN (NYSEARCA:AMJ), supply has been high too. There have been several IPOs over the past year. Additionally, MLPs typically issue equity fairly frequently in order make acquisitions or fund new projects, which also has added to supply.
As a group, MLPs currently offer higher yields than other alternative investments, like REITs and Utilities, but they also have significantly faster dividend growth. As long-term interest rates may be in the process of returning to more "normal" levels, distribution growth could more than offset the pressure of rising yields. With the goal of trying to find out if now is a good time to be involved with the sector and how I might find some potential opportunities, I decided to check in with Malcom.
Let me start with the obvious question, Malcom. Is the glowing Barron's cover story (8/20) something that should worry investors? What is your outlook for the next year?
MD: The cover serves as a reminder that MLPs are no longer an undiscovered asset class as they were in 2001. For long term investors, I think that the total return outlook in the MLP market remains compelling. It's hard to make predictions for any single time period, but we see average annual returns around 10-12% from a combination of 6% distribution yields and 4-6% annual distribution growth.
Obviously many investors focus on the yield, but what are some of the key characteristics investors should assess before investing in an MLP?
MD: I think that the biggest factor that investors need to consider is the variability of the distribution. Both rising and falling distributions are typically underappreciated by investors focused just on yield. It's not well understood, but over the past 20 years there have been numerous MLPs that have reduced or eliminated their distributions, so you first and foremost need to understand the business risk of the MLP and what might cause it to cut its distribution. Through our analysis of the business risk of each MLP, we are also able to forecast distribution growth rates, which are much more fun for investors than distribution cuts. Beyond business risk, investors need to understand the MLP's capital structure, particularly the debt load and the general partner's incentive distribution.
Are there any big trends that you think could influence future distribution growth?
MD: Well the enormous shift in hydrocarbon production in the North America that is driven by horizontal drilling and fracking is the biggest single driver of energy infrastructure needs in the U.S. E&P operators continue to test technological advances in different fields, and each year it seems at least one of the fields responds well to the technology. In most cases, the hydrocarbon infrastructure is woefully inadequate for the production and this presents opportunities for MLPs to invest to build out the infrastructure of pipes, processing, storage, etc.
Who might some of the beneficiaries be?
MD: One of the most recent fields to experience enthusiasm from fracking results is the Utica in Ohio. MarkWest Energy Partners (NYSE:MWE) has an early lead in building out infrastructure in the Utica, although Sunoco Logistics (NYSE:SXL) and other MLPs also have assets in the area which may be able to capitalize on the growth in the area.
The largest 5 MLPs, which include Enterprise Products (NYSE:EPD), Kinder Morgan Energy Partners (NYSE:KMP), Plains All American Pipeline (NYSE:PAA), Magellan Midstream Partners (NYSE:MMP) and Energy Transfer Equity (NYSE:ETE), make up about 42% of the index. Should individuals stick to these, or are there opportunities in smaller MLPs?
MD: I think that it is a question of how much research an individual wants to do. If an individual wants to get exposure to the asset class without doing a lot of analysis, I think that the five names will do a good job of providing that exposure. We have added significant returns over time by digging deeper, and for an individual willing to work at it there are definitely some great opportunities away from the biggest names.
Of these largest MLPs, are there any that you would avoid currently?
MD: We would avoid KMP, because we believe it is too expensive relative to either the related institutional share, Kinder Morgan Management (NYSE:KMR), or relative to the general partner, Kinder Morgan Inc. (NYSE:KMI). We also think that El Paso Pipeline Partners (NYSE:EPB) which is controlled by Kinder Morgan following the acquisition of El Paso Corp. has a better combination of yield, growth, and stability than KMP.
While potential changes in tax laws and a spike in interest rates are always a longer-term risk, what are some of the potential landmines that MLP investors need to know about?
MD: Although most investors tend to worry about interest rates and tax changes as risk, most of the volatility in the MLP market over the past five years has been related to general market risk aversion. We like to say that the securities in our client portfolios are much more volatile than the underlying businesses. In other words, security prices change a lot more than the business results. Unfortunately, MLPs are not immune to price volatility from macro events like the sell off in August 2011, even though the fundamentals and cash flows of MLPs are almost completely immune from events in Europe.
Interest rates are extremely low and may be poised to rise in future years. How would rising long-term interest rates impact MLPs?
MD: Currently, the difference between MLP yields and bond yields is quite large, as MLP yields have not declined as much as bond yields. At the end of August, MLP yields were approximately 500 basis points greater than the 10 Year Treasury, compared to a median of 260 basis points over the last 20 years. We expect that if and when Treasury yields rise that the difference between MLP and Treasury yields would narrow, and there will be relatively little impact on MLP valuation over time although there may be periods of volatility as occurs in the MLP market from time to time. If Treasury yields rise dramatically, say to 8%, that would be substantially negative for all financial assets including MLPs.
A lot of investors have decided to invest in ETFs or funds in order to participate in the sector while achieving diversification. Many of these instruments have failed to perform as well as the index. What are the inherent challenges, and how does your fund address these issues?
MD: This is a little bit complicated, so I'll try to break it down. I think that for most investment vehicles, when it come to investment performance investors need to worry about fees and poor security selection. When it comes to MLP ETFs and mutual funds you need to add another worry, which is tax loss. It is very hard concept for most investors to grasp, because to my knowledge taxes at the fund level are only a problem for MLP funds. Essentially, due to specific tax rules, the MLP ETFs and most MLP funds elect to file taxes as taxable corporations. So now your ETF or fund is paying 35% of your gains to the government in taxes. You still have to pay taxes on your gains at the individual level, so essentially these vehicles take a nice tax efficient MLP and subject it to double taxation! Through careful security selection using MLPs that file 1099's along with general partner securities that file 1099's, and limiting the investment in MLPs that file K-1's to 25% of the portfolio, our fund is able to qualify as a mutual fund for taxes and avoid the double taxation that has been a drag on other MLP funds.
There are also a lot of funds on the market that have high fees and poor security selection, so investors still need to watch for those problems when selecting an MLP investment vehicle. For example, one MLP closed-end fund has an annualized return since inception of negative 8.1% through 6/30/12. During the same time period the Alerian MLP Index has returned positive 11.6% annualized, so clearly there is more of a problem with this fund than the taxation of gains.
Thanks for sharing your thoughts, Malcom!
Disclosure: I have no positions in any stocks mentioned, and no plans to initiate any positions within the next 72 hours. I wrote this article myself, and it expresses my own opinions. I am not receiving compensation for it (other than from Seeking Alpha). I have no business relationship with any company whose stock is mentioned in this article.