We are bullish on America Movil (NYSE:AMX), as the company has shown growth across all major regions of its operations, but mainly Latin America. Despite substantial foreign exchange losses in the quarter recently ended, the company produced positive earnings and an impressive revenue growth of almost 10%. Brazil and Mexico continue to see growth, despite tough competition and regulatory challenges, and that is reflected across its key business metrics, which have shown consistent improvement. Other markets, including Columbia and Chile, have also produced impressive EBITDA growth. Despite the stock trading up 12% on a year-to-date basis, we believe it has further upside potential.
America Movil is a Mexico-based telecommunications company that, through its various subsidiaries, provides wireless, traditional landline, Internet and cable services to its customers in almost 20 countries around the world. It has a market capitalization of approximately $67 billion, with its shares currently trading on the NYSE near $25.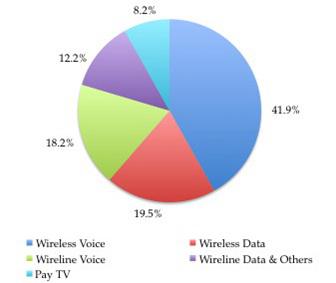 Source: Company presentation.
As mentioned previously, the company has a majority of its operations in Latin America, and as of the quarter ended June 2012, Mexico and Brazil together added almost 60% to the company's revenue stream. Overall, the second quarter ended with impressive results from all regions of operations. Revenues jumped up by approximately 10% and 6% on a fixed exchange rate basis over the second quarter of the previous year. The company posted 13 billion pesos in earnings, down from last year, largely due to adverse currency movements across Latin America, resulting in mounting financing costs of 17 billion pesos. Excluding the effect of exchange losses that the company had to bear, its earnings grew over the previous quarter.
Mexico -- Strong Net Additions and Data Revenue Growth
The Mexican mobile market can be characterized as a market dominated by a few players, with Telcel, AMX's subsidiary, serving over 70% of mobile subscribers. Surprisingly, the mobile penetration rate in Mexico hasn't grown as much as was expected. At the end of 2011, it was almost 88%, much lower than Brazil and Columbia, where mobile penetration surpassed 100%. However, lower penetration can also bring growth potential for companies like Telcel, which already have a high market share in the local market.
Telcel ended the second quarter with a 10% growth in its subscriber base, both prepaid and postpaid. This is particularly impressive as telecom companies in the regions are still recovering from the reduction in mobile termination rates, which was enacted last year. Out of the total additions of approximately 1.5 million subscribers, the company showed strength in the postpaid market as well with a growth in subscribers of almost 20%. Much of the growth, however, was delivered by its mobile data services. Increased smartphone use and the resulting data requirements of customers caused growth of almost 30% in data revenues, which now account for one-third of the company's mobile service revenues. A brief summary of the company's operational results in Mexico, as well as key business metrics, is presented below.
Q2 2012

Q2 2011

% CHANGE

Wireless revenues

41.8b

39b

7%

Wireless subscribers

68.1mn

66.9mn

2%

Postpaid subscribers

8mn

6.8mn

18%

Minutes of use

267

220

21%

ARPU

175

164

6%
Brazil -- Strong Wireless and PayTV Growth
The company's wireless subscriber base crossed 60 million, and with a growth of over 10%, reached 63 million customers by the end of the second quarter. It continues to see staggering growth in the local market with demand for its PayTV and mobile data services driving growth. Revenues from the Brazilian operations jumped over 4%, largely due to fixed broadband and PayTV services, whose revenues increased by 29% and 27%, respectively. Increased smartphone usage also led to an increase in mobile data revenues, which rose by almost 25%. This is particularly impressive given the reduction in mobile termination rates, which was enacted in the period.
Q2 2012

Q2 2011

% CHANGE

Total revenues

7.5b

7.2b

4%

Wireless subscribers

63mn

55.5mn

13%

Postpaid subscribers

12.7mn

11.6mn

10%

Minutes of use

107

92

16%
Financial Position
AMX can be characterized as a growth story, as it has shown impressive revenue growth over the years. Since the financial year ended 2007, the company's revenues have grown at a compounded rate of over 20%. Operating margins for the company are also higher than its peer Telefonica. In 2011, AMX posted operating margins of 23% as compared to Telefonica's 14%, which signals the strength in its operations. Total debt to equity is high at 125% as of the most recent quarter, but it is a norm for the industry as a result of increased capital expenditure on network upgrades and spectrum purchases. However, it is still lower than Telefonica's debt to equity of 330%. Interest coverage of 19 times for AMX also compares well to Telefonica's interest coverage of 9 times. The company has 62 billion pesos in cash on its balance sheet, which roughly translates to $5 billion.
Click to enlarge images.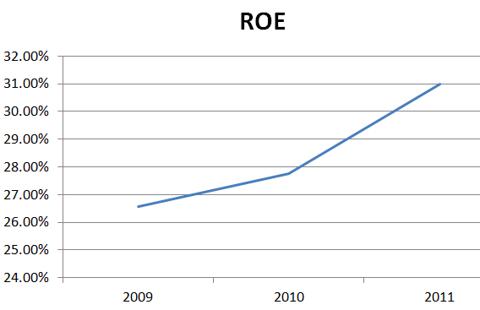 Dividends
The stock currently offers a modest dividend yield of 1.1%, well supported by its cash flow yield of 22%. In the year ended 2011, the company incurred approximately $10 billion in capital expenditures and dividend payments, while generating operating cash flows of $14 billion.
The stock is trading at 13 times its earnings, at a discount to the industry multiple of 17 times, as well as its historic five-year average (21 times). On a forward earnings basis, the stock looks expensive, trading at 11 times its earnings as compared to Telefonica's (NYSE:TEF) 7.5 times. However, the expected earnings growth over the next five years of around 15% will likely boost the stock, which is already up 12% since the start of the year.

Disclosure: I have no positions in any stocks mentioned, and no plans to initiate any positions within the next 72 hours.
Business relationship disclosure: The article has been written by Qineqt's Telecom Analyst. Qineqt is not receiving compensation for it (other than from Seeking Alpha). Qineqt has no business relationship with any company whose stock is mentioned in this article.