Priceline.com (PCLN) has experienced an excellent year in which share price has increased by 31% year-to-date. This increase represents an addition of $10 billion to shareholder value and reflects the strong and growing fundamentals of the organization. Since May, however, prices have declined 15% from this year's peak. I believe that this decline in share price represents an excellent purchasing opportunity from a fundamental standpoint.
A History of Growth
Priceline has exhibited strength from a fundamental standpoint as measured by return on assets and return on equity. Return on assets is a metric that is calculated by dividing net income by average total assets. This ratio represents how efficient the firm uses its assets to generate profits and both the number and the trend of the metric can predict future strength. Return on equity is calculated by dividing directly-invested shareholder equity by net income. Return on equity tells the analyst how effectively the firm uses its shareholder investments to bring profits to the organization.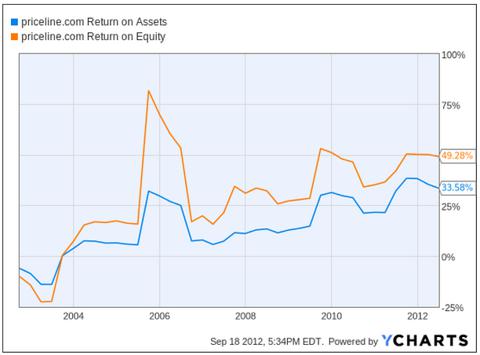 The chart above shows 9 years of the return on assets and return on equity of Priceline. Beginning in late 2003, Priceline became a profitable entity and ever since it has continued to strengthen its fundamental position. This long term trend of growth can be seen in the fact that ever since 2004, Priceline has not had a losing quarter as measured by return on assets and return on equity. Not only has Priceline not experienced a loss, but it has also increased its ability to transcribe its assets and shareholder equity into firm profits.
The trend in return on assets and equity clearly demonstrates that Priceline is a strong organization which is continuing to grow. For example, in 2005, Priceline was able to bring in around $5 of profits for every $100 in assets. The organization has increased its efficiency such that now it is able to bring in $33 for every $100 in assets. This essentially means that the firm has increased its asset-based efficiency by over 500%. Such growth denotes an organization which is able to not only defend its lead, but continue to capture a wider swath of the industry.
Financing Choice
Another metric which demonstrates Priceline's fundamental strength is the debt-to-equity ratio. The ratio is fairly straightforward in that it is calculated through dividing liabilities by shareholder equity. This figure allows the analyst to see which type of financing the firm relies on during different stages of its life. For example, a firm which is aggressively attempting growth may rely heavily on debt since it is typically much easier to raise and does not dilute shareholder percentage ownership. Additional debt does come with heightened risk as the firm is required not only to make coupon payments but to eventually pay off the debt. This key ratio can be seen in the chart below.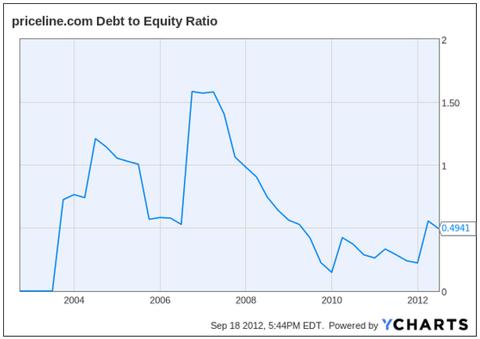 The chart shows 9 years of financing history for Priceline. It is important to notice the various stages of financing choices. Between 2004 and 2008, the firm relied more heavily on debt to drive business operations. This period can be considered a time of relatively aggressive growth as can easily be seen by a 470% increase in stock price during these years. Beginning in 2008 however, something important happened and that is the firm began decreasing its reliance on debt. This is significant in that this current era can be considered a more stable period from a financing perspective. Since the firm is not relying as heavily on debt, it is able to use more of its revenues on genuine business development and market share growth rather than making interest payments on its fixed income obligations.
Priceline has demonstrated not only that it is expanding and strongly performing but it is also positioning itself for a sustainable period of growth. Return on assets and return on equity both denote a firm which has a proven history of strong and steady industry-beating returns. Additionally, the debt-to-equity ratio points to a firm which is relying less on aggressive financing which should allow Priceline to enter a period of consistent growth. Despite these key fundamental factors, the stock price has declined nearly 15% in the past 4 months. I believe that this decline represents short-term investor speculation. The decoupling between true fundamental performance and short-term stock price change represents an investment opportunity. I believe that investors will eventually purchase the stock once again and prudent capitalists should seek to position themselves to profit from a rise in share price.
Technically Speaking
Despite the fact that Priceline has a strong history of growth, I do not believe that investors should immediately purchase shares. By utilizing technical analysis, we can best time our investments in the market. In the chart and description below, I have discussed where I believe prices are heading and how best to participate in the rise of Priceline.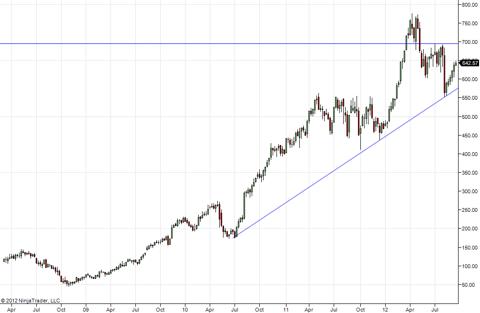 It is readily apparent that Priceline is in a strong, multi-year uptrend. This said, I believe that the downdraft in prices over the past few months provides individuals an opportunity to purchase into a rising stock. As can clearly be seen by the ascending trend line, price has recently bounced and may once again be rising. I believe that the best time to participate in this rise is when prices are actually able to overcome the highs that were established prior to the decline of the past few months. This said, I believe a buy should be triggered if price is able to overcome $700 per share. If the price falls below $550 however, then I will believe this analysis is ill-timed since the multi-year uptrend will have technically ended.
Disclosure: I have no positions in any stocks mentioned, and no plans to initiate any positions within the next 72 hours. I wrote this article myself, and it expresses my own opinions. I am not receiving compensation for it (other than from Seeking Alpha). I have no business relationship with any company whose stock is mentioned in this article.