Even with the significant jump in preferred stock market prices that we have seen throughout the third quarter, the U.S. preferred stock market is still offering 25 investment grade preferred stocks that are available below their $25 par value [1].
Those two criteria -- rating and market price -- are usually among the most important when risk-averse preferred stock buyers are considering a new purchase. Even though the credibility of the rating agencies took a major hit during the Global Credit Crisis, investors still use these ratings as a proxy for investment risk. Preferred stocks that have investment grade ratings generally command a higher market price than otherwise equivalent issues with speculative grade ratings.
Here is the Preferred Stock Market Snapshot(TM) chart illustrating how the U.S. preferred stock market distributed its offerings across these two key criteria as we wrap up the third quarter of 2012: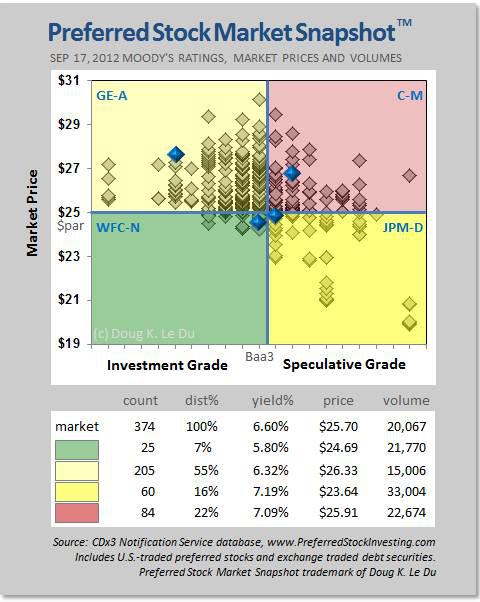 Each diamond represents a qualifying preferred stock. An example is highlighted in blue within each of the four quadrants: GE-A from General Electric Capital (NYSE:GE), C-M from Citigroup (NYSE:C), WFC-N from Wells Fargo (NYSE:WFC) and JPM-D from JPMorgan (NYSE:JPM). Each of these examples (which are not intended as recommendations) are widely held non-TRUPS and are call-protected, meaning that they have yet to reach their respective call dates.
The Sweet Spot, Investment Grade Preferreds Available for Less Than $25
The sweet spot for most preferred stock investors is illustrated by the green (lower-left) quadrant. These are the 25 investment grade preferred stocks that are currently available for a market price of less than $25 per share (prices as of September 17, 2012).
While 25 is a smaller group than is usually the case, I was expecting a much lower number (if any) given the huge uptick in preferred stock market prices that we saw during the third quarter.
For most preferred stock investors, 25 issues is still plenty to pick from.
Demand Remains Disproportionately High
Looking at the data summary under the chart, the average market price of all 374 qualifying preferred stocks was $25.70 per share -- this compared to $24.94 at the end of the second quarter [2].
And look at the red quadrant (upper-right). To the extent that the Moody's rating accurately reflects investment risk, these are the highest risk preferred stocks available, and yet investors are paying an average price of $25.91 for these 84 securities.
Normally, the diamonds on this chart are much more evenly distributed, but as illustrated here, demand for preferred stocks is disproportionately high.
Liquidity
The average volume values that you see under the chart are "per security" on the day this data was collected (September 17, 2012).
The biggest movers were the speculative grade preferred stocks trading below $25 (yellow, lower-right). Investors bought and sold an average of 33,004 shares of each such speculative grade preferred stock issue on September 17. For preferred stocks, 33,000 shares is a respectable daily volume. Keep in mind, though, that the variance is very high -- some issues traded over 100,000 shares that day, while others traded closer to just 1,000 shares.
But it's fair to say that with an overall average volume of 20,067 shares traded per preferred stock, there is plenty of liquidity in today's preferred stock market, which is consistent with the disproportionately high demand. Overall, buy orders have not had any problem getting filled.
Trends
Besides the uptick in market prices seen during the third quarter, there are a few other trends of interest to preferred stock investors.
As prices climbed throughout the quarter, preferred stock investors took on more investment risk in the pursuit of yield. The distribution shifted from the green sweet spot (lower-left; 16% last quarter down to this quarter's 7%) to the red quadrant (upper-right; 13% last quarter up to 22% now). The distribution of qualifying preferreds in the other two quadrants stayed the same. Not finding lower risk yields to their liking, these investors opted for more risk during the third quarter.
While we have been treated to many new preferred stock introductions (for an itemization of new issues, see the Seeking Alpha article "New Preferred Stocks Continue To Provide Opportunity For Buyers"), there have also been a number of redemptions of older, higher-rate issues. While there were 406 qualifying preferred stocks trading at the end of the second quarter, there are 374 now, a net reduction of 32 preferred stocks. Redemptions happened at a slightly quicker pace than new issue introductions over the third quarter.
Going Forward
Investing always comes down to the alternatives that are available to us at the time we have to make a decision. There is nothing "wrong" with the 5.8% average yield being provided by the 25 investment grade preferred stocks trading below $25 in today's market, given that the other alternatives available to risk averse fixed-income investors are paying much less.
Investment grade corporate bonds are paying about 3% (Source: federalreserve.gov), and bank CDs are paying about 1% (Source: bankrate.com), both of which are wiped out entirely (and then some) by inflation and taxes.
While the Federal Reserve has announced that they remain committed to our current low rate environment until at least mid-2015, that could change if inflation or some other event requires action sooner.
We all know that rates are going to go back up at some point, bringing higher-paying choices to us. Prices on these lower payers could start to drop once higher paying alternatives become available [3].
While today's 5.8% offers one of the best alternatives available, preferred stock buyers need to pay more attention to price trends going forward than you might otherwise.
Footnotes:
[1] Source for all preferred stock data in this article: CDx3 Notification Service database, Preferred Stock Investing, Fourth Edition. Preferred stocks and Exchange Traded Debt Securities (which are very similar to, and often mistaken for, preferred stocks -- see "Preferred Stock Investors: 'Exchange Traded Debt Securities' Offer Same Reward, Lower Risk") used for this chart include those that:
- have a par value of $25.00;
- are currently trading on U.S. stock exchanges (excluding the Over-The-Counter exchange);
- are rated by Moody's Investors Service;
- do not have an announced redemption that is pending;
- are paying dividends (issues with deferred or suspended dividends were excluded);
- have a fixed dividend rate (preferreds with variable or adjustable dividend rates were excluded);
- had a non-zero trading volume on the day that the data was collected (September 17, 2012); and
- are not convertible to another type of security.
Disclaimer: The CDx3 Notification Service is my preferred stock email alert and research newsletter service, and includes a database for all preferred stocks and Exchange Traded Debt Securities traded on U.S. stock exchanges, which provided the data for this article.
[2] For the Preferred Stock Market Snapshot(TM) chart for the second quarter of 2012, see the Seeking Alpha article titled "Investment Grade Preferred Stocks Still Available for Less Than $25."
[3] For actual data on the relationship between rates and preferred stock prices, see the Seeking Alpha article "Preferred Stock Investors: How Afraid Should You Be of Increasing Interest Rates?"
Disclosure: I have no positions in any stocks mentioned, and no plans to initiate any positions within the next 72 hours. I wrote this article myself, and it expresses my own opinions. I am not receiving compensation for it (other than from Seeking Alpha). I have no business relationship with any company whose stock is mentioned in this article.
Additional disclosure: Preferred stocks identified within this article are for illustration purposes only, and are not to be taken as recommendations.