The Gist
I wrote an earlier article about dead money stocks related to the secular decline of the PC. That gave me the idea for this article. In this article, I have chosen to highlight Research In Motion Limited (RIMM). I feel RIMM is dead money at best, and may be on a downward spiral to zero. See chart below, provided by Finviz.com:
(click image to enlarge)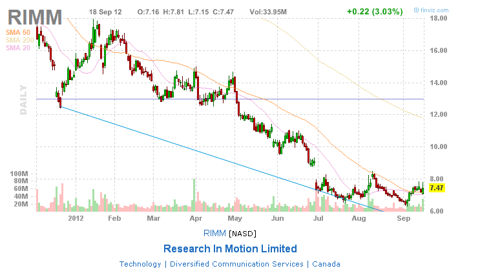 The Breakdown
I posit that RIMM's chances of survival are slim to none. The gauntlet in front of it is colossal. That said, the stock is up today on news of a patent deal with Microsoft (NASDAQ:MSFT). Microsoft signed a patent licensing deal with RIMM covering its exFAT file system for flash memory devices. Don't be fooled by the short term pop in the stock. I think people are reading too much into the story. I don't see this development as changing much for the stock. In fact, if RIMM switches to Microsoft's operating system, as some are speculating, it will be a long and arduous process.
RIMM definitely needs to reinvent itself to survive. There is no doubt about this point. Its former cash cow product, the Blackberry, has become obsolete. I think only the President still uses one. RIMM's Blackberry smartphone was at one time like Apple's (NASDAQ:AAPL) iPhone5 -- now it's relegated to the old school stodgy few unwilling to change. Unfortunately, this is only the tip of the iceberg regarding RIMM's woes.
The stiff competition from the Apple iPhone 5 and Google's (NASDAQ:GOOG) Android smartphones is unrelenting. The iPhone 5 is the standard setter for the industry, with the Android based smartphones fast on Apple's heels. The once dominant RIMM has lost substantial ground to the competition. RIMM's portion of the U.S. market dropped to just 12% by the end of 2011 from 44% in 2007, according to research firm Strategy Analytics.
Top these key concerns with bungling management missteps and network performance issues, and you can see why some believe this company may no longer be a going concern. The missteps over the last year are glaring. RIMM's first tablet, The PlayBook, was a huge disappointment. The latest BlackBerry smartphone release was delayed to the first calendar quarter of 2013. Weak sales have forced the company to issue profit warnings quarter after quarter. RIMM's network was hit by a massive service outage last fall that was the last straw for many users. I will never forget financial journalist Maria Bartiromo holding up her Blackberry on CNBC and stating that the outage had finally forced her to switch to the iPhone. And finally, due to RIMM's shrinking market, the company has endured the largest wave of layoffs in its history over the last year. In fact, it has been reported that RIMM plans to cut 5,000 jobs by year-end, which will cost $3 million, according to the company.
Nevertheless, the stock is up 5% over the last week. This does not impress me. Often when stocks get crushed, there will be short term periods where it will move higher. Don't be fooled -- sell into any rallies. Odds are RIMM may go the way of Palm, which was bought out by Hewlett-Packard Inc. (NYSE:HPQ) near its all-time lows, never to be heard from again.
There may be a slight chance that RIMM can pull off a reinvention. Nevertheless, I don't have any ideas about how such a rebirth would occur. Right now, the company is standing at the edge of the abyss. It's time to put up or shut up.
Conclusion
All the strong headwinds make RIMM a "no touch" stock for now. I would avoid the stock completely - I would not even short it. There is a possibility RIMM has some value based on patents and network assets, which may portend a potential buyout, but I wouldn't hold my breath. It is not certain that the company will simply go bankrupt, so shorting is out of the question.
The odds are against RIMM turning the ship around, but stranger things have happened. Even so, there are plenty of other fish in the sea with better prospects. Your best bet is to avoid RIMM for now.
Disclosure: I have no positions in any stocks mentioned, and no plans to initiate any positions within the next 72 hours. I wrote this article myself, and it expresses my own opinions. I am not receiving compensation for it (other than from Seeking Alpha). I have no business relationship with any company whose stock is mentioned in this article.
Additional disclosure: This is not an endorsement to buy or sell securities. Investing in securities carries with it very high risks. The information contained within this article for informational purposes only, and is subject to change at any time. Do your own due diligence and consult with a licensed professional before making any investment decisions.