Seadrill Ltd. (NYSE:SDRL) gave a presentation at the Pareto Oil and Offshore Conference on September 12, 2012. The company's presentation provided a look into the company's past, present, and future. This was quite interesting as an investor. It is important to understand where a company is going and where it has been when formulating an investment thesis. Seadrill also devoted a portion of the presentation to discussing its positive outlook for the offshore drilling industry. This outlook was very similar to ones that have been presented by other companies in the industry. Seadrill also provided an interesting glimpse into its corporate finances.
Seadrill is the largest offshore drilling company when measured by market cap or by enterprise value. The company's 66-rig fleet is the most modern of any of the industry majors. There are smaller companies, such as Pacific Drilling (NYSE:PACD), that have a more modern fleet than Seadrill but the company is at the front of the pack when it comes to the largest firms in the industry.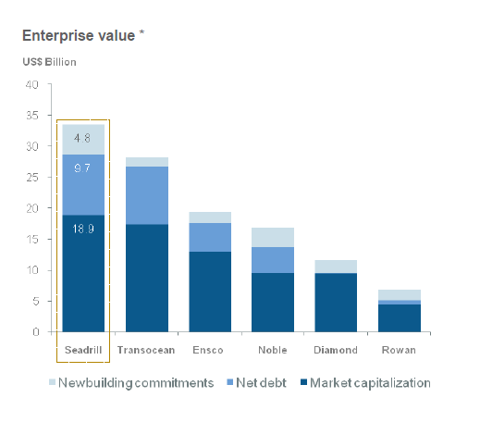 Source: Seadrill Ltd
Seadrill's diverse fleet gives the company exposure to all of the different environments in which offshore rigs operate. The company's fleet is made up of 66 rigs of the following types:
24 ultra-deepwater semisubmersibles and drillships
21 premium jack-ups
21 tender rigs
A good many of these rigs are capable of operating in harsh environments. This is understandable considering the area that Seadrill calls home. The company is incorporated in Bermuda; however, it got its start operating in the harsh environments of the Norwegian Continental Shelf and the North Sea. Today, many of the company's harsh environment rigs are managed by Seadrill's subsidiary North Atlantic Drilling Ltd. (NATDF.PK). Seadrill owns 74% of the common stock of North Atlantic Drilling and has also acted as a creditor to the company. This large and diverse fleet allows Seadrill to operate all over the world. I discussed the advantages that such global diversification has in a previous article on Noble (NYSE:NE), which is linked to above. The same benefits that apply to Noble by virtue of its global operations apply to Seadrill. Specifically, such global operations lessen a company's exposure to any one nation or government and thus lower the regime risk faced by that company.
Seadrill has rapidly grown its fleet since the company was first established in its current form in 2005. While the company can trace its history back to the founding of Smedvig Drilling in 1972, the current Bermuda-based corporation was created in 2005. Seadrill also began trading on the Oslo Børs stock exchange in that year. At its establishment, Seadrill's fleet consisted of three jack-ups, two FPSOs (floating production, storage and offloading), four newbuild jack-ups, and two newbuild semisubmersibles. From those humble roots, Seadrill has grown rapidly into the company that it is today.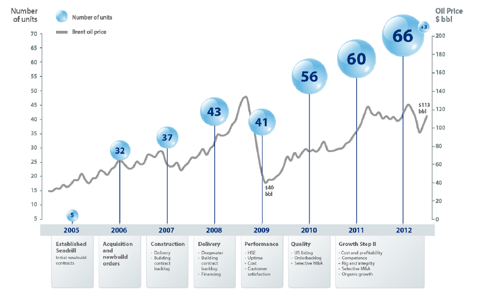 Source: Seadrill Ltd
Seadrill is the second largest player in the ultra-deepwater market, and the company, like many of its peers, is building additional rigs to grow its footprint in this very profitable and growing market segment. Seadrill's ultra-deepwater fleet is made up of 24 units (including newbuilds). The company has four drillships in operating and six more under construction. Of these six, two have already been contracted out at a dayrate of $565,000. The company's four remaining un-contracted drillships have later delivery dates than the two which were awarded contracts. In fact, only one of these is even expected to be completed in 2013. That rig is the West Telus. The remaining newbuild drillships will be complete in 2014. Seadrill stated in its presentation that its ultra-deepwater capacity is completely sold out for 2013. However, the company has not yet announced a contract for West Telus. It seems likely, then, that contract discussions for this rig have proceeded sufficiently far that Seadrill no longer considers West Telus to be available. The company will most likely announce a contract for this rig before too long, with the contract period probably starting sometime in early 2014. These newbuilds should significantly increase the revenue that Seadrill earns from its drillship fleet and position the company very well for growth going into 2014.
The remainder of Seadrill's ultra-deepwater fleet consists of semi-submersible rigs, many of which are capable of operating in a harsh environment. Seadrill has been focusing its growth efforts on drillships, however. Seadrill has 12 semisubmersibles in operation with two more under construction. There is some growth potential here; however, it will not be as strong nor as rapid as the company's growth from the drillships. Seadrill's two newbuild semisubmersibles will provide the largest boost to the company's top and bottom lines attributable to this segment. This will not have an impact for a few more years, however. The first of these newbuilds, the West Mira, is expected to be delivered around the end of 2014. Thus, the earliest that it could begin its first assignment is early- to mid-2015. The second newbuild unit, the West Rigel, will be delivered in the following quarter and will hopefully begin its first assignment in the middle of 2015. There will be some revenue growth over the shorter-term from the company's existing contracts, however. West Leo's dayrate will be ramping up over the next few years (additionally, the third quarter will be the rig's first full quarter in operation), as will the dayrates of West Alpha and West Sirius. Seadrill could also see some near- to medium-term revenue growth from the West Pegasus, currently contracted to PEMEX in the Gulf of Mexico. This is because the rig's contract calls for the dayrate to be adjusted over the term of the contract based on the prevailing market rate. The current market rate is significantly higher than it was when the contract was signed and higher than the rig's current dayrate. Thus, when this provision is triggered, the rig's dayrate (and Seadrill's revenue from the rig) should increase. It does thus appear that Seadrill will see increasing revenues and profits from its semisubmersible fleet but the biggest growth will not come until 2015.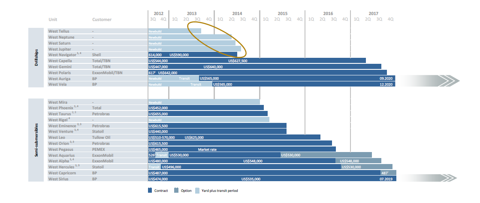 Source: Seadrill Ltd
Seadrill is also the largest operator of premium jack-up rigs in the world. In this case, a premium jack-up rig is one which is capable of operating in at least 400' of water. I suspect that there could be other factors at play too in defining a premium jack-up as a rig search confirmed the number of premium rigs that Seadrill provided for Ensco (NYSE:ESV) and Transocean (NYSE:RIG); however, the RigLogix database did not contain 13 rigs for Rowan (NYSE:RDC) using this definition. Nevertheless, here are the premium jack-up rig counts for its peers which Seadrill sourced from ODS Petrodata.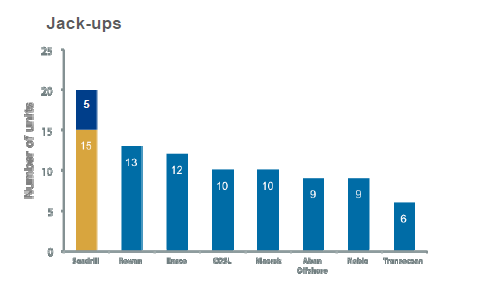 Source: Seadrill and ODS Petrodata
Seadrill also has the newest jack-up fleet of any of the major jack-up operators.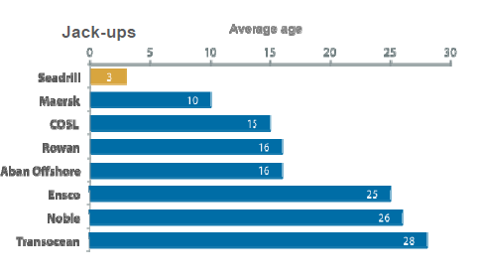 Source: Seadrill and ODS Petrodata
The company has stated several times in its past few earnings reports that customers have been expressing a marked preference for newer rigs with higher performance characteristics. Seadrill is thus well-positioned to deliver this. All of the company's existing jack-ups are currently under contract; however, jack-up rigs typically carry shorter contract terms than floater rigs (drillships and semisubmersibles). This allows Seadrill to be able to more rapidly take advantage of opportunities in this environment. Seadrill has four un-contracted newbuildsd which are expected to be delivered over the next year. Two of these, West Tucana and West Telesto, are expected to be delivered in the fourth quarter of this year. Once these rigs are contracted out, Seadrill will see increases in its revenue and profit from this fleet segment. This could occur as early as the early part of 2013, but Seadrill has not yet announced any contracts for these rigs. Ideally, the company should be (and probably is) making every effort to get these rigs under contract before their respective delivery dates. Seadrill also has an inactive rig, West Vigilant. West Vigilant completed its previous contract with BHP Billiton (NYSE:BHP) earlier this year and has not yet been re-contracted out. Seadrill has stated that it is in advanced discussions for the rig and expects to sign a contract for it soon. This will cause an increase in jack-up revenue compared to the current level but as this rig was previously employed and generating revenue, this would not represent true growth unless the dayrate is higher than what BHP was paying. Seadrill's jack-up segment has additional potential to increase revenue as well (consult the chart below).

Source: Seadrill Ltd
Seadrill is also the world's largest operator of tender rigs and controls 54% of the market. This segment of the company's fleet offers strong growth potential for Seadrill. The company has four new tender barges (T15, T16, T17, and T18) that will be delivered between now and the beginning of 2014. Each of these four rigs has already been contracted out at dayrates surpassing $115,000. These rigs, each of which is under a long-term contract, will assist Seadrill in growing the revenue generated by its tender rig fleet. Another source of revenue and profit growth from the tender fleet will come from Seadrill's semi-tender newbuild West Esperanza. The West Esperanza will begin its first assignment in Equatorial Guinea immediately following its deliver from the shipyard. Allowing for travel time, the rig will thus begin its work around the end of the second quarter of 2013. This contract is particularly indicative of the overall strong potential for growth in the company's tender rig segment due to its dayrate. The West Esperanza's first contract carries a dayrate of $235,000, which is substantially higher than the company's average tender rig dayrate or, for that matter, the dayrate of any other tender rig in Seadrill's fleet! Seadrill will see revenue dip slightly when two tender barges, T4 and T7, finish up their current contracts in 2013. Seadrill has not yet re-contracted out these rigs and may not do so. The company stated during its second-quarter conference call that these two rigs are approaching the end of their economic lives and Seadrill's management will have to decide at that time (the end of their respective contract periods) to either upgrade the rigs or to dispose of them. The West Esperanza alone more than makes up for any potential loss of revenue from these two rigs.

Source: Seadrill Ltd
Seadrill appears to be well-positioned for growth over the next few years. The company has 18 newbuilds currently under construction. Most of these will be delivered in either 2013 or 2014 and many of them already have contracts. Seadrill has a history of delivering strong growth; after all, this is a seven year-old company that came out of nowhere to become the biggest company in the industry. Seadrill's aggressive newbuild program and rate increases on current contracts position the company well for forward growth and the positive fundamentals for the offshore drilling industry give the company a good chance of achieving this potential.
Disclosure: I am long SDRL. I wrote this article myself, and it expresses my own opinions. I am not receiving compensation for it (other than from Seeking Alpha). I have no business relationship with any company whose stock is mentioned in this article.
Additional disclosure: I may take a long position in PACD on any pullbacks.