IBM was once the leading designer and manufacturer of desktop computers. For the current generation growing up on iPhones, iPads, and iPods, IBM is a dinosaur that is rarely seen by the average consumer. But IBM plays a critical role in the operations of the largest, most well-known companies in the world, by enabling them to more efficiently deliver their products and services to the end consumer. It's just that we don't really hear their name anymore.
But IBM is a leader in the IT Consulting space and they have evolved into the largest, if not the best provider of technology to the Global 500. It's stock has trailed the S&P 500 on a YTD basis and despite trading near it's 52-week high, we think the stock has substantial upside in the long-term.
Competitive Advantage
There are two competitive advantages that IBM enjoys in the market which are exclusive to this company: brand name and customer loyalty. The IBM brand is known globally and customers associate it with quality products and solutions - this is something that is hard to replicate for any other competitor in a short period of time. In addition, IBM boasts years of experience in outsourcing services for business processes, applications, and IT Infrastructure and the breadth and depth of experience they offer to their customers creates even more distance between them and their competition. With their focus towards cloud computing services, they have positioned themselves at the forefront of IT consulting, using a massive force of 400,000 employees to deliver results to their customers.
Competitive Landscape
However, the IT consulting space has been evolving quickly. As new consulting firms have popped up, oftentimes led by former IBM or Accenture (NYSE:ACN) employees, these smaller firms have been able to carve out a niche within the industry and have slowly taken market share from the big firms. IBM's response has been to move their business to an annuity based business model that relies less on finite consulting projects and makes it's revenue much more predictable. Through software services and outsourcing, IBM has been able to generate 52% of its revenue from annuity type services and only 48% are transactional. Accenture, for comparison, only has about 15% of its revenue in an annuity type structure. While the industry is trying to move in that direction, the sheer size of IBM makes them the leader in the space. Only Accenture comes close to providing comparable consulting and outsourcing, but falls short on the technology side.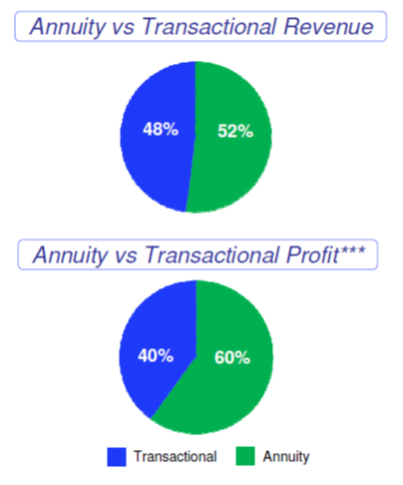 source: IBM website
At one point, cloud computing seemed to be a big threat to IBM, and they responded by creating a suite of cloud computing services through acquisitions ranging from setting up the architecture to offering software as a service (SAAS). As a result, the cloud computing opportunity for IBM is expected to grow at 25% through 2015.
It has also expanded its offerings in the area of business intelligence and analytics and it expects each of those segments to contribute $6 billion in revenue by 2015. That's a 12% contribution from those two segments alone.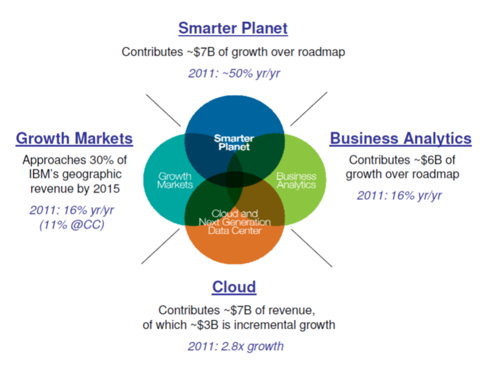 Investment Thesis
IBM is a behemoth. It has a market cap of $236 billion and net income of $16.3 billion, and when it comes to IT consulting, there is no other company that can match the resources available to IBM, including the capital needs to innovate and grow as well as hire the most talented tech consultants in the business.
It is focused on shifting its business mix to growth markets where the IT opportunity is projected to grow by 8% annually through 2015, a level 3 times that of the developed market estimates. In the developed markets however, there will also be plenty of opportunities. Companies are flush with cash and in an economic environment with slow growth prospects, more and more companies are looking to reduce expenses, optimize processes, and maximize the use of innovative technology. This trend leaves IBM well positioned for growth and according to company estimates, it's free cash flow will approach $100 billion by 2015. That leaves lots of cash for share repurchases, dividends, and additional acquisitions for growth.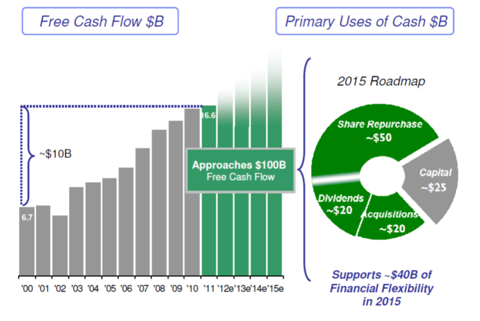 source: IBM website
On the other hand, if the economy grows faster than expected, we would still expect companies to spend capital on technology innovation and business process outsourcing. In our view, IBM will benefit regardless of how economic growth plays out.
Disclosure: I have no positions in any stocks mentioned, and no plans to initiate any positions within the next 72 hours. I wrote this article myself, and it expresses my own opinions. I am not receiving compensation for it (other than from Seeking Alpha). I have no business relationship with any company whose stock is mentioned in this article.