After the bell on Tuesday, Microsoft (NASDAQ:MSFT) announced that it was raising its quarterly dividend. The new dividend will be $0.23 per share, a raise of 15% from the old $0.20 dividend. This declared dividend will be paid on December 13th to shareholders of record on November 15th. The ex-dividend date is November 13th.
This dividend raise was expected by many, and I had recently discussed this upcoming event just a few weeks ago. I had stated that I believed Microsoft's new dividend would be in a range of 22 to 26 cents, so Microsoft hit my range. Last year, I predicted an 18 to 20 cent range, and they came in at 20. While this new dividend is below the midpoint of my given range, it is still a 15% raise, which is not exactly small.
A $0.23 quarterly dividend means that Microsoft will pay $0.92 over the next year in dividends at that rate. Based on Tuesday's close of $31.17, that gives an current yield of 2.95%. Where does that put Microsoft? Well, the chart below shows five of the highest yielding companies in the technology sector.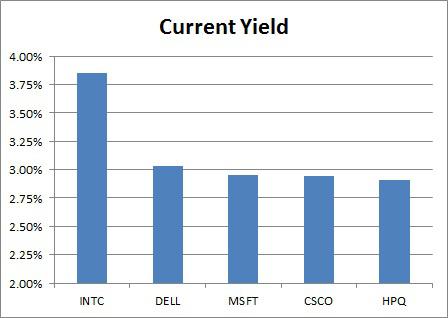 As of Tuesday's close, Microsoft sits in 3rd place in terms of current yield. Intel's (NASDAQ:INTC) yield has shot up in recent days after the company's third quarter earnings warning. Dell (DELL) and Hewlett Packard (NYSE:HPQ) have nice dividends, but they also are projected to show revenue declines this fiscal year (Dell's ends in January, HP in October), and either flat or declining growth again next year. Microsoft expects to have revenue growth in the mid to high single digits for its next two fiscal years (ending June 2013 and June 2014). Cisco Systems (NASDAQ:CSCO) has an equal yield to Microsoft, but offers revenue growth that is a few percentage points lower than Microsoft for its fiscal years (ending in July 2013 and 2014).
Now, some investors may wonder why Microsoft only raised the dividend by 3 cents per share per quarter. They ask this because they see that Microsoft has $63 billion in cash and short term investments on the balance sheet. Well, of that $63 billion, only $9 billion is held inside the United States. Microsoft also is buying back billions of dollars in stock per year, and has a Windows 8 launch upcoming, so a 3 cent raise seems appropriate given that they only have $9 billion of cash and investments inside the United States. They are not going to bring that $54 billion back into the United States under the current tax structure, which would force them to pay billions in taxes.
Tuesday's news about Microsoft's dividend is surely a good sign for investors. While some might have been expecting another penny or two, 23 cents appeared to be the whisper number among analysts. Microsoft now yields close to 3% again, and this is for a company that generates lots of cash, is growing revenues and earnings, and buying back plenty of stock. Don't forget, since 2010, Microsoft has increased the dividend from 13 cents to 16, then to 20, and now to 23. That's a good pattern, and there is still plenty of growth possible. Microsoft's dividend raise reinforces my theory that Microsoft is a top value pick in the technology space.
Disclosure: I have no positions in any stocks mentioned, and no plans to initiate any positions within the next 72 hours. I wrote this article myself, and it expresses my own opinions. I am not receiving compensation for it (other than from Seeking Alpha). I have no business relationship with any company whose stock is mentioned in this article.