Since the Great Recession officially ended in mid-2009, the economic recovery has been far from robust. Not only has the unemployment rate stayed above 8% for 43 straight months, the labor force participation rate is at a 31-year low. And since the beginning of 2010, GDP growth has averaged just +2.1%: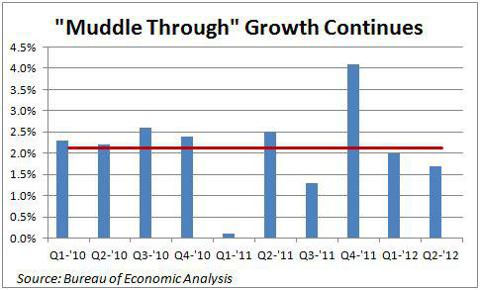 It's because of this sluggish growth that the Federal Reserve recently announced its third round of quantitative easing. But don't expect QE3 to suddenly spark 3%+ GDP growth. The first two (and a half) rounds certainly didn't.
So how should an investor position his or her portfolio in an economy that continues to just limp along? There are a few places to be:
Value-oriented Retailers: Sluggish economic growth means the unemployment rate likely won't come down by any meaningful amount for a painfully long time. This means stagnant wages and tight household budgets for the middle class. As a result, people will hunt for bargains at stores that provide the lowest prices. This is really a continuation of a trend since consumers traded down to value-oriented retailers en masse during the Great Recession and never seemed to leave.
Companies with Wide Moats: Just like a moat would protect a castle from invasions, an economic moat protects a company from competitors who try to steal market share and shrink profits. Companies who can sustain their competitive advantages over time should provide their shareholders with above-average returns, even if the economy is just sputtering along.
Dividend Stocks: The yields on bonds and cash are ridiculously low right now and will remain that way for the foreseeable future as the Fed maintains its historically accommodative monetary policy. This makes the yields on some dividend stocks look very attractive. Companies with solid balance sheets, strong cash flows and a history of dividend hikes are the ones to watch for.
Emerging Markets: Growth opportunities may be muted in the developed economies, but a burgeoning middle class in some emerging markets presents tremendous opportunities. Many U.S.-based companies have seen this trend coming for years and have already established a significant presence overseas that will continue driving their profits forward at a healthy clip.
Here are 4 companies to own in a slow-growth economy:
Value-oriented Retailer:
The TJX Companies (NYSE:TJX)
The TJX Companies is an off-price retailer which operates the Marmaxx Group (T.J. Maxx and Marshalls) and HomeGoods in the U.S.; TJX Canada (Winners, HomeSense, and Marshalls) and TJX Europe (T.K. Maxx and HomeSense). Even though the U.S. has technically been out of a recession for more than 3 years, this discount retailer continues to deliver positive solid same-store sales increases and double-digit earnings growth. It is a Zacks #2 Rank (Buy) stock.
Wide Moat Business:
CBOE Holdings, Inc. (NASDAQ:CBOE)
The Chicago Board Options Exchange is the oldest and one of the largest U.S.-based exchanges for options on equities, indexes and ETFs. The company consistently generates returns on invested capital (NASDAQ:ROIC) north of 40%, and through the first six months of 2012 it earned 28 cents for every dollar in revenue it took in. That's the sign of a wide moat. It is a Zacks #3 Rank (Hold) stock.
Dividend Stock:
Omega Healthcare Investors (NYSE:OHI)
America is growing older, and the unfortunate fact is that more and more people are going to end up in nursing homes over the next decade. Omega Healthcare is a REIT with a portfolio of over 400 health care facilities, 370 of which are Skilled Nursing Facilities, otherwise known as nursing homes. Omega pays a dividend that yields a juicy 7.0%, nearly 4x what you'd get on a 10-year Treasury note. And since 2004, its dividend has grown at a compound annual rate of 11%. Look for more dividend hikes in the future. Omega is a Zacks #2 Rank (Buy) stock.
Emerging Markets Exposure:
Yum! Brands (NYSE:YUM)
Yum!, which operates the KFC, Pizza Hut and Taco Bell restaurant chains, has been struggling with stagnant growth in the United States...but not in the emerging markets. The company's China division has been surging and now accounts for 47% of total revenues. This is expected to drive double-digit earnings growth for the company over the next several years. Yum! has also beat earnings estimates in 26 out of the last 28 quarters. It is a Zacks #3 Rank (Hold) stock.
The Bottom Line
While economic growth in the U.S. appears to be sluggish at best, there are still opportunities to earn strong returns with stocks. These 4 companies are each well-positioned to do just that.