A confluence of bullish and bearish factors leads to the conclusion that municipal market price activity will remain relatively subdued for the summer, with yields likely to be range bound. However seasonal factors could play a positive role. For instance, muni bond issuance tends to decline in the summer. Since 2000, the months of July, August and September have averaged approximately $28 billion, $29 billion and $26 billion in new-issue supply, respectively. In contrast, the post-2000 average for April through June is more than $34 billion, and for the October-through-December period it's nearly $33 billion. In terms of demand, June and July are among the busiest months for bond redemptions on the muni calendar. As a result, many investors will have additional cash positioned for deployment.
Municipals have underperformed the broader US Treasury market, in part because munis do not benefit from the same global flight-to-quality flows that Treasuries do. As a result, relative-value ratios have spiked, resulting in a 106% relative-value ratio for 10-year munis. This elevated valuation level, the long-term average is 84% could mitigate any muni-specific market weakness.
Municipal Relative-Value Ratio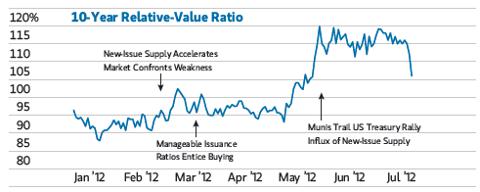 Source: Thomson Municipal Market Data
The reason why they have not outperformed is that absolute yields are at historically low-with 10-year benchmark munis trading at less than 2%. Current valuation levels may continue for some time, and adverse global events could accelerate the flight to Treasuries and possibly push ratios even higher. On the other hand, positive developments in the domestic or global economy could trigger a flight from Treasuries, with falling bond prices eventually transmitting to the muni arena.
Any interim price declines should be viewed as opportunistic entry points. The anticipated uptick in supply in the autumn months may present some buying opportunities. Currently, it would be advisable investing in six-to-14-year maturities via mid-tier A-rated or higher general obligation bonds and essential-service revenue bonds.
As local governments continue to face significant fiscal headwinds, investors should not be relaxing their credit-quality parameters at this time. In contrast, state credit quality is improving, making general-obligation and appropriated paper at the state level compelling. For those seeking short-duration investments, prerefunded municipal securities, also at 96% of corresponding Treasuries appear attractive as well.
In my previous article "Municipal Bond ETF: The Search For Alternative Sources Of Yield" discusses the benefits of having muni' in the portfolio. Investors can get exposure to this asset class using the following ETF options:
iShares S&P California Municipal ETF (NYSEARCA:CMF)
SPDR Barclays Capital California Municipal ETF (NYSEARCA:CXA)
Grail McDonnell Intermediate Municipal Bond ETF (NYSEARCA:GMMB)
Market Vectors High Yield Municipal ETF (NYSEARCA:HYD)
SPDR Nuveen S&P High Yield Municipal Bond ETF (NYSEARCA:HYMB)
SPDR Barclays Capital New York Municipal ETF (NYSEARCA:INY)
Market Vectors Intermediate Municipal ETF (NYSEARCA:ITM)
Market Vectors Long Municipal ETF (NYSEARCA:MLN)
iShares 2012 S&P AMT-free Municipal Series (NYSEARCA:MUAA)
iShares 2013 S&P AMT-free Municipal Series (NYSEARCA:MUAB)
iShares 2014 S&P AMT-free Municipal Series (NYSEARCA:MUAC)
iShares 2015 S&P AMT-free Municipal Series (MUAD)
iShares 2016 S&P AMT-free Municipal Series (MUAE)
iShares 2017 S&P AMT-free Municipal Series (MUAF)
iShares S&P National Municipal ETF (NYSEARCA:MUB)
PIMCO Intermediate Municipal Bond Strategy ETF (NYSEARCA:MUNI)
iShares S&P New York Municipal ETF (NYSEARCA:NYF)
Market Vectors Pre-Refunded Municipal ETF (NYSEARCA:PRB)
PowerShares VRDO Tax-Free Weekly ETF (NYSEARCA:PVI)
PowerShares Insured California Municipal ETF (NYSEARCA:PWZ)
PowerShares Insured National Municipal ETF (NYSEARCA:PZA)
PowerShares Insured New York Municipal ETF (NYSEARCA:PZT)
SPDR Barclays Capital Short Term Municipal ETF (NYSEARCA:SHM)
Market Vectors Short Municipal ETF (NYSEARCA:SMB)
Pimco Short Term Municipal Bond Strategy Fund (NYSEARCA:SMMU)
iShares S&P Short Term National Municipal ETF (NYSEARCA:SUB)
SPDR Barclays Capital Municipal ETF (NYSEARCA:TFI)
Market Vectors CEF Municipal Income ETF (NYSEARCA:XMPT)
PIMCO 25+ Year Zero Coupon U.S. Treasury Index Fund (NYSEARCA:ZROZ)
Disclosure: I have no positions in any stocks mentioned, and no plans to initiate any positions within the next 72 hours. I wrote this article myself, and it expresses my own opinions. I am not receiving compensation for it (other than from Seeking Alpha). I have no business relationship with any company whose stock is mentioned in this article.