Automobile sales in the United States are up. In fact they're way up. This August small car sales in the United States rose more than 47% over last year's figures. It appears the US auto market that took such a heavy hit in 2008-2009 is finally back to normal, and auto sales in the United States are moving along just fine. Ford (NYSE:F) is arguably the most well managed of the Big Three automakers. They were the only one to avoid a government bailout in 2009, so they should be a great pick for taking advantage of a thawing market in the U.S., right? I'm going to show you several good reasons that this assumption would be dead wrong.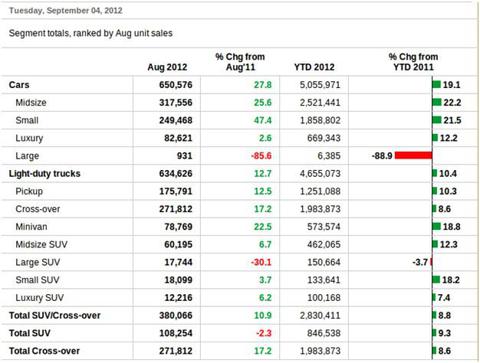 US Auto sales in August were very positive for every segment except large cars and SUVs.
Ford's share of recent sales boom in US smaller than competition
It is true that auto sales in the United States are on the rise. Ford's sales have perked up along with just about everyone else's, but not nearly as much. Ford's share of this year's sales boom in the U.S. is highly disproportionate. Ford's increase in sales over the last 12 months versus the same period in 2011 is a paltry 6%. Although that's far better than GM's (NYSE:GM) meager 3.7%, the majority of recent gains made in the US automobile market have been by Chrysler, Honda (NYSE:HMC) and Toyota (NYSE:TM).

Changes in year to date sales and percent of market share 2011-2012 as of September 4, 2012.
Ford's share of the U.S. market has actually dropped by 1.2% over the last twelve months. Although they are doing better than General Motors, which lost nearly 2% of U.S. market share, the recent increases in sales are hardly something to cheer about. Most of the gains being made are from the Japanese automakers Toyota and Honda, who are still recovering from supply line disruptions caused by the 2011 earthquake. If you want to play the US auto market I suggest taking a closer look at Toyota and Honda, not Ford.
Ford to recall popular SUVs
One of the faster growing segments of the U.S. auto market is the small and mid-sized SUV. The 2 liter Edge from Ford, which has been gaining traction, is slated for a recall. The fuel lines are defective and could potentially cause fires. The recall is limited to only 5,500 vehicles, but this will mark the 5th recall of Ford motor vehicles in nearly as many weeks. This latest recall of the Edge is one of three fire related recalls; the other two were due to improperly placed carpet padding that was responsible for braking failures.
While you can expect the American public to overlook poorly placed floor mats and carpeting, defective fuel lines that could result in a fire are the sort of defects that make a car company the butt of jokes. How many of you are old enough to remember the Pinto?
Continued weakness in the Euro Zone
Auto sales across the EU are at a 20 year low with no signs of perking up soon. Furthermore, car sales across the region have a very real chance of getting even worse. Even though Ford managed to beat analyst expectations in Q2 2012, they also warned that they lost over half a billion dollars in the EU during the first half of this year and expect that number to be well over one billion by the year's end.
Any gains that Ford might make this year in the growing U.S. market will most likely be sucked away by the EU revenue vacuum. Ford is laying off workers and shortening work days as best they can, but they are still over capacity in the region by at least 60 percent. They are attempting to recreate CEO Alan Mulally's process, responsible for Ford's U.S. turnaround 6 years ago. I don't doubt that it is possible for Ford to do so, but I would not have invested in Ford during the depth of the 2008-09 recession either. Europe still accounts for nearly a quarter of Ford's revenues and further economic woes beyond Ford's control could cause them to post an overall loss either this year or next.
The imminent retirement of Alan Mulally
There have been rumors for months now about the retirement of now legendary CEO Alan Mulally. The rumor mill has now progressed to who will succeed Mulally and it seems that Mark Fields is the current favorite. He has been head of the increasingly profitable North and South American divisions for the last seven years.
The soon to retire Mulally has been credited with turning the company around and ensuring its place as one of the world's top automakers. Beginning shortly before the collapse of Lehman Brothers, Mulally took a hatchet to the bloated car giant's dysfunctional departments and its uncooperative executives. He promoted team players and mopped the floor with anyone that wanted to cling to their regional fiefdoms.
The main reason I'm bearish on Ford for the long term, and short, is that 51 year old Fields may not have what it takes to continue what Mulally started. Ford is attempting to focus all their efforts on only 20 vehicle models, similar to Toyota and Honda. There are a lot of lower level executives around the globe ready to fight tooth and nail to make this process as difficult as possible. Whoever is at the controls next for Ford will still face a great deal of internal resistance to the consolidation process. Mark Fields, who hasn't been officially nominated to succeed Mulally as CEO, might have the charisma to keep Ford on track, but I'm not about to bet my retirement savings on him.
Disclosure: I have no positions in any stocks mentioned, and no plans to initiate any positions within the next 72 hours. I wrote this article myself, and it expresses my own opinions. I am not receiving compensation for it (other than from Seeking Alpha). I have no business relationship with any company whose stock is mentioned in this article.