This past Friday, news came that private equity groups were looking at Staples (NASDAQ:SPLS). With its dominant market position in North American retail and its low share price, the interest isn't too surprising. Its current free-cash-flow yield of 14% makes the company look thoroughly discounted by the market -- and as the share price has fallen, the yield has increased: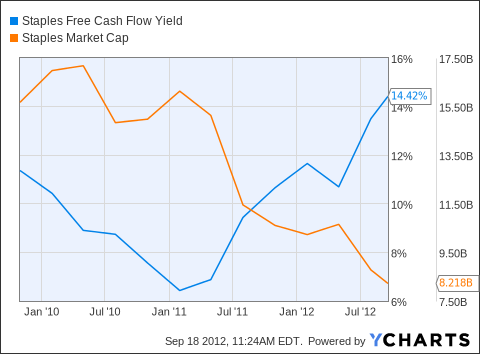 SPLS Free Cash Flow Yield data by YCharts
Segments
The majority of Staples' profit comes from its North American delivery segment. The sales are mostly made online through one of Staples' web sites (Staples.com and Quill.com) -- the large revenue volume through its website makes Staples the second-largest online retailer after Amazon (NASDAQ:AMZN). Its international business is suffering in Europe, and the long lease terms suggest that this problem will persist until leases expire. And as for its familiar North American retail segment, I note its positive performance relative to its competitors below.
Products
Staples has a few product categories on the decline, including some trends which hold the promise of being shortly reversed, like the declines in PC sales. It also has moved into adjacent product categories. For instance, Staples has moved into "break room supplies," which recently recorded a growth rate of 20% year-over-year. It also is attempting to emphasize its electronic offerings by putting the electronics squarely "front and center" in the stores. Lastly, its proprietary Staples store brand, which is cheaper in addition to garnering a greater gross profit than other brands, makes up approximately 27% of its revenue.
Industry
As noted by other companies within the office supply store space, the part of the office supply store business which operates contracts with state and local governments is being squeezed by declining tax revenue. Further, it looks like the industry as a whole is "over-built," with Staples' competitors losing profitability as the market for office supplies contracts. It is my belief that the service Staples provides, particularly within the delivery segment, is not going away. Right now there are three publicly traded companies which follow the office supply store model: Staples, Office Depot (NYSE:ODP), and OfficeMax (NYSE:OMX).
The Peer Group
Under the assumption that office supply companies will be around in the future, the question to ask is: whose future is the most promising?
The major arguments for Staples ought to be conditioned with one little disclaimer about our human weakness: behavioral economists have shown [1] that when we compare things, we are basically forced into a relativistic judgment. Therefore, when I will argue below that Staples is best in class -- and it is -- we should remember that psychologically it will look even better because its similar competitors are faltering. This is basically a reflection that the decoy effect can hamper us. That said, let's dig in.
Staples clearly comes out on top when we compare the three companies by revenue: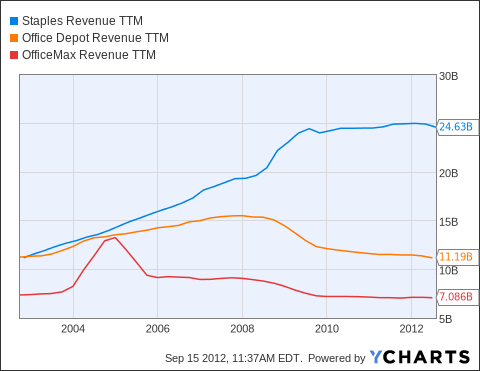 SPLS Revenue TTM data by YCharts
Staples appears most impressive in the free-cash-flow [2] figure -- which, after all, is what matters the most: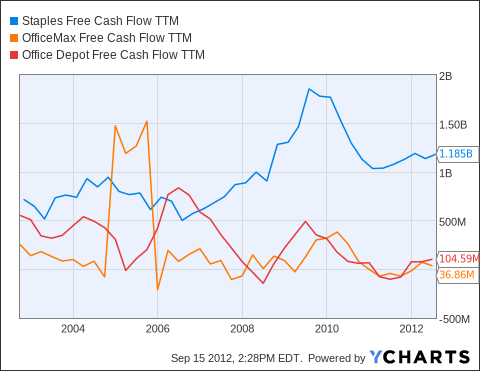 SPLS Free Cash Flow TTM data by YCharts
Staples had a FCF figure 11 times that of Office Depot and 32 times that of OfficeMax. And remember, Staples is just off its 52-week low: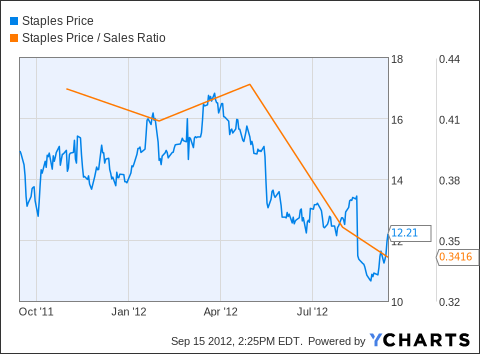 If you notice, I included the P/S ratio in the graph above -- it is registering its lowest level ever.
When it comes to the cash-conversion cycle, we see that Staples is able to turn over the inventory at a slightly faster rate than Office Depot and OfficeMax. That means less capital is needed within the business and that its operations are, at present, more efficient at keeping inventory levels low. Staples is also the only one who appears to have been improving its cash-conversion cycle.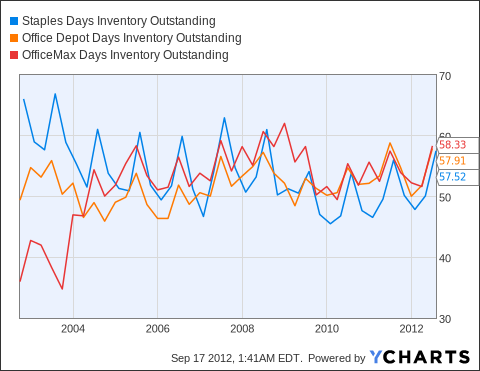 SPLS Days Inventory Outstanding data by YCharts
On numerous other statistics, Staples continues to dominate as well. When it comes to debt levels, Staples is safely unleveraged -- although this limits its ROE, which stands at 17.4% [3]. See the peer group's debt-to-equity ratio below: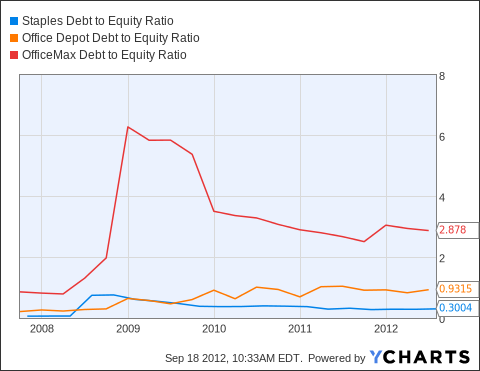 SPLS Debt to Equity Ratio data by YCharts
Staples is safe.
Even during the period preceding the revenue declines at Office Depot and OfficeMax, it is clear that Staples was making better use of the capital at its disposal than its competitors. See its return on assets: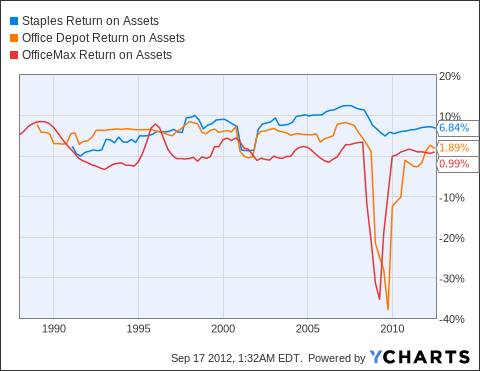 SPLS Return on Assets data by YCharts
Staples position and track record -- even including its lackluster performance overseas [4] -- make it best in class. And in North American retail, where the three companies compete head on, Staples handily dominates. As I noted in my article Staples: King Of Office Supplies:
"In North America, for example, Office Max has 978 stores with average revenue per store of $3.5 million, Office Depot has 1,131 stores with average revenue of $4.3 million per store, and Staples has 1,900 stores with an average of $5.08 million per store -- or it has about 67% more stores, which make 18% more on average compared with their nearest competitor."
Conclusion
If we look at the office supply store space, we see that Staples has increasingly dominated the market over the last five years. Staples is not perfect -- it has a low margin international business and currently is experiencing a mild decline in same-store sales [5] -- but the traits which would justify its health, like market share, profitability, and cash flow, are all stable.
Staples is a good business at a good price. It offers a 3.6% dividend, it is the second largest online retailer, it dominates its peer group, and it has a free-cash-flow yield of 14%. Those traits make Staples an undervalued stock.
Staples - Key Stats
Last Price
$11.94
P/E
8.9
P/S
0.34
P/FCF
6.94
Debt-to-Equity
0.3
Notes:
Ariely, Dan. "The Truth About Relativity." In Predictably irrational: the hidden forces that shape our decisions. New York: Harper Perennial, 2010. 7-15.
Free-Cash-Flow = FCF = Operating Cash Flow - Capital Expenditures
I used FCF instead of Net Income in that calculation.
Staples international profit margin was negative 2 percent for the 2nd quarter ending July 28th 2012 (see 10-Q) -- note, that doesn't include the lucrative 3rd and 4th quarters.
Staples' North American Retail's sales decreased 2.7%, comparable store sales decreased 2%, and business unit income rate decreased to 4.4% from 5.0% (2nd Quarter 10-Q, p. 22)
Disclosure: I have no positions in any stocks mentioned, but may initiate a long position in SPLS over the next 72 hours. I wrote this article myself, and it expresses my own opinions. I am not receiving compensation for it (other than from Seeking Alpha). I have no business relationship with any company whose stock is mentioned in this article.