The Coca-Cola Company (NYSE:KO) has been announcing leadership appointments and reassignments like they're going out of style for the last couple of weeks. The overall purpose of their staff shuffling is to help the company run more efficiently. Apparently Coca-Cola Chairman and CEO Muhtar Kent is tired of hearing from too many regional executives and wants to streamline the company's reporting lines.
The reshuffling of Coca-Cola's three operating businesses, Coca-Cola International, Coca-Cola Americas and the Bottling Investments Group is intended to help the parent company better focus on key markets, like China and India. It intends to consolidate leadership of global operations under the Bottling Investments Group. There's going to be so much moving and switching of offices that you should be minding the cardboard box sector.
Coca-Cola Enterprises has been losing market share recently in Great Britain due to some heavier than usual marketing operations from local competitors and PepsiCo Inc. (NYSE:PEP). It also didn't hesitate to mention that weather in the second quarter was even more British than usual. Per Capita consumption in the European Market is still about half that of United States. In some ways, the European market is still undeveloped compared to North America.
The non-sparkling segment of the North American beverage market has been taking off lately and flavored beverage drops are the most promising new segment for future growth opportunities. Unfortunately for the Coca-Cola Co., Kraft Foods Inc. (KFT) has already got a foot in the drops market. Kraft is marketing its 'water enhancers' under the Mio brand and recently launched an energy drop drink with caffeine, and more exotic ingredients to give customers and its top-line profits a boost. Wisdom Natural Brands also entered the drop market with its flavored stevia drops more than a year ago. The Coca-Cola Company may be late to the game, but by leveraging the recognition of its Dasani bottled water brand it hopes to carve out a large chunk of the flavored drops segment.
The flavored drops market is still in its infancy and market strategists perceive there will be a slow warming to the idea of flavoring your water with concentrated liquid in a little plastic bottle. The North American market for beverages is fully saturated, but there is a trend of consumers moving away from high sugar to lower sugar alternatives considered healthier. With Coca-Cola's immense marketing capabilities, it's entirely possible that the world's largest soda maker will lead the pack of new healthy drinks intended to help you kick the soda habit.
In China, a recently published survey from the wonderfully named China Association for Quality claims that people are losing their trust in the brand. That's right, the Chinese are scared of contaminated Coca-Cola. The fear isn't unfounded. Earlier this year, while refitting some pipes, there was some chlorine contamination in about 120,000 cases that were sent out of the Coca-Cola Shanxi Beverages Company.
After some apologies and reassurances though, all seems to be back to normal for The Coca-Cola Company in China. The brand has posted incredible double digit growth for nine of the last 10 years and continues to remain popular with college age consumers. Coca-Cola it appears will continue to dominate the soft drink market in China for some time.
Click to enlarge
Since mid-2010, Coca-Cola has led the beverage giants Pepsi and Dr. Pepper/Snapple.
The Coca-Cola Company is a recession-resistant blue chip stock, but if you want to play the success of the brand, the parent company might not be the best way to go about in the short term. The company works with at least 275 bottling partners to package and deliver its 500 plus products to consumers around the globe. What you may not know is that many of those bottling companies are publicly traded and outperforming their parent company in the short term.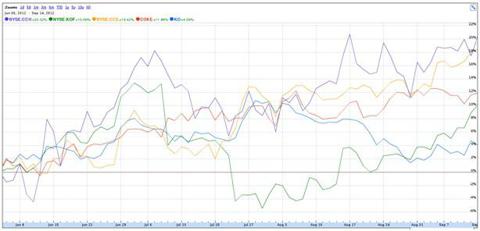 Well performing Coca-Cola Bottling (NASDAQ:COKE) is the largest independent bottling company in the US, but also happens to be much smaller than Coca-Cola Enterprises (NYSE:CCE) which was purchased by the parent company a couple of years ago. The lightly traded small-cap stock has outperformed the Coca-Cola company this year, up 18% compared to just 9% in the last twelve months by the Coca-Cola Company. If you can stomach the low liquidity and high volatility of a stock that only moves about 10,000 shares a day then this might be a better short-term option than the parent company.
In Europe, the largest bottler is Coca-Cola HBC (CCH). It's been reporting losses as often as gains for the past year now and is operating in an economically depressed region that could implode at any moment. If that isn't enough to make you nervous, the company is the result of a merger between London-based Coca-Cola Beverages and a Greek operation out of Athens. If your red lights aren't flashing, then you might be enticed to take a wild gamble on this distributor due to the recent gain of over 20% its shares have seen over the past few months.
If you want to buy and hold The Coca-Cola Company for the long term, you're in good company, Warren Buffett's Berkshire Hathaway (BRK.A, BRK.B) has a substantial long-term position in the beverage company. It is largely recession resistant and posts a modest dividend yield of 2.68 percent. The recent reshuffling is going to have a positive effect on its bottom line, but it will most likely be several quarters before the consolidation has an effect on share prices. The recent drop in The Coca-Cola Company's share prices since the 2 for 1 stock split just might be the right time to initiate a long position on this industry bellwether.
Disclosure: I have no positions in any stocks mentioned, and no plans to initiate any positions within the next 72 hours. I wrote this article myself, and it expresses my own opinions. I am not receiving compensation for it (other than from Seeking Alpha). I have no business relationship with any company whose stock is mentioned in this article.