Dundee Securities analyst John Aiken lowered his second quarter earnings estimate for TMX Group Inc. (This is based on lower than expected transaction volumes in both the derivatives and equity business.) In a research note late last week, Mr. Aiken predicted the owner of the Toronto Stock Exchange and Montreal Exchange will post earnings for the three months ended June 30 of C$0.74 per share, down from a previous estimate of C$0.77.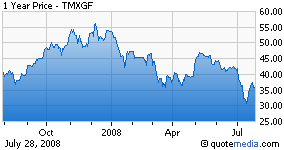 Mr. Aiken maintained his "buy" rating on the shares, warning at the same time that the company faces a "challenging" outlook. TSX Group, which completed its merger with the MX at the end of April, is expected to release its second quarter earnings on Wednesday.
The exchange owner typically enjoys outsized results in the second quarter, but this year was different as volumes slipped in equities and derivatives trading, as well as new equity listings, Mr. Aiken said. Because the merger closed midway through the quarter there will likely be limited visibility on savings from the deal. However, analysts will be watching closely to see if targets are being met.
Mr. Aiken said:
We note that any progress would be viewed quite positively and could provide an impetus for greater assumed synergies.