By: Brendan Gilmartin
Overview
Adobe Systems (NASDAQ:ADBE) is slated to release 3Q 2012 earnings after the close of trading on Wednesday, September 19. The results are typically released 4:05pm EST with a conference call to follow at 5:00pm EST.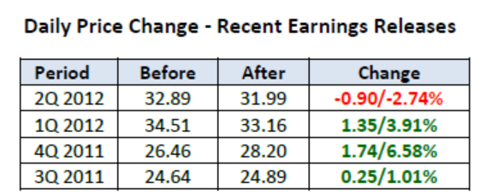 Outliers & Strategy
Key Measures:
Non-GAAP Earnings Per Share : On a non-GAAP diluted EPS basis, Adobe said it was targeting a range of $0.56 to $0.61. The Street estimate is $0.58. (Source: Yahoo! Finance)
Revenues: For the third quarter of fiscal 2012, Adobe previously said it is targeting revenue of $1.075 billion to $1.125 billion. The estimate is $1.11 billion.
Historically, Adobe shares have been more reactive to the quarterly guidance versus the reported actual results.
Adjusted Earnings Per Share Guidance (4Q 2012): Analysts are anticipating Adobe to announce adjusted earnings guidance of approximately $0.67. If the low end of the guidance range is above the $0.67 consensus, Adobe could move higher, while a weak outlook could prompt a re-test of low near $30 last month.
Revenues Guidance (4Q 2012): Analyst estimates are expecting Adobe to guide for revenue of $1.21 bln.
Adjusted Earnings Per Share Guidance (FY 2012): Back in June, Adobe said it is targeting non-GAAP diluted earnings per share target range to $2.40 to $2.46.
Revenues Guidance (FY 2012): For fiscal year 2012, the company narrowed its annual revenue growth target to a range of 6% - 7%, versus its prior target range of 6% - 8%.
Keep a close eye on Adobe's earnings for clues ahead of Oracle's (NYSE:ORCL) upcoming earnings release on September 20, 2012. Adobe's results are widely seen as an indicator of the overall health of the software sector and precursor for industry giant Oracle.
Adobe shares dropped nearly 3% following last quarter's earnings release after the forward outlook overshadowed the successful launch of Creative Cloud and Creative Suite 6, solid Acrobat revenue and 35% year over year revenue growth in the Digital Marketing Suite business.
Recent News
•09/18: According to Schaeffer's Investment Research, put volume in Adobe options is more than 4x the daily average ahead of the upcoming earnings release, while sentiment indicators are painting a cautious picture.
•08/24: Adobe Systems shares sunk nearly 4% after rival Autodesk (NASDAQ:ADSK) slashed its 2013 revenue forecast, based on internal execution challenges, coupled with an "uneven global economy."
Technical Review
Adobe Systems slipped toward the 20-Day SMA of $32.50 on Tuesday (9/18) - a technical level that goes back to late April. The downward move headed into the earnings release, coupled with increased Put volume in the options markets are signals the Street may be biased toward a weak report. If the results conclusively disappoint, there is downside risk to the 50-Day SMA near $32.00, with downside risk to the YTD lows near $30.00. Conversely, a surprise to the upside could lift the shares through resistance near $34.00. (Chart courtesy of StockCharts.com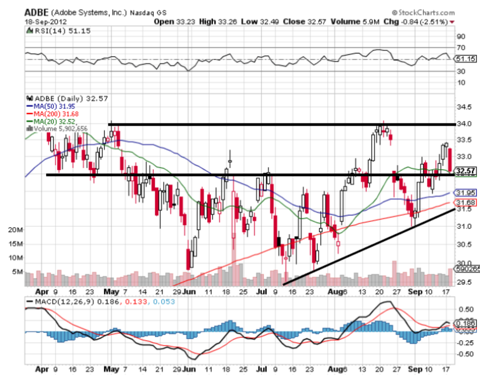 Summary
Adobe Systems shares retreated in the session leading up to the 3Q 2012 earnings release amid concerns over the macro outlook, coupled with reports of heavy promotional pricing for the new Creative Suite product line. Last quarter's cautious outlook, weakness in many of its peers, and reports of increased put buying in the options market have many investors on edge headed into the release. Given that Adobe typically telegraphs its forward earnings expectations, the outlook for the 4Q period and balance of the year are seen influencing the direction of the shares in after-hours trading.
DISCLAIMER: By using this report, you acknowledge that Selerity, Inc. is in no way liable for losses or gains arising out of commentary, analysis, and or data in this report. Your investment decisions and recommendations are made entirely at your discretion. Selerity does not own securities in companies that they write about, is not an investment adviser, and the content contained herein is not an endorsement to buy or sell any securities. No content published as part of this report constitutes a recommendation that any particular investment, security, portfolio of securities, transaction or investment strategy is suitable for any specific person.
Disclosure: I have no positions in any stocks mentioned, and no plans to initiate any positions within the next 72 hours. I wrote this article myself, and it expresses my own opinions. I am not receiving compensation for it (other than from Seeking Alpha). I have no business relationship with any company whose stock is mentioned in this article.