It might be hard for investors to believe, but Nevada is one of the best places in the world to mine for gold. Companies bullish on Nevada gold mining include some of the world's largest mining corporations along with a number of startups. The area along Interstate 80 in Northern Nevada in particular has become a focus for new exploration and development efforts. These efforts are driven by the success of existing gold mines in the area.
Pershing County Gold Mining and Exploration
Established mines in the area include the Rochester gold and silver mine near Lovelock, operated by Coeur d'Alene (NYSE:CDE). This open pit operation has produced over 128 million ounces of silver and 1.4 million ounces of gold in the past 25 years. In 2011, Coeur d'Alene produced 1.4 million ounces of silver and 6,267 ounces of gold from the Rochester mine. This produced metal sales of $57.3 million for the company in 2011.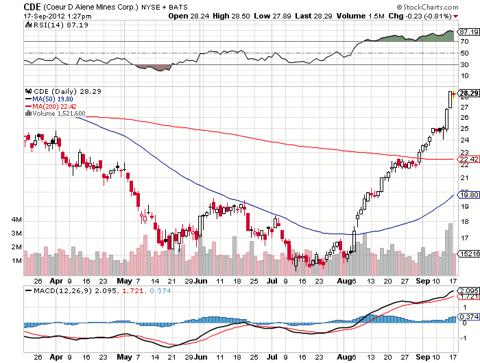 The success of existing mines like the Rochester has prompted Pershing Gold (NASDAQ:PGLC) to speed up its efforts to reopen the abandoned Relief Canyon Mine in Pershing County near Lovelock. Pershing's management team hopes to have the Relief Canyon Mine up and running again by 2014.
Pershing has consolidated its land holdings at Relief Canyon and expanded landholdings in the area. It has launched a new drilling program and conducted infrared testing that has uncovered evidence of 248,000 ounces of gold at the site. Pershing is developing a strategic relationship with Coeur d'Alene, which has agreed to purchase 10,937,500 shares of Pershing's stock.
Mining in North Central Nevada
Pershing hopes to duplicate Allied Nevada Gold's (NYSEMKT:ANV) success at the Hycroft Mine near Winnemucca. When Hycroft was last in production between 1987 and 1998, it produced one million ounces of gold using a heap leaching process. Pershing has heap leaching facilities at Relief Canyon. Allied Nevada is trying to revive another old mine called the Hasbrouck Project near the historic mining town of Tonopah. A preliminary economic assessment prepared by Allied Nevada estimates that there are 1.2 million ounces of gold and 29.3 million ounces of silver worth an estimated $98.7 million at Hasbrouck.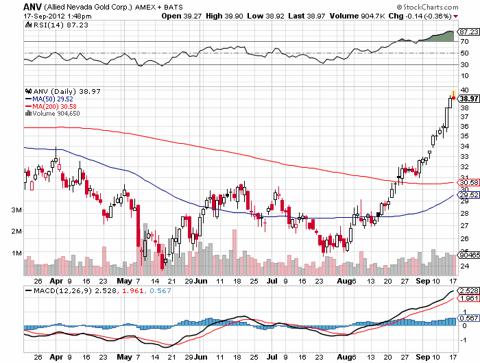 As you can see from the charts, both Allied Nevada and Coeur d'Alene have seen their stock prices jump in recent weeks. This increase in value is partially due to the recent increase in the price of gold and the trouble mining companies are having in other parts of the world. Gold rose to $1,769.77 an ounce on Monday, September 17, 2012, primarily because of the Federal Reserve's decision to implement a policy of "quantitative easing" (the purchase of mortgage backed securities to stimulate the economy) and a decision to hold down interest rates on September 13th.
A number of other startups, including Valor Gold (VGLD.OB), have joined the new gold rush to Nevada in recent months. Valor has been drilling at the Red Rock property south of Battle Mountain, Nevada, which is located at the intersection of three major gold trends: the Battle Mountain Eureka, Rabbit Creek, and Caetano Caldera. Several other companies, including Barrick Gold (NYSE:ABX), Thunder Mountain Gold (OTCQB:THMG), WC Gold, Paramount Gold and Silver (NYSEMKT:PZG) and Mill Bay Ventures (MBV) are also active in this area. The Red Rock property is located in the vicinity of Barrick Gold's prolific Cortez Mine and the Phoenix gold and copper mine, which is owned by Newmont Mining (NYSE:NEM).
Another company working in the area is Miranda Gold (OTCPK:MRDDF), which has 13 projects in Nevada, seven of which are in the Cortez Trend near the Red Rock Property. Miranda is interested in Nevada for several reasons. First and foremost among these reasons is political stability. Some gold projects, including Newmont's $5 billion Conga Project in Peru, have been delayed by local opposition. There is little opposition to gold mining in Northern Nevada, where it has historically been the basis of the economy.
Another factor attracting companies to Nevada is the availability of modern infrastructure. Nevada contains major modern highways, including Interstate 80, along with two major Union Pacific railroad lines.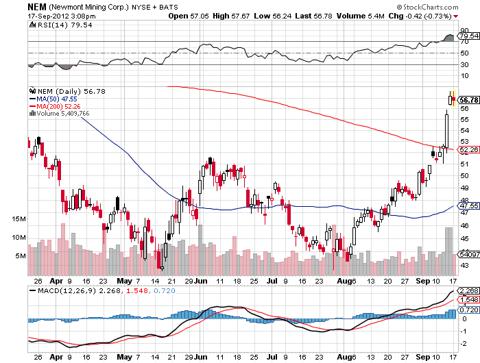 Barrick Gold is currently pushing its major exploration project, which has 50 active drilling rigs in the Red Hill and Goldrush properties in the Carlin Trend. This is about 14 miles southeast of the existing Cortez Mine. Gold Standard Ventures (NYSEMKT:GSV) is active in the same area where it has been developing the Railroad project adjacent to Newmont's Rain Mine.
Nevada has once again become one of the world's centers of gold exploration. The stock charts indicate that companies that explore and mine there are capable of generating substantial revenues and share value increases. With gold prices rising, Nevada will continue to attract more and more gold miners and investors.
Disclosure: I have no positions in any stocks mentioned, and no plans to initiate any positions within the next 72 hours. I wrote this article myself, and it expresses my own opinions. I am not receiving compensation for it (other than from Seeking Alpha). I have no business relationship with any company whose stock is mentioned in this article.