Click here to read my interview with Jamba Juice, Chairman, President, and CEO James D. White.
For the past three and a half years, Jamba Inc (NASDAQ:JMBA) has been working on a rigorous corporate transformation from smoothie shop to healthy, active lifestyle brand. Since taking his role as CEO in late 2008, Mr. White has increased Jamba's adjusted operating margin by 190% (from 8.5% to 24.7% as of Q2 2012). And more importantly, Jamba is on pace to be profitable for the first time since its IPO in 2012.
Below are the 4 key growth catalysts for Jamba in 2012.
Integration Of Talbot Teas This Fall
Jamba acquired Talbott Teas, a Chicago based premium tea company, on February 17 of this year. Since then Jamba has been relatively quiet about how it will integrate the acquisition. In my interview with Mr. White he mentioned "we will be rolling out a Talbott Teas product line into stores this fall." This could be a huge addition to Jamba's business model and be used to increase margins as well.
Jamba Juice stores are the backbone of Jamba's main brand, but are a very seasonal business. In Q2 2011 revenue was $58.7 million, but fell down to $44.3 million in Q4 of that year. Now that Talbott Teas has been acquired and rollout of its made-to-order beverage service is coming this fall, Jamba's seasonality could be a thing of the past.
Current projections for Q4 2012 revenue stand at $46.7 million. An increase of just 5.4% from 2011. If made to order Talbott Teas beverages are successful, winter sales could increase well beyond analysts' expectations.
International Expansion
Mr. White mentioned that Jamba has targeted over 1,000 potential international locations. As of now there are just 30. This massive growth initiative has really taken off this year, and should have a huge positive impact on Jamba's international CPG (consumer packaged goods) possibilities.
From Jamba's Q2 report "During the quarter, 13 new stores opened, six in international markets." Jamba only started its international expansion 18 months ago and already has established a presence in South Korea, Canada and the Philippines.
This franchise store growth will lead to increased brand awareness in several new markets. As of now, Jamba has been focusing on developing its CPG business domestically. But international franchising may have just indicated Jamba's willingness to take CPG offerings global.
CPG Business
Jamba has only had $0.6 million in CPG licensing revenue so far this year, but is projecting to hit approximately $3 million for all of 2012. In its May Investor Presentation, Jamba projected CPG licensing revenue of $20 million by 2015.
The growth behind this CPG revenue can be attributed to two major catalysts, 1) Jamba Energy and 2) Talbott Teas. Jamba recently acquired IP from Nestle for Jamba Energy so that it could "accelerate" its "consumer products growth platform."
Jamba's new image as an active, healthy, lifestyle brand has the potential to create a niche within the surging energy drink market. Monster (NASDAQ:MNST), the market's only pure energy drink play, trades at a relatively high premium (28x 2012 EPS), and boasts a PEG of 1.77.
Despite its torrid success, Monster has gained a rep for being "unhealthy." Jamba's fresh and healthier image (combined with a much healthier product) could provide consumers with an appealing alternative to traditional energy drinks.
Here's a direct quote from my interview about how Mr. White will expand the Talbott Tea brand. "Jamba Juice is also planning to build a distribution base at premium hotels restaurants, and select retailers with the Talbott brand." Although the Talbott brand is young, Jamba clearly has a plan on how to efficiently integrate it into its offerings, and expand its distribution platform.
JambaGo Expansion
JambaGo is a unique and new retail unit Jamba is leveraging to reach more consumers.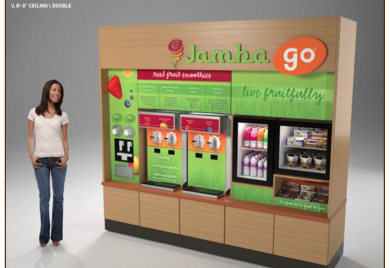 By implementing this kiosk-like retail model at K-12 schools across the country, Jamba will further its distribution base for its CPG business. This asset light growth route provides additional brand exposure with younger consumers, as well.
With only 130 current locations, and 1500 expected by 2013, JamaGo is in its early stages.
Valuation
Although current EPS estimates for 2013 stand at just $0.10 per share. Jamba still appears to be an attractive investment at $2.50. EPS is on track to grow 400% from 2012-2013, and projections appear to be far too low.
Revenue estimates for Q4 ($46.7 million consensus) are only $2.4 million higher than in Q4 2011. Here is why Jamba is poised to easily beat its top-line Q4 (and thus full year 2012) projections.
| | |
| --- | --- |
| Source | Revenue (millions) |
| CPG Growth | $1.0 |
| Comp Growth (Ex Talbott Tea's) | $1.5-2.0 |
| Talbott Tea's Made To Order | ~$2.0-4.0 million |
Even excluding JambaGo revenue (projected to be around $0.7 million for 2012), Jamba could easily add $4.5-$7 million in Q4 2012 revenue y/y. Analysts are projecting an increase of less than half of that, and clearly aren't putting enough weight on the potential of the Talbott Tea's product integration.
Right now Jamba makes ~44% more revenue in the summer months. If Talbott Tea's can eventually make up that difference it would do wonders for Jamba's overall margins. Jamba Juice is projected to pull in $0.07 per share in Q3 2012, yet total 2012 EPS projections are at $0.02, because of slower business during the winter. If Jamba could manage to break even with Talbott Tea's during the winter quarters, EPS would come in at $0.14 for 2013. That's assuming no same store sales growth, or CPG revenue growth.
The potential of Jamba with newly acquired Talbott Tea's and an increasingly profitable business model is better than ever. Below is a price/sales comparison with other similar retailers showing Jamba's potential if margins reach their full capabilities.
| | | |
| --- | --- | --- |
| Company | Price/Sales | 2011 Operating Margin (NYSE:TTM) |
| Starbucks (NASDAQ:SBUX) | 3.30 | 12.8% |
| Dunkin Donuts (NASDAQ:DNKN) | 5.55 | 34.3% |
| The Fresh Market (NASDAQ:TFM) | 2.27 | 7.5% |
| Lululemon (NASDAQ:LULU) | 9.50 | 27.3% |
| Jamba | 0.77 | 20-23%* |
*Jamba's adjusted operating margin is 2012 projected
As you can see Jamba trades at a steep discount to its peers on a price/sales basis. The market clearly has discounted Jamba because of its history of being unprofitable and seasonal business. If Jamba can achieve its 2012 margin projection and keep that momentum going into 2013 (operating margins have increased every year Mr. White has been CEO), its price/sales multiple is destined to increase.
Conclusion
As Jamba finally turns profitable for the first time in 2012, its turnaround story appears to be complete. Jamba's new "accelerate growth" phase has tons of potential to increase future earnings, that the market isn't expecting.
Growth via increasing same store sales (namely with Talbott integration), new franchise locations (domestically and internationally), CPG expansion and JambaGo units, is just beginning. As Jamba completes its successful transition to a healthy, active lifestyle brand, EPS appreciation will follow. If Jamba were to trade at a price/sales multiple of 2 (still the lowest of any of its peers), shares would be over $6.70. Even if the market keeps a depressed price/sales multiple on shares, impending revenue growth will be an upwards catalyst. A 0.77 price/sales multiple (current value) on 2013 revenue leads to a target price of $2.80 per share. That's using revenue estimates which appear far too low, and don't seem to include the success of this fall's Talbott Tea product integration.
Disclosure: I have no positions in any stocks mentioned, and no plans to initiate any positions within the next 72 hours. I wrote this article myself, and it expresses my own opinions. I am not receiving compensation for it (other than from Seeking Alpha). I have no business relationship with any company whose stock is mentioned in this article.