We recommend buying FirstEnergy (NYSE:FE) due to its high dividend yield of 5.1%, cheaper valuations, and decreasing debt levels. The company reduced its EPS guidance for 2013 in the last month; the stock was down on the news. The current price level of $43.22 provides a great entry opportunity for investors to buy the stock.
FirstEnergy is a leading regional energy provider, mainly engaged in the generation, transmission and distribution of electricity through its subsidiaries. In 2011, it completed its merger with Allegheny Energy, which helped the company add a highly efficient coal facility in southern Pennsylvania. The company is expected to enjoy an annual pre-tax benefit of $210 million from the merger.
For 2Q2012, the company's reported revenues were $3.87 billion, down ~4.5% as compared to the corresponding period in 2011. The company reported EPS of 0.6 cents, missing the earnings estimates for the quarter by ~6%. Operating profit margin experienced an improvement from 12.8% in 2Q2011 to 14.4% in 2Q2012; this was mainly associated with a reduction in purchasing power and other operating expenses. It also incurred lower O&M in the quarter due to lower outages. The company lowered its 2013 EPS guidance of $3.1-$3.3, as FE is planning to go through its fall budgeting task in detail, which would need a change to the variables in the budget, leading to both a positive and negative impact on the bottom line. Revenues for 2012 and 2013 are expected to be in line, while EPS is expected to be down 8% in 2013, as compared to 2012.
For some time now, power-generating companies have been switching from coal to gas as their preferred fuel for electricity generation. The fact that gas prices have been low recently has only increased the dependence of power companies on natural gas. Also, natural gas has much more support for its use as an input as compared to nuclear energy, which is considered unsafe, as well as coal, which is criticized due to its impact on the environment. However, FirstEnergy has been unable to benefit from low gas prices since natural gas' contribution to FE's generation mix is very low.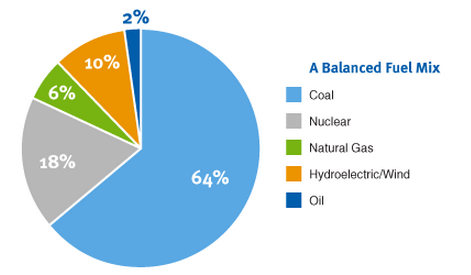 Source: firstenergycorp.com
Total distribution delivers for the company increased by 1% YoY in the recent second quarter. Residential and commercial have contributions of 33% and 30%, respectively, in total distribution deliveries in 2Q2012; industrial sales have the largest chunk (36%). Since the company has a large exposure to industrial customers, a slowdown in economic activity can lead to a fall in FE's total revenue.
The company has been working on improving upon its operations. Earlier this year, FE announced its plan to enhance service reliability across its service area, with spending estimates being $700-$900 million by 2016. Recently, one of FE's subsidiaries planned to expand its nuclear fuel storage capacity at the Beaver Valley Power Station. Work on the project is expected to start in fall of 2012, and completed by 2014.
FirstEnergy offers an attractive dividend yield of 5.1%. The company has constantly been paying dividends over the years, and has maintained an annualized dividend of $2.2 per share; its operating cash flow yield (TTM) is ~12%. To strengthen its balance sheet, the company has adopted debt restructuring initiatives. In fiscal year 2011, it reduced total debt outstanding by $2.4 billion, resulting in its debt-to-capitalization to drop from 62% in 2010 to 57% at present, which is the lowest level in the last six years. It has plans to further reduce its debt level and achieve debt-to-capitalization of 55% over time, which would still be on the higher end as compared to its industry average of 45%. However, the company has decent interest coverage of 2.5x.
| | | | | | |
| --- | --- | --- | --- | --- | --- |
| | FirstEnergy | Exelon Corporation (NYSE:EXC) | Ameren Corporation (NYSE:AEE) | Duke Energy Corporation (NYSE:DUK) | Average |
| Dividend Yield | 5.1% | 5.8% | 4.9% | 4.8% | 5.1% |
Source: Yahoofinance
The company has participated in a 5-year revolving credit facility worth $4.5 billion; this facility will be available until June, 2016. This will help the company smoothly run its operations without issuing debt, in case it runs short of cash.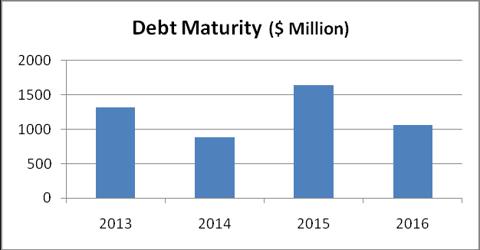 Source: firstenergycorp.com and Qineqt s calculations.
Valuation:
| | | | | | |
| --- | --- | --- | --- | --- | --- |
| | FirstEnergy | Exelon Corporation | Ameren Corporation | Duke Energy Corporation | Average |
| Forward P/E | 14x | 13.3x | 16.7x | 14.3 | 14.8x |
| Price to Book | 1.3x | 1.4x | 1.1x | 1.3x | 1.3x |
| Price to Sales | 1.1x | 1.5x | 1.1x | 3.17x | 1.9x |
Source: Yahoo finance
The stock seems to be cheaply valued, based on its forward P/E and P/S, as compared to its competitors. Currently, FirstEnergy is trading at forward P/E of 14x, below its competitors' average of 14.8x. We calculated a price target of $46, using its competitor's forward P/E average of 14.8x, and the company's earnings estimate of $3.1 for 2013.
Disclosure: I have no positions in any stocks mentioned, and no plans to initiate any positions within the next 72 hours.
Business relationship disclosure: The article has been written by Qineqt's Utilities Analyst. Qineqt is not receiving compensation for it (other than from Seeking Alpha). Qineqt has no business relationship with any company whose stock is mentioned in this article.