Australia's mining segment has shielded the country from the macroeconomic slowdown that has impacted both the United States and Europe, where a poor job growth and a sovereign debt crisis, respectively, have continued to take their toll on both economies. After the global financial crisis, mining companies in Australia have been enjoying an economic boom, as China's infrastructure spending increased. However, with declining commodity prices, augmenting operating costs (its iron ore and thermal coal projects are now 30% and 66% more expensive than the global average), rising debt levels, and delays of new projects (or expansions of old projects), we feel that the Australian mining boom is not going to continue its momentum.
Australia - Mining Segment
Australia's economy depends a lot on mining, as it derives the bulk of its exports from this segment. The country is the largest exporter of iron ore (IO) and the second-largest exporter of thermal coal. The country has been the most-affected by a recent dip in the prices of IO and coal, as both commodities account for over 40% of its exports (IO ≈ 25%, coal ≈ 18%). The significant drop in the prices of both these commodities is yet to reflect in the country's export price deflator, and if China's economy (which is Australia's largest trading partner and an important buyer of its raw materials and energy) keeps its depressed growth, we expect Australian export prices to fall further. In addition, the strengthening Australian Dollar (NYSEARCA:AUD), amidst the recent phase of quantitative easing (QE3) by the Federal Reserve, has further widened the gap between declining commodity prices and the AUD, further adding to the economic pressure.
After touching a high price of $180/tons a year ago, IO prices have dropped by a little over 35% since mid-June. A 3-year low level of $86 was also touched earlier this month, although the prices have rebounded slightly. Thermal coal prices have also remained depressed due to the continuation of the coal-to-gas switching trend, as a result of cheap natural gas. The following graph shows the decline in the thermal coal price in the past 6 months.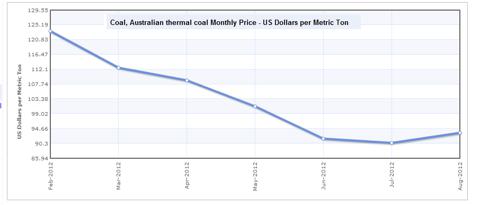 Source: Index Mundi
Is Competitive Advantage Lost?
Recently, the country has reduced IO's price forecast for this year by 7.4%, as sluggish growth in China, the largest buyer, has raised concerns that demand growth will be squeezed. According to a report by the Bureau of Resources and Energy Economics (BREE), the average price estimate for 2012 is $126/ton, down from June's estimate of $136/ton. 2013 estimates for the metal have also been reduced to $101 from $131.
Australia has cut revenue forecasts for iron ore by one-fifth, which has further added to our concerns about the mining sector's condition. BREE has forecast that revenue from IO would amount to A$53.2 billion, down from a forecast of A$67 billion. Still, mega miner Rio Tinto (NYSE:RIO) remains confident of demand in the long-term, especially from China, as a result of the new economic stimulus. According to its managing director, David Peever, "We think that we'll start to see some rebound in demand over the coming months and into next year. But the short term is very, very difficult."
If iron ore and coal continue their downward trajectories, or don't rebound soon, Australia's economy could suffer a huge blow, as it can impact the government's hopes of producing a budget surplus by June 30, 2013.
According to a recent report by the Minerals Council of Australia, entitled "Opportunity at risk: Regaining our competitive advantage in minerals resources", long-term fundamental industry drivers like demand growth, urbanization, and industrialization, will continue to exist in the near future. However, going forward, Australia cannot rely on a continued increase in commodity prices (which was the case during 2003-11 when IO exports and prices more than doubled) and will have to seek low-cost volume growth to ensure growth in export revenue.
The report attributes the loss in competitive advantage over emerging miners in Africa, Asia, and South America, to high resource wages and productivity declines. Australian iron ore and thermal coal projects are now 30% and 66% more expensive than the global average, which explains the gravity of the situation. The author claimed that the country was suffering from "a structural cost competitiveness problem," due to which a majority of the thermal coal pipelines are at risk, while even in iron ore, the competitive advantage has been lost in all but the Pilbara projects.
New Mining Projects at Risk
According to Australia's resources minister, Martin Ferguson, the end of the commodity boom has become an inescapable reality , as new mining and energy projects worth 230 billion Australian dollars (~ U.S.$241 billion) are at risk as a result of low productivity, poor infrastructure, and high costs. He attributed the dipping prices of major commodities, especially iron ore and coal, for a possible reduction in export earnings, as mining and energy exports are expected to fall by 2%, according to BREE's predictions. We think this decline in export earnings can be even more if the commodities continue their downward movements.
Ferguson urged mining companies to improve productivity, as doing so is probably the best way to improve the market dynamics, given that they have to adapt to lower prices. However, he was not that bearish. "Combined government and industry efforts to remove infrastructure bottlenecks and improve skilled labor development can help raise productivity, ensuring we make most of whatever international conditions exist. Still, if we don't make progress on these fronts, Australia will not grab that second investment pipeline of up to an additional AUD$230 billion," he said.
BHP Billiton (NYSE:BHP), the world's largest mining company, was forced to delay the approval of an estimated $33 billion for the expansion of its Olympic Dam (uranium, gold, and copper) mine in South Australia. The world's fourth-largest iron ore producer by volume, Fortescue Metals Group Limited (OTCQX:FSUMF), has also reduced its full-year capital spending forecast by 26%. New Hope Corp, one of the largest coal miners in Australia, has also indicated that it could delay the expansion of a coal mine and the building of new ones at Queensland; the company has not ruled out the possibility of job cuts amidst weak prices, a strong AUD, and new taxes. The following map, from the Wall Street Journal, shows the projects and expansions put on hold by different mining companies in Australia.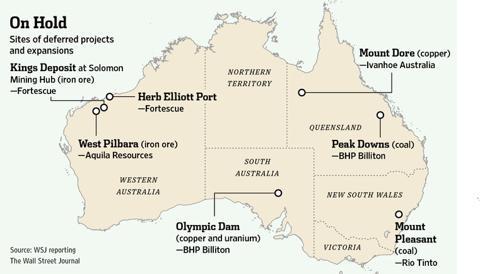 Source: Wall Street Journal
Australian Mining - Employment
Job growth has stagnated in the country, as mining companies have been cutting jobs in an attempt to cut costs. Last week, BHP (Australia's top coking coal exporter) and Xstrata PLC (OTC:XSRAY) (Australia's top thermal coal exporter) cut a combined 900 coal mining jobs after the drop in prices of the commodity. Fortescue has also cut more than a 1,000 jobs and deferred more than $40 billion in production. Rio Tinto , Anglo American, and Ensham Resources have also been following the same patterns in an attempt at cost reduction. Already, more than 1,400 employees have been affected when BHP closed its strike-hit Norwich Park mine this year.
Australian Mining - Debt
According to the Wall Street Journal, the slowdown in the Australian mining segment is adversely impacting the country's credit derivative market, as the cost of insuring against the biggest miners defaulting on their loans has sharply increased. As per the former chairman of BHP Billiton and current NAB Chief Executive Don Argus, the mining boom can't last forever; he has warned about Australia's high debt-to-GDP ratio, and the doubling of the gross national debt to $3 trillion since 2005. The Australian household debt has also surged to an alarming level (110% of GDP).
Recent RBA measures
Today, the Reserve Bank of Australia (NYSE:RBS) released the records of the meeting that it held on September 4, according to which, policymakers held the overnight cash rate target at 3.5%. According to the minutes of the meeting, "The current assessment of the inflation outlook continued to provide the scope to adjust policy in response to any significant deterioration in the outlook for growth."
According to a senior currency strategist at the Royal Bank of Scotland Plc in Singapore, Greg Gibbs, central bank officials "acknowledged risks from China and weaker commodity prices in particular, and thus have a bias to cut, but did not show real urgency. I think risks are a bit more weighted to the downside."
Disclosure: I have no positions in any stocks mentioned, and no plans to initiate any positions within the next 72 hours.
Business relationship disclosure: The article has been written by Qineqt's Basic Materials Analyst. Qineqt is not receiving compensation for it (other than from Seeking Alpha). Qineqt has no business relationship with any company whose stock is mentioned in this article.