None of the 14 analysts covering BP Plc (NYSE:BP) have a sell recommendation on the stock due to its cheap valuations. However, we consider BP to be a value trap, given the fact that the company's low valuations are justified by its low future growth prospects. The company's decreasing aromatics margins, refinery margins, and gross and operating margins, along with divestitures, portrays its poor financial performance. BP's second quarter earnings are below expectations, and far below its peers. Its earnings, after excluding the one-time line item, have significantly decreased by 30% over the last quarter. Moreover, environmental-friendly investors are ignoring the stock in their portfolios.
The recent news is again highlighting the Macondo disaster. The stock price will further face a downside due to the adverse consequences of the Deepwater Horizon disaster attached to the company. It has been witnessing tough litigation due to the Gulf of Mexico oil spill, and is expecting a huge fine of up to $20 billion. The U.S. Department of Justice is giving a tough time to the company because of its gross negligence and willful misconduct. The Deepwater Horizon disaster has been bringing grim news for the company, and has forced BP to sell its Gulf of Mexico assets, which are strategically located for global exploration and production. In our opinion, the realization of heavy fines will limit the company's future growth prospects. Henceforth, we recommend investors to not take a long position in the stock.
Company Overview
BP, a giant in the oil and gas industry, is responsible for the production, exploration, refining and marketing of oil and gas. The 100-year old company is providing fuel, energy, lubricants, and petrochemicals to its customers. It has segregated its business operations into two segments, namely Refining & Marketing, and Exploration & Production. The company's Exploration and Production business is engaged in the exploration and field development of oil and gas, storage facility, midstream transportation, processing, and trading and marketing of LPG and natural gas. Refining and Marketing is engaged in the marketing, refining, transportation, manufacturing and supply of crude oil and a variety of petrochemicals to a wide range of customers. It's Refinery and Marketing business is further segregated into three businesses, including lubricants, fuels and petrochemicals. It is also working on alternative energy sources.
Divestitures
BP has shown a lot of divestitures in the last year, due to its deteriorating financial position, decreasing crack spreads and operational inefficiencies. The company has sold its Wattenberg plant to Anadarko (NYSE:APC), Venezuela business to TNK-BP (OTC:TNKBF), Tuscaloosa business in Louisiana to Hilcorp Energy I LLC, Pakistani assets to United Energy Group (OTC:UEGPF), Colombia business to a consortium of Ecopetro (NYSE:EC), and Canadian Natural Gas Liquid (NYSE:NGL) business to Plains All American Pipeline L.P (NYSE:PAA). Furthermore, it has sold its stake in the Pompano and Mica fields to Stone Energy Corporation (SGY). It has also liquidated 35% of its stake in gas fields of Lan Tay and Lan Do, and half its stake in Azeri-Chirag-Gunashli.
Major Upcoming Divestiture
The company is in the process of selling a few oilfields in the Gulf of Mexico for about $7 billion to PXP. BP is continuously selling its assets to pay off litigation bills and other charges related to the oil spill of Gulf of Mexico. Henceforth, this oil spill has badly hit the company's position and credibility in the eyes of investors. This accident resulted in the deaths of 11 workers, and a spill of around 4.9 million barrels of oil into the sea.
The management is of the view that these divestitures are in line with its corporate strategy; however, we believe that the management is preparing itself to pay off a heavy claim of $20 billion. The sale of key assets in strategic locations clearly reflects the company's intentions to pay off the charges.
Acquisitions
With these divestitures, there were a few acquisitions as well. The company purchased Shell's (NYSE:RDS.B) work in the Marlin and Dorado fields, and also acquired 10 production and exploration blocks of Devon Energy (NYSE:DVN) in Brazil.
Financial Analysis
Despite the fact that the company's revenues showed a slight decrease of 1%, gross profit and operating income have sharply decreased by 37% and 79% from Q1 2012 to Q2 2012. BP has shown a poor performance in maintaining its refinery spreads. The company's gross margins have fallen from 17% to 11% over the last one quarter, mainly because of the pressure of high oil prices. Its net income has declined by 123% in the second quarter, and 24% in the first quarter. BP's operating margins declined from 7% to 1%, and net profit margins showed a downward track of 6% to negative 1% from Q1 2012 to Q2 2012.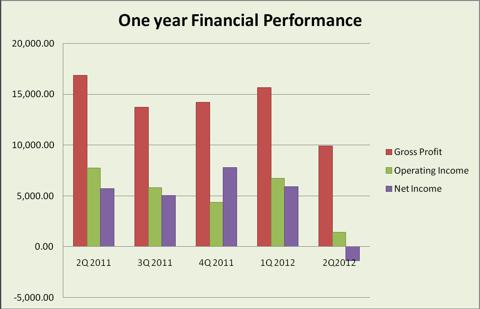 Performance in Upstream Operations
The company registered profits before interest and tax of $4,401 million in the second quarter, versus $6,290 million in the first quarter, from its upstream operations. It witnessed this significant hit because of the suspension of the Liberty project in the state of Alaska, and high net non-operating expenses of $1,495 million in the last quarter. However, we cannot lay all the blame on the suspension of the Liberty project, since BP is generating only 15% of its revenues from the United States. However, the company's exploration expense has considerably risen from $62 million in Q1 2012 to $413 million in Q2 2012, in the United States. On the other side, in non-U.S. markets, it has slightly improved up to 2.5%. As the U.S. market is not performing well, the company's initiative in such bad times to raise its exploration in the region is not a lucrative decision.
Performance in Downstream Operations
Unlike upstream operations, the company has witnessed an improvement in results from downstream operations. It has generated profits before interest and tax of $1,129 million in the second quarter, versus $924 million in the first quarter of 2012. However, in comparison to Q2 2011's profit before interest and tax of $1,392 million, the results are not impressive. The company's turnaround exposure in the United States to downstream increased from 31% to 39% over the last quarter. The company's petrochemical business showed a decline in aromatics margins, due to excess capacity and low demand. In our opinion, refinery and crude margins will further decrease in the third quarter, in the company's fuel business, primarily because of its continuous low turnaround activity.
Price Depreciation
BP has shown a poor performance in the last 6 months, with a downside of 6%. The stock's 50-days' and 200-days' moving averages are $41.9 and $41.7. In comparison to its competitors, the stock has been falling more, as depicted in the graph given below. The reason behind this downfall is the company's bad financial performance, divestitures, and litigation regarding the Deepwater Horizon disaster.

Valuation
Direct Competitor Comparison

BP Plc

Chevron Corp. (NYSE:CVX)

Exxon Mobil Corp. (NYSE:XOM)

EPS

$7.62

$13.62

$8.28

P/E

5.72x

8.56x

11.02x

PEG (5 yr expected):

1.2

1.45

1.08

P/S

0.37x

0.99x

0.97x

Forward P/E (2013)

7.87x

9.38x

11.2x

P/B

1.23x

1.76x

2.5x

EV/ Revenue

0.45x

0.94x

0.95x
The stock is currently trading at 7.8x its forward earnings, at a discount in comparison to Chevron Corp. 's and Exxon Mobil Corp. 's forward P/E of 9.3x and 11.2x, respectively. Its P/S of 0.3x is lower than the industry average of 0.7x. The high PEG ratio of 1.2 reflects that growth is expensive for investors. It is trading at P/B of 1.2x and EV/Revenue of 0.4x.
Disclosure: I have no positions in any stocks mentioned, and no plans to initiate any positions within the next 72 hours.
Business relationship disclosure: The article has been written by Qineqt's Energy Analyst. Qineqt is not receiving compensation for it (other than from Seeking Alpha). Qineqt has no business relationship with any company whose stock is mentioned in this article.