Four auto manufacturer stocks made it to Bloomberg's top ten stocks the day before yesterday, one of which was Tesla Motors (NASDAQ:TSLA).
TSLA made its way into the headlines on Monday, when the Morgan Stanley (NYSE:MS) analyst said that Tesla was a sure winner, and reversed his rating from underweight to overweight. His arguments revolved around the fact that much of the bad news has been incorporated in the stock's price.
The analyst believes that the stock is a buy for three reasons. Firstly, consensus expectations for EPS have declined by 72% over the last 12 months, which means the stock is trading at cheap valuations right now. Secondly, out of 26 auto related stocks, TSLA has underperformed all but 5 stocks in terms of YTD performance. Lastly, and most importantly, the analyst believes that market expectations regarding the production ramp up have declined significantly, despite management commitment to producing 20,000 Model S' in 2013. The stock has already been punished for that.
In our earlier report on TSLA, we emphasized how the stock trading at such low valuations was not because of Model S demand problems, but rather because of its supply line, which has triggered exaggerated concerns in investors.
TSLA has committed to produce 5,000 cars by the end of 2012, and 20,000 cars in 2013. Recently, Elon Musk announced that Tesla had ramped up its production to a phenomenal 100 vehicle bodies per week. However, much to investors' dismay, it is 100 vehicle bodies and not 100 cars. Before this announcement, Tesla was producing around 45 cars per week; 10-11 cars a day. However, this is far below the rate of 60 cars a day that will eventually help Tesla reach its target of 20,000 cars the next year.
The MS analyst believes that Tesla is focusing more on quality than on quantity, and therefore the ramp up in production may not reach the target that the company has committed to. But this is not going to affect the stock price much, as the revisions in estimates already show that much of this has been incorporated in the stock price. Moreover, this is considered to be beneficial for consumers, as Tesla has delivered its promise of providing not only a fuel efficient car, but also a car designed to compete against the likes of Porsches, BMWs and AMGs. Rave reviews from users cement such a promise.
Tesla has played its cards smartly. Given that 90% of total revenues this year are expected to come from the Model S, this is a 'do or die' situation for the company; therefore, according to Elon Musk, it is absolutely critical for Tesla to "get it right the first time out of the box". The analyst believes that the slow ramp up is self-imposed, as Tesla continues to work on quality. Common sense suggests that Tesla is much better off in delaying a product delivery, rather than producing a flawed product with problems in power trains or batteries, which can prove to be suicidal. Many OEMs like Ford (NYSE:F) and General Motors (NYSE:GM) tend to get away with a product launch that may require a recall, without a significant impact on their reputations, but this is not the case for Tesla. That is probably why this is the company's first-ever in-house designed and manufactured car (Roadster was bought by an outside supplier and Tesla only manufactured the powertrain for the product).
MS expects the deliveries to be in the following manner: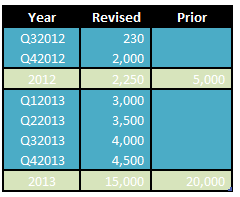 Source: Morgan Stanely's estimates
Estimates are less than 50% of the target given by the company for 2012. However, the MS analyst believes that even if Tesla is not on target, but does not compromise on quality, the stock will jump up and maintain its premium valuations, especially on the promise of improved and more reasonably priced models of the Model S, like the Model X.
Liquidity Problems
The company's liquidity has entered an uncomfortable stage, but it is still not at a critical low level. The current cash balance is $210 million (mrq); and the company is burning cash. The year-end balance is expected to be $130 million. However, a lot depends on the reservations made for the Model S. The reservation cancellation will depend on the production rates, as late deliveries can lead to canceled orders. Therefore, production will indirectly play an important role in determining the future cash resources with the company. MS thinks that an inflow of cash equal to 10% of the current market cap, which is $330 million, will cover up for any risk that the company has in the near future.
About this issue, Elon said that incremental funding will help provide a cushion against any potential headwinds in the future, although the company's current liquidity standing does not require any funding.
Conclusion
The Model S has received extremely favorable reviews from its users. However, the market tends to punish a manufacturer that does not seem to meet its production targets, as the market is wary that the company will have to suffer from cost overruns and canceled reservations, due to delayed deliveries. Boeing (NYSE:BA)'s cheap valuations, due to its massive backlog and late deliveries of the 787 Dreamliner series, is a classical example of this notion.
The company is expected to make positive EPS and cash flows in 2013.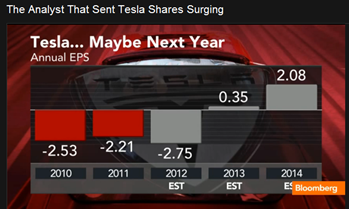 Revenues are expected to multiply by 14x in the next four years. The company is expected to lower its production guidance for 2012 at the time of its earnings release for the third quarter, or a little before the release. However, this has already been priced into the stock.
The bullish target price for the stock is $50. The stock is recommended as a buy, as it is expected to go up with positive catalysts like more Model S reservations, the start of Model X reservations next year, and the fulfillment of different milestones for the Model S. 45% of TSLA's float is short and has a short ratio of 30 days. Any positive news will result in a big move up in the stock.
Disclosure: I have no positions in any stocks mentioned, and no plans to initiate any positions within the next 72 hours.
Business relationship disclosure: The article has been written by Qineqt's Industrials Analyst. Qineqt is not receiving compensation for it (other than from Seeking Alpha). Qineqt has no business relationship with any company whose stock is mentioned in this article.