Another company hoping to benefit from abundant and cheap supplies of natural gas in North America is Westport Innovations, Inc. (NASDAQ:WPRT). As previously noted, Clean Energy (NASDAQ:CLNE) and Cheniere Energy (NYSEMKT:LNG) are also exploring ways to benefit from the current market dynamics favoring the users of the fuel.
Westport is a global supplier of proprietary solutions that allow engines to operate on clean-burning fuels such as compressed natural gas (CNG), liquefied natural gas, hydrogen, and renewable natural gas (NYSE:RNG) fuels.
Westport expects to end 2012 with greater than 50% revenue growth, though the company expects to still generate losses even into 2013. All signs point to a strong future as US and China demand surges, yet the stock continues to show weakness.
Q2 2012 Highlights
The company reported the following highlights for Q2 2012:
Reported consolidated revenues of $106.1 million for the quarter ended June 30, 2012 compared with $44.9 million for the same period last year, an increase of 136.3%.
Reported net loss attributed to the Company of $6.1 million ($0.11 loss per share) for the quarter ended June 30, 2012 compared with a net loss of $18.1 million ($0.38 loss per share) for the same period last year.
Reported cash and short-term investments balance as at June 30, 2012 of $307.2 million, compared with $333.3 million at March 31, 2012.
Segmented results: Westport Light-Duty revenue up 182.2% to $30.7 million, Cummins Westport

(CWI)

revenue up 78.5% to $57.0 million with 1,972 engines shipped, and Westport Heavy-Duty

revenue up 111.3% to $4.3 million with 75 systems shipped. Service and other revenue was $14.1 million. Although not consolidated, Weichai Westport revenue was up 205.8% with 5,331 engines shipped in the quarter.

Announced second agreement with General Motors (NYSE:GM) for advanced engineering development for light-duty vehicles.
Announced agreement with

Caterpillar

(NYSE:CAT) to develop natural gas technology for off-road

equipment

.
The Q2 results were very encouraging as the company reported positive operating income and just slightly negative adjusted EBITDA. The net loss was attributable to taxes and stock-based compensation expenses. Analysts though continue to forecast large losses for the upcoming quarters even after these compelling results.
The company saw significant revenue increases in all three divisions; Westport Light Duty, CWI, and Westport Heavy Duty. It is quickly building out facilities in Kentucky and China in order to support the huge growth expected ahead.
Stock
The stock has seen considerable weakness since the first of August even as the market has surged to new highs. In fact, the 50ema has dropped below the 200ema suggesting further weakness could be ahead. When this situation occurred back in May, the stock dropped all the way to $22. Could this happen again?
One-Year Chart - Westport Innovations
Since the huge spike after the earnings report, Westport has dropped 24% while the market is up over 5%. The stock tends to be volatile with very little correlation to the market.
45-Day Chart - Westport Vs. S&P 500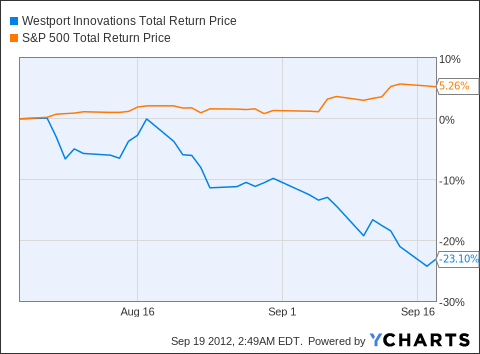 WPRT Total Return Price data by YCharts
Valuation
Valued at only $1.7B, Westport has an appealing valuation with 2013 revenues forecasted to hit $554M on 33% growth. The lack of positive earnings is a big concern with this stock.
As mentioned above with the Q2 numbers, the company made huge strides on the earnings front with EBITDA virtually flat.
Analysts are forecasting only 20% revenue growth by Q4 and a loss of $0.21. With estimates improving over the last 30 days, one has to wonder if the analysts forecasting a $0.01 loss might be more accurate.
Conclusion
The stock is becoming a lot more attractive after this sell-off. With Clean Energy building out a natural gas LNG highway system, demand for Westport engines should continue to grow at a very fast clip.
The company faces similar issues to Clean Energy and Cheniere Energy in building a product where the support infrastructure to use the product is still in the development process. As the domestic infrastructure becomes a reality in 2014 and beyond, the question remains whether natural gas prices will provide a cost advantage by then.
All three companies provide different investment angles to the growing natural gas market. Investors might want to look into investing into the stocks on dips, and currently Westport provides the best opportunity. In the short term, investors should watch the technicals to see whether the stock retests the $22 level before buying.
Disclosure: I have no positions in any stocks mentioned, but may initiate a long position in CLNE, WPRT over the next 72 hours. I wrote this article myself, and it expresses my own opinions. I am not receiving compensation for it (other than from Seeking Alpha). I have no business relationship with any company whose stock is mentioned in this article.
Additional disclosure: Please consult your financial advisor before making any investment decisions.