Recent Volume and Price Activity Indicate Buyers Quietly Loading Up
We are all aware that the money invested in small cap stocks is exposed to higher risk compared to the blue chips. However, small cap drug stocks can be total jackpots if you buy them at the right time before an FDA approval.
The following charts of Arena Pharmaceuticals (NASDAQ:ARNA), Amarin Corp (NASDAQ:AMRN) and Vivus, Inc. (NASDAQ:VVUS) show how rapidly prices can rise in the year before an approval. The fourth company is Pharmacyclics, Inc. (NASDAQ:PCYC). Although it has not yet received an approval, some of their cancer drugs have shown promising results, and they have received a large milestone payment and loads of news, resulting in a spectacular rise over the past year.
In the six months to a year before an anticipated approval, there is always a good flow of news surrounding critical phase III trials that can drive share prices through the roof if it's really good. If it's bad, you better be short or a least flat. To reduce your risk, it's important to do your homework to figure out if you should be long or short. Shorting can be dangerous, so if you do decide to sell short, you might consider lessening your loss potential by buying put options that are slightly out of the money where the commitment is not too high. Thanks to the internet, it is now much easier to find companies in late stage trials and to successfully predict which ones are the most likely to succeed, or fail, and what is a good time to step in and take a position.
Using public information on Google, Yahoo Finance, Edgar, the USPTO and dozens of websites and blogs, it was a fairly simple process to examine the pipelines of several small-cap drug companies, their patent protection, risk factors, financial holding power and market caps to find out which one appears to be the most undervalued and positioned to strike first. After a few days of intense research, one company stood out by every measure I could think of.
Ampio Pharmaceuticals (NYSEMKT:AMPE) is a small drug developer with a unique business model that has recently been the target of a great deal of controversy between short interests and long interests. This controversy is drawing a great deal of attention to the company and causes one to look closer. One web site in particular, TraderInvestorAlert.com, was very helpful because they had a great deal of information on Ampio that I was able to confirm, for the most part. At first glance, this small cap company appears to have three potential major drugs in their pipeline, but it turns out they have six! And they have a revolutionary diagnostic that can also be a big home run.
To try to confirm if Ampio is undervalued or if the critics are correct, I examined their press releases and other information on the web to get an idea of how real their pipeline actually looks. Judging by their press releases alone, it is clear that they have an extremely exciting pipeline that appears very real and that is also very close to gaining final approvals. No company could possibly get away with issuing press releases such as the very recent and convincing ones by Ampio knowing that the FDA would object vehemently if they saw inaccurate or misleading information in a press release directly involving them. The fact that the FDA actually granted guidance for advanced trials with Ampio strongly suggests that the drugs must be very compelling or they would not waste their time. That was more than enough to convince other investors and other Ampio writers and was certainly enough to convince me that this company is very much for real.
I compared four companies with comparable or even lesser pipelines. To make up for the ones with far lesser pipelines, I included companies that had one drug recently approved that also illustrates what happens to a company's stock before an FDA approval is announced. I also listened to what the critics are saying about Ampio and what the followers are saying and my conclusion is that Ampio is indeed undervalued and very close to being recognized by mainstream investors that once they jump on board, things will never be the same. Here are some basic comps.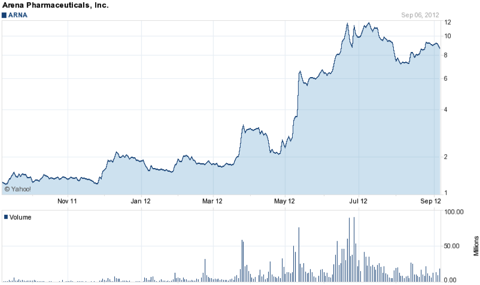 Arena Pharmaceuticals has a market cap of about $2 billion and has one approved drug, Belviq, that targets the very large weight loss market. Aside from Belviq, Arena's web site indicates the remaining pipeline is very anemic with only one drug, APD 811 for high blood pressure that is within several years of a potential approval. There are three others, APD 334, APD 371 and GPR 119, that are so early they are not even in an early phase I trial yet.
Projected sales for Belviq are probably large but still uncertain for the reasons that consumer reaction to an expensive drug with limited weight loss potential is unknown plus there will be competition from at least Qsymia by Vivus, said by some to work better. To possibly dilute sales even further, Orexigen may be a third competitor if the FDA grants an approval on their weight loss drug, Contrave. Arena's story is pretty simple but nonetheless a solid one that bodes well for Arena's future revenue stream. As of June 2012, Arena had about $167 million in the bank and about $24 million in sales for the first half of 2012. Arena appears to be on solid financial footing now. Based on this information, I believe Arena is fairly valued today but has significant further appreciation to go in the next year or two as revenues from Belviq begin to roll in. It is the magnitude of the revenues that is the big unknown.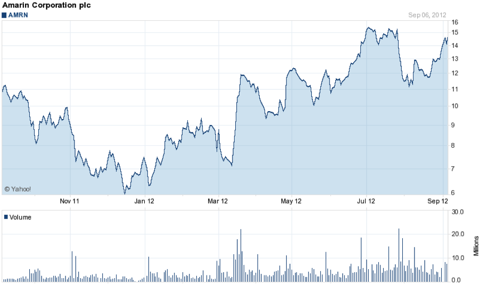 Amarin Corp has a market cap of close to $2.2 billion and was recently awarded an FDA approval to market their drug Vascepa, a cardiovascular drug to help reduce elevated triglyceride levels. There is a very high incidence of elevated triglycerides resulting in a very large market, but there is also a great deal of competition making it difficult to project sales accurately. There is also a recent very large study that disputes the value of fish oil in helping cardiovascular issues and it is unknown how this study will impact the price of Amarin shares.
There may be broader applications for Vascepa, but according to Amarin's website, where you would expect them to toot their own horn, there don't appear to be any other drugs in their pipeline or any other indications for Vascepa. There have been rumors circulating that Amarin is the subject of a buyout, but nothing has been announced yet. Time will tell. Revenues from Vascepa could be substantial but the jury is still out.
As of June 2012, Amarin had about $257 million in the bank and about $17.5 million in short term liabilities but appears to have over $248 million in long-term debt as of June 2012. Amarin has no revenues yet. Amarin appears to be fairly valued for today with the expectation that a buyout could surprise on the upside and revenues could be substantial if Vascepa is well received.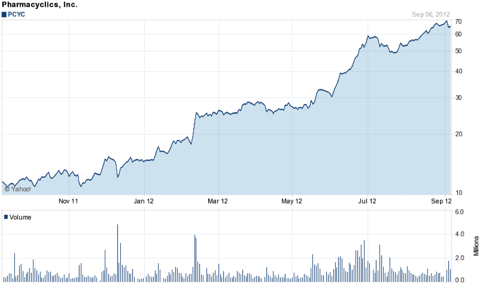 Pharmaclyclis has a market cap of close to $4.5 billion and about $200 million in cash as of June 2012. Their liabilities total just under $87 million and their revenues were $82 million (mostly non recurring) for the quarter ending June 30, 2012. The company is developing 4 different cancer drugs for 7 different applications. All of their drugs are high risk as they are in either phase II trials or area entering early stages of phase III trials where the risk for cancer drugs is very high. Pharmacyclics has an excellent following by investment bankers and analysts and also has a strong relationship with J&J's Janssen that has already ponied up $50 million. Based on comments I've read from the company, efficacy sounds promising, but there is still a long ways to go to an approval.
Pharmacyclics shares are up very sharply over the past year and are vulnerable to any negative news that is not priced in to the stock. I believe Pharmacyclics could have further upside momentum for a short while, but shares are very overvalued in the 60s and are subject to substantial profit taking when investors decide to lock in their profits.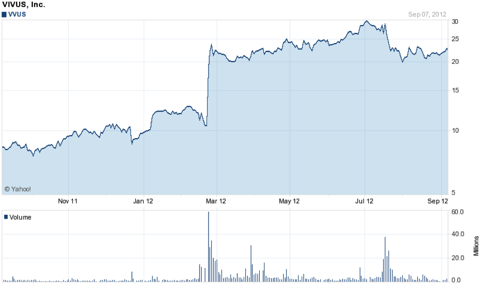 Vivus has a market cap of close to $2.3 billion and no revenues. Vivus had cash of over $300 million as of June 30, 2012 and almost no liabilities that amounted to under $15 million. Vivus recently received approval from the FDA for their weight loss drug, Qsymia, and appears to be solid financially. While the weight loss market is admittedly very large, the competition will be fueled by Arena's Belviq and perhaps Orexigen, if they gain FDA approval for Contrave.
Vivus also owns Stendra, an approved drug for ED, but so far it has failed to produce substantial revenues probably because Viagra will be going generic soon. The remainder of Vivus' pipeline looks mediocre with Qsymia being developed for sleep apnea and diabetes. These two other indications seem like a risky stretch plus they are in very early trials with a long ways to go. Vivus is generously priced today but may have moderate upside if Qsymia outsells its competition. Either way, Vivus looks financially sound and doesn't appear to have massive risk here.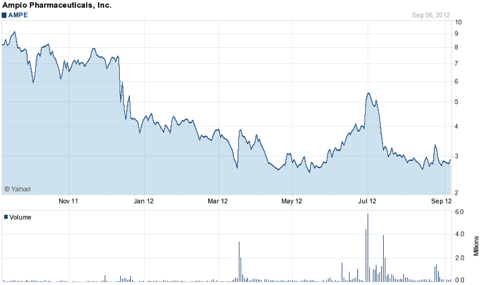 Ampio Pharmaceuticals has a surprisingly small market cap of only $110 million but has an eye-popping pipeline of 6 potential drugs and a medical diagnostic device that could be a huge home run also. According to the company, Ampio was recently granted guidance by the FDA to begin pivotal phase III trials for Zertane, a repurposed drug for premature ejaculation that could serve a gigantic market of up to 25% of the male population. Ampio was also granted recent guidance from the FDA to start its pivotal phase III trial of Ampion, an anti-inflammatory that could be an immense blockbuster because it offers an amazing treatment solution to 27 million osteoarthritis sufferers and also could penetrate much more of the 60 billion dollar anti inflammatory market. All indications are that Zertane and Ampion could easily be approved in late 2013 or in 2014.
The company also issued a press release stating a successful meeting with the FDA that provided guidance for a phase IIb trial for Optina, their drug for diabetic macular edema that could turn into a phase III if results are positive. There are 25 million diagnosed diabetics in the U.S. alone and over 50 million prediabetics. A large percentage of these groups will be the target market for Optina and Vasaloc and the only competition is Lucentis, an expensive and very risky injection in the eye with serious adverse side effects and according to prior trial results is not as effective as Optina.
Vasaloc for the treatment of diabetic nephropathy is about a year behind Optina but could get a huge boost if diabetic nephropathy patients are allowed to participate in the upcoming Optina trials.
Zertane ED is also about a year behind Zertane, and phase III trials are being paid for by the their Korean partner. Zertane ED has the potential to appeal to unusually large markets worldwide.
Ampio's NCE 001 for inflammatory breast cancer, renal cell cancer and glioblastoma multiforme is in its preclinical stage but has the potential to gain accelerated approvals because there is no treatment for these cancers. NCE 001 is very early and certainly high risk, but cannot be overlooked. I believe NCE 001 is going to be the biggest surprise of all.
The company is also conducting a 3,500 patient trial getting ready to file a 510K submission with the FDA for approval for their ORP medical diagnostic that has the potential to change the way patients are diagnosed.
Things are moving amazingly fast for a small company that is selling at close to $3.00, and trading activity has increased dramatically over the past few months indicating buyers may be quietly building a large position in the company. Remember, for every share traded, there is a buyer for every share sold and the short interest is very small, never exceeding 3 to 4 million shares. I have even heard rumors that some of the negative articles on Ampio may be coming from buyers trying to motivate selling so they can pick up more stock at these levels. Anything is possible but one thing for certain is that in my opinion, Ampio is extremely undervalued and is very close to beginning an upward march that will surprise not only critics and skeptics, but even the cheerleaders of Ampio. If one drug approval can do what it did to Arena, Amarin and Vivus, just imagine what three or four or more will do to the price of Ampio.
There is always the risk of failure of any drug in any clinical trial, and Ampio's drugs are no exception, although it appears that the company has reduced risk substantially, and certainly more so than the competition. There is also risk associated with the company's future inability to raise adequate capital to continue operations, and the risk of a future competing drug that is in unknown today.
With a 510K submission for a breakthrough diagnostic device probably by year end, two pivotal phase III trials within 2 or 3 months of starting, one phase IIb trial within months of beginning and potential major licensing deals looming in the near future, there is without question an avalanche of news articles, blogs, tweets, new analyst coverage and press releases to look forward to beginning very soon and by the looks of prior clinical trial results so far, it appears this news will be very good and should have a profound effect on Ampio's share price. As one writer recently stated, $20 million in the bank, and all these advanced trials about to begin, Ampio is set to rocket. Each drug can be good for 20 points, and there are five without counting NCE 001, plus a big diagnostic.
Disclosure: I am long AMPE. I wrote this article myself, and it expresses my own opinions. I am not receiving compensation for it. I have no business relationship with any company whose stock is mentioned in this article.