Despite Con Way (NYSE:CNW) missing the street's earnings estimates in its second quarter earnings release on August 1, investors have been buoyed by the fact that the company is working hard to improve its margins.
CNW is determined to deal with the prevalent uncertainty of the economic environment, by addressing the cost part of the equation, rather than the revenue part. With an increased focus on pricing, improved customer mix and productivity, CNW is well on its way to achieving its operating ratio (OTC:OR) target (near 90%). In the latest quarter CNW has reached its intermediate target of a 94.7% OR, down from 95.8% in the first quarter.
Earnings Release

CNW deals in three segments, namely less-than-truckload, truckload (TL) and logistics, under the name Menlo logistics.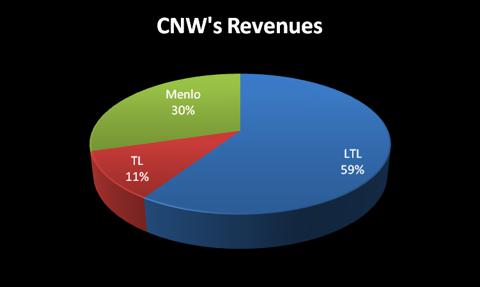 Transport Conference September 2012
Before we discuss CNW's segment-wise performance, it is important to discuss what conclusions were reached at the Transport Conference held last week.
After viewing the comments of truckers like CNW, Old Dominion Freight Line (NASDAQ:ODFL) and Landstar System Inc (NASDAQ:LSTR), it was concluded that:
Truck freight is softening; therefore, truck spot prices have softened as well.
A recent spike in fuel prices has added to the woes.
Driver turnover is also rising, which means that pays will have to be increased, resulting in increased pressure on operating margins. The rise in pays is expected to be between 3%-4%.
The peak season is up ahead. Although the general expectation is that demand will be higher YoY, no company has raised its outlook.
LTL
The trends for LTL have been modestly softer with no YoY growth in July; the growth was -0.7% YoY in August. However, nothing has fallen off the cliff as yet, and it is interesting to note that businesses for LTL were below historical averages in the previous July and August as well. Improvements in pricing are falling, although they can still be considered steady. The 5% growth in LTL pricing in the first half of the year is expected to shrink to 4% in this half.
The following graph shows the declining tonnage at CNW LTL: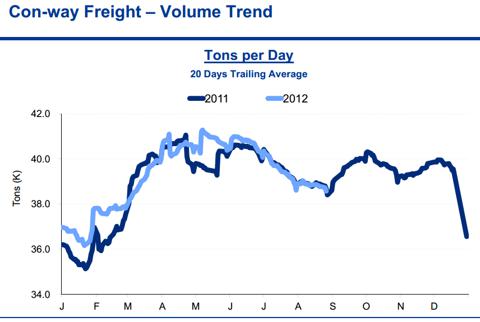 We can see that the decline is part of the whole cycle for the year. The increased tonnage in May and June should not be misunderstood as an expanding LTL market. It is rather a pull forward in shipments from customers in the Agricultural Industry, which had to buy equipment and irrigation supplies due to a mild weather.
Operating Ratio for LTL
The LTL division plans to achieve a lower OR by technology-driven initiatives that will directly impact the efficiency of the workforce. Examples include Load Plan enhancements and advanced safety trainings. However, the OR improvement has slowed down considerably, given that CNW is trying to achieve a balance between profitability and volume growth.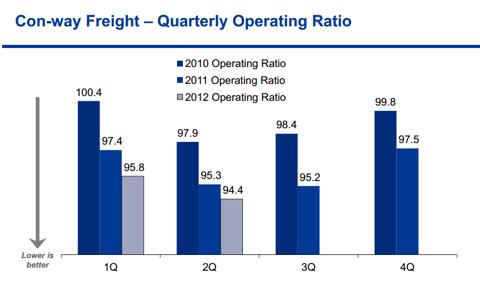 Menlo Logistics
The segment grew by 14% YoY last quarter. Margins were down 40bps YoY and 100bps sequentially. Top line growth came from new business, as well as growth in freight brokerage. The OR stood at 97.2%, down from the street's estimates of 96.8%.
The following chart shows the margins of Menlo: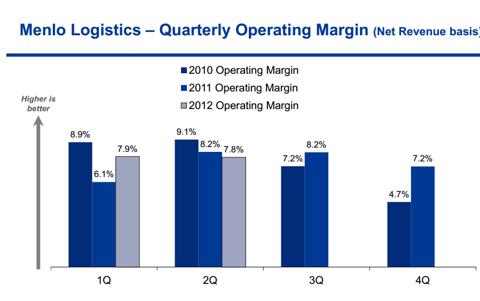 This division is planning to expand internationally by capitalizing on the trend of outsourcing of logistics by multinationals. Also, it is eying opportunities in small and medium markets. It can also benefit from the vertical orientation of the industry, by engaging in more complex logistical contracts. An example of this is operating multi-client warehousing services.
TL
Truckload revenues grew by 5% YoY. The OR (91%) was 240bps higher than the street's estimates of 93.4%. The TL spot market has softened. However, 90% of CNW's business is contractual, so the company will not be affected much by this. Margins can be improved by pricing improvements, accelerated fleet reinvestments, and investments in technology. The following chart shows the OR trend: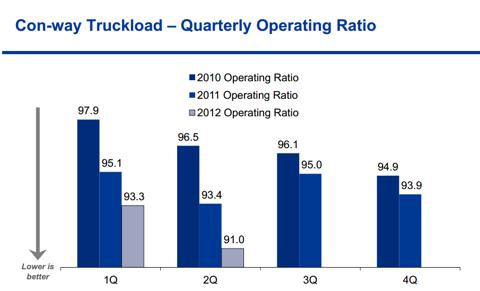 Most importantly, CNW claims that it has been able to attract drivers due to its effective recruiting program.
Conclusion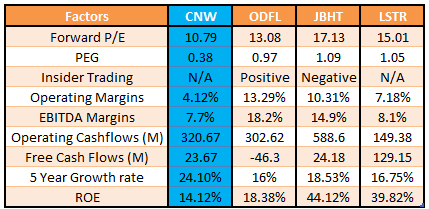 CNW is the third-largest domestic less-than-truckload ((NYSEARCA:LTL)) carrier, after YRC Worldwide (NASDAQ:YRCW). CNW is actively implementing productivity initiatives that will improve profitability. The pricing strategy has shown resilience against headwinds of decelerating freight tonnage. CNW is well on its way to reducing its OR and increasing its margins, with the help of the technological advancements mentioned above. The stock is trading at a discount to its peers and has the lowest PEG ratio in the industry.
Disclosure: I have no positions in any stocks mentioned, and no plans to initiate any positions within the next 72 hours.
Business relationship disclosure: The article has been written by Qineqt's Industrials Analyst. Qineqt is not receiving compensation for it (other than from Seeking Alpha). Qineqt has no business relationship with any company whose stock is mentioned in this article.