Oracle (NYSE:ORCL) reports fiscal 1st quarter, 2013 revenue after the bell on Thursday night, with analyst consensus expecting $0.53 in earnings per share on $8.4 billion in revenue for expected year-over-year growth of 10% in earnings per share and flat revenue growth respectively.
As you can see on the attached chart, just from looking at the technicals, of all the large or mega-cap tech giants that prospered in the late 1990s, ORCL has probably fared the best in terms of adjusting to the post-bubble climate after 2000 - 2001. People like to make fun of Larry Ellison, but I thought the hiring of the Morgan Stanley Chuck Phillips, and naming him President in 2003 which led to an acquisition binge by Oracle that seems to have turned out pretty well, was a stroke of genius.
The early 2011 high for ORCL was $36.50 and the March of 2000 bubble high was $43.
The acquisition binge which culminated in Oracle buying Sun Microsystems for $6 billion in 2009, took an enterprise database vendor and put it squarely in the hardware business, and thus represented a not-insignificant change of course for the database giant.
In the last few quarters, it has been the hardware business that has been the slow-grower for ORCL.
While consensus earnings per share estimates for ORCL have been pretty flat over the last 12 months for fiscal '13 and fiscal '14, consensus revenue estimates have been seeing downward revisions, about 6% lower each over the last 12 months for fiscal '13 and '14.
Hardware revenue is about 11% of ORCL's total expected q1 '13 revenue. License revenue which is about 19% - 20% of ORCL's expected q1 '13 revenue, year-over-year growth is expected at 5% - 7%.
ORCL's gross margin typically falls in the 77% - 78% range, and the operating margin is now mid 40% - higher than the 1990's 30% range, so the acquisitions over the last few years have driven margin expansion for sure.
Using current earnings per share estimates of $2.66 (fy 2013) and $2.91 (fiscal 2014), ORCL is expected to grow earnings 8% and 9% this year and next on 5% and 6% revenue growth respectively. At $33 per share ORCL is trading at 12(x) '13's and 11(x) '14's earnings consensus for high single digit growth expectations.
In addition, using a Street model, with ORCL's $160 bl market cap currently, and expected cash from ops in 2013 of $15 billion, ORCL is trading at 10(x) expected 2013 cash-flow.
Like a lot of the 1990s tech juggernauts, ORCL is now a slow, steady grower, and the fact is Ellison should be commended on how he managed the tech collapse, and kept ORCL on the right path. With Mark Hurd currently at the helm, and the slow-growing US tech sector, maybe a cost-cutter like Hurd is what is needed for ORCL today.
We would like ORCL closer to $30 per share, so in fact I hope they have a weak report, but I also don't think the stock is really high-risk here. Growth expectations have come down over the last year, and the valuation is pretty reasonable. With ORCL paying a small dividend, the stock seems appropriately suited for patient investors with a longer-term horizon. We would like to see forward earnings estimates start to tick higher.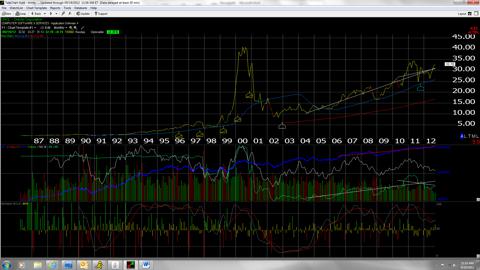 Disclosure: I am long ORCL. I wrote this article myself, and it expresses my own opinions. I am not receiving compensation for it (other than from Seeking Alpha). I have no business relationship with any company whose stock is mentioned in this article.