Legendary investor Warren Buffett is famous for buying the basics, companies that make everyday products like soaps or razors. He has avoided early-stage investments in tech companies for the past four decades. But a trend is fast emerging in technology that's so big even Buffett can't ignore it. In fact, he just invested $10 billion into it.
Big Data: A New Trend Emerging
"Big data" refers to the volume of digital data being collected around the world. Over the past two years, we've seen an explosion in data creation. Everyday, we create 2.5 quintillion bytes of data. This data comes from everywhere: sensors used to gather climate information, digital pictures and videos, purchase transaction records, and cell phone GPS signals just to name a few. Billions of people every day are posting new information to their Facebook, YouTube, and Twitter accounts.
The amount of data in our world has been exploding, and analyzing large data sets -- so-called big data -- will become a key basis of competition, underpinning new waves of productivity growth, innovation, and consumer surplus. Leaders in every sector will have to grapple with the implications of big data, not just a few data-oriented managers. The increasing volume and detail of information captured by enterprises, the rise of multimedia, social media, and the Internet of Things will fuel exponential growth in data for the foreseeable future.
According to tech giant IBM (NYSE:IBM), 90% of all data is less than two years old. Put another way, 10 times as much data is in storage today as existed two years ago. That's a 900% surge. IBM expects data to grow by another 800% over the next five years.
Why Big Data
Companies right now are analyzing this data using algorithms to predict future behavior patterns of consumers. For industries like health care and retail, it could save companies hundreds of billions of dollars each year. Revenues for the companies could skyrocket, if it's possible to accurately predict future spending patterns analyzing the data. It could also mean huge cost savings for utility companies tracking energy usage during peak hours.
MGI (McKinsey Global Institute) studied big data in five domains-healthcare in the United States, the public sector in Europe, retail in the United States, and manufacturing and personal-location data globally. Big data can generate value in each. For example, a retailer using big data to the full could increase its operating margin by more than 60%. Harnessing big data in the public sector has enormous potential, too. If U.S. healthcare were to use big data creatively and effectively to drive efficiency and quality, the sector could create more than $300 billion in value every year. Two-thirds of that would be in the form of reducing U.S. healthcare expenditure by about 8%. In the developed economies of Europe, government administrators could save more than €100 billion ($149 billion) in operational efficiency improvements alone by using big data, not including using big data to reduce fraud and errors and boost the collection of tax revenues. And users of services enabled by personal-location data could capture $600 billion in consumer surplus. (Source: McKinsey Global Institute.)
Click to enlarge image.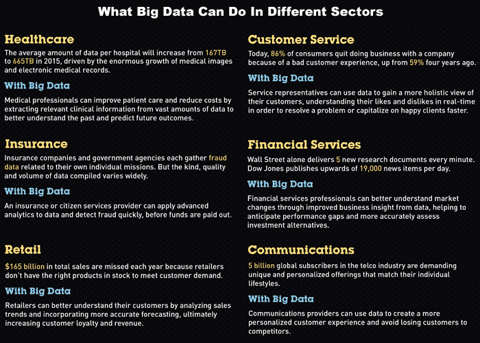 How to Profit From This Megatrend
Lots of companies are making big data their top priority for 2012 and beyond. Venture capitalists are also pouring huge amounts of money into tech startups, trying to get an early edge on this trend.
IBM being at the forefront, Warren Buffett made the company one of his three largest stock positions. Other large players in the big data trend -- like Teradata (NYSE:TDC) and Oracle (NYSE:ORCL) -- are trading near 52-week highs. Facebook (NASDAQ:FB) is also talking big data. Facebook invited a handful of tech journalists to its Menlo Park campus in August for a briefing on how the world's biggest social network uses data.
Cashing In on Big Data: IBM Offers the Best Opportunity
IBM is unique in having developed an enterprise class big data platform that allows customers to address the full spectrum of big data business challenges. IBM is the only vendor with this broad and balanced view of big data with the needs of a platform -- the benefit is pre-integration of its components to reduce your implementation time and cost.
The real problem with big data is that it doesn't fit neatly into relational databases. That makes it more difficult for organizations to locate and leverage data effectively and efficiently. To address these new realities and requirements, IBM has committed to spend $100 million to research technologies and services that will enable clients to manage and exploit data as it continues to grow in diversity, speed, and volume. These new initiatives are important, given 83% of 3,000 CIOs recently surveyed indicated that applying analytics and business intelligence to their IT operations is the most important element of their strategic growth plans over the next three to five years, according to the 2011 IBM Global CIO Study.
The share price of IBM is currently trading at its 52-week high, and it will continue to create new highs in the coming months and years.
Disclosure: I am long IBM. I wrote this article myself, and it expresses my own opinions. I am not receiving compensation for it (other than from Seeking Alpha). I have no business relationship with any company whose stock is mentioned in this article.