Commodity Chart Of The Day

Daily Crude Oil
(click image to enlarge)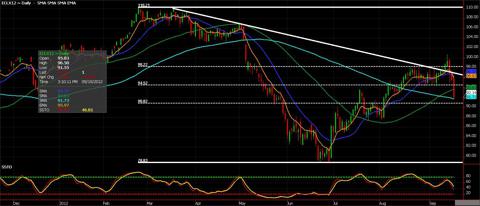 In the last three days, crude oil futures have lost $8/barrel, and are on the verge of trading under their 100 day MA for the first time in five weeks. I do not want to stand on a perch and say I told you so, but I've been forecasting a break to $90 now for weeks, and it looks like the market will deliver. Under the 100 day MA, I see the next significant support just under $91 in November.
Based on the lack of outside market influence, i.e., dollar strength or weakness in the equity markets, crude may be moving for reasons specific to crude. Whether it be a slowdown in China and around the globe, tensions easing in the Middle East, a fear premium partially being removed, whispers of an SPR release -- I don't know the exact reasoning. As a trader that predominately trades off the charts, the fundamentals are not large concerns in this particular move. What I do know is after a 25% appreciation, this is the first real correction we've gotten in months.
Operating under the influence an interim top has been established, a 50% Fibonacci retracement in November puts prices at $89.25…my target. My favored play is short futures while simultaneously selling out of the money puts 1:1.
Risk Disclaimer: The opinions contained herein are for general information only and not tailored to any specific investor's needs or investment goals. Any opinions expressed in this article are as of the date indicated. Trading futures, options, and Forex involves substantial risk of loss and is not suitable for all investors. Past performance is not necessarily indicative of future results.
Disclosure: I have no positions in any stocks mentioned, and no plans to initiate any positions within the next 72 hours. I wrote this article myself, and it expresses my own opinions. I am not receiving compensation for it. I have no business relationship with any company whose stock is mentioned in this article.