Market Recap
The market continued to move higher as the market enjoyed some good housing data from Existing Home Sales as well as a move up on Fed QE3 intervention and diminished European fears. The market further took on "risk-off" trading as Existing Home Sales came in very strong at 4.82M vs. 4.58M expectations. Housing starts on an annualized rate did drop to 750K vs. 770K, which was a sign that existing homes continue to be selling at a stronger rate than new homes as well as existing homes continue to appeal more to people than new homes - most likely due to costs. Last week's QE3 announcement has put a very strong floor on the market, but the market seems to be nearing a topping point for momentum on QE3. Downside is limited with it in play, but we could see a market that floats around for awhile until more develops in Europe's bond buying program.
Here are some stocks we like moving into the rest of the week and beyond:
Stocks To Trade
Today, we are looking at an earnings trade in Alexion Pharmaceuticals (NASDAQ:ALXN), longs in Yum Brands (NYSE:YUM) and Pfizer (NYSE:PFE), shorts in VeriSign (NASDAQ:VRSN) and Priceline.com (PCLN).
For an earnings trade, we like the looks of Alexion Pharma. The company is projected to grow earnings by 30% in the coming quarterly report due out in mid-October along with 40% in potential revenue growth. The stock has been on the rise since its last quarterly report in July, and the stock has continued to trade in an upward path. The stock, right now, looks to be on the breakout, and it should continue to trend higher from here as earnings will provide a catalyst. The company has great support at the 50-day MA at 105, and that line is a great place to play a 105/100 Oct20 bull put spread that can return a potential 18% in gains.
Trade: ALXN, Oct20, 105/100 Bull Put Spread
Max Gain: 18%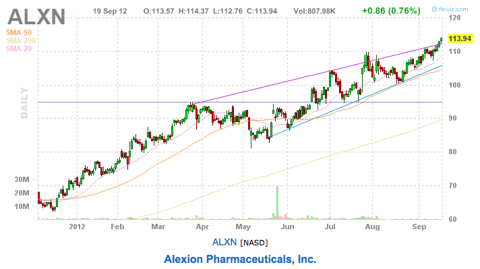 For longs, we like the looks of Yum! Brands and Pfizer. YUM is looking very good for a long swing trade right now as the company has been moving well off of news from RW Baird that the company is well positioned to benefit from their standing in China and has the ability to benefit from their continued growth there. Further, we have the stock Buy-rated with an $88 price target. The stock should continue to move higher as growth in China, India and Brazil is going to continue to allow YUM to grow at higher rates than much of their competition and growth equity value. The stock broke key resistance at $67, and if the stock breaks $68, we believe it could move to 70-72 in the next couple weeks. Additionally, we like using PFE for a bullish options play. PFE continues to hold firm above its 50-day MA as well as $23. The stock is in a great uptrend and looks ready to break out even higher. We like the Nov12 23/22 bull put spread for an options play on a safe name that will perform well in any market condition.
Stock Trade: Long, YUM
Breakout Point: 68.00
Options Trade: PFE, Nov17, 23/22 Bull Put Spread
Max Gain: 20%
For shorts, we like the looks of VeriSign and Priceline.com. VeriSign is breaking down right now, and it looks like it has a lot more in it to the downside. The problem for VRSN is that a lot of sell volume is coming into the stock right now as the stock hit some major resistance at the $50 area and was no able to break out. The stock has made a nice run from earnings at the end of July, and it's moving down during strong market conditions. We believe that profit taking is occurring for the stock and momentum has waned. Fundamentally, we like the stock and believe they are in a good growth mode. Yet, in a crowded application software area, there are only so many funds to go around, and traders in these stocks chase whatever is hot. VRSN seems to have lost its footing, and we believe it will need to move to $46 to gain strong support again. PCLN is in the same boat as VRSN - a stock that dropped on earnings and has had a great recovery run. The stock has hit the top of a downward channel it is in right now, and we see limited upside from here for PCLN. The fact of the matter is that PCLN dropped on earnings because of European weakness. While the bond buying program draws attention away from European fundamentals, spending is still low there. Until we see a lot of strength return in Europe, we would expect flatter/limited growth for PCLN, which will hold stocks in check. We believe that 670 is a tough resistance point for the stock and can be used for bear call spreads.
Stock Trade: VRSN, Short
Breakout point: Already broke.
Options Trade: PCLN, Oct20, 670/680 Bear Call Spread
Max Gain: 30%
Tomorrow's Outlook:
The market's late movement down does seem to suggest some waning momentum from QE3, but we have a healthy slate of data to react to tomorrow that should direct us somewhat. We do believe that dips in this market will occur, but they should be bought as long as QE3 is on the mind of investors. The market has the important Philly Fed Index, Leading Indicators, and Initial Claims tomorrow. The Empire Manufacturing Index was very weak to start the week, and a bad Philly Fed print tomorrow could lead to some limited downside for the market. Overall, though, the market is in buy mode and dips should be used for short trading and adding to long-term positions.
Our Moves/Holdings:
We had a great day in the market as we locked in several positions for gains. From our Earnings Alpha Portfolio, we were able to lock in a 22% gain on our Abercrombie & Fitch (NYSE:ANF) reverse iron condor that we put on before earnings. We also closed a Redhat (NYSE:RHT) bear call spread we had for the 62.50/65 level for a 23% gain from Earnings Alpha. From our Extended Value Portfolio, we closed 1/3 of a long-term position we have had in VF Corp. (NYSE:VFC) for a 20% gain. We added several positions as well with longs in Sysco (NYSE:SYY) and Yum in Short-Term Equity. We added puts in OpenTable (NASDAQ:OPEN) to our Options Portfolio, and we added a bull call spread in Alexion to our Earnings Alpha Portfolio. For our Goldman Portfolio, we also added a long in Monsanto (NYSE:MON).
We have the following positions:
In our Short-Term Equity Portfolio we are long Watson Pharma (WPI), Sysco , and Yum! . We are short Cardinal Health (NYSE:CAH).
In our Options Portfolio, we are long Apple (NASDAQ:AAPL). We are short OpenTable.
In our Earnings Alpha Portfolio, we are long Alexion, Costco (NASDAQ:COST), Polaris (NYSE:PII), Crocs (NASDAQ:CROX), Discover Financial (NYSE:DFS).
In our Goldman Sachs Up/Down Paper Portfolio, we are long Monsanto, Apple, Manitowoc (NYSE:MTW) and Fiserv (NASDAQ:FISV).
Chart courtesy of finviz.com.
Disclosure: I have no positions in any stocks mentioned, and no plans to initiate any positions within the next 72 hours.
Business relationship disclosure: The Oxen Group is a team of analysts. This article was written by David Ristau, one of our writers. We did not receive compensation for this article (other than from Seeking Alpha), and we have no business relationship with any company whose stock is mentioned in this article.