Since the beginning of 2012, shares of Sherwin Williams (NYSE:SHW) have been on an incredible rally starting out the beginning of the year at $91.00 and currently sitting at the $145 level. The $54 in share price with a little over 3 months left in 2012 equates to over a 40% gain and at some point investors may ponder if Sherwin Williams will be running out of steam or keep painting investors' portfolios green?
The Sherwin Williams Company was founded by Henry and Edward Williams in 1866 and has been around for over 200 years. Sherwin Williams develops, manufactures and distributes paint in North and South America, Europe and Asia. For investors not familiar with the diversity of Sherwin Williams this company is more than just a play on the rebounding housing market. The company has five main components: architectural, coatings, industrial, marine and auto paint.
The concept of paint may seem elementary, but in about everything that people see around them every day paint is used in some fashion. Whether it's a bridge, car, building, boats or planes (for example) the concept of paint gives these objects identity and this identity has been painting Sherwin Williams shareholders' portfolios green for a while. There are many competitors in the paint business and currently the field can be seen as evenly shared out without one company taking up too much market share as seen in other sectors (technology, for example).
Sherwin Williams has a market capitalization of 14.76 billion, and their two main publicly traded competitors are DuPont (DD) and PPG Industries (NYSE:PPG). Both DuPont and PPG Industries have both seen nice gains since the start of the year, but both are more diversified/cyclical in the chemical industry than Sherwin Williams, and this might explain why their shares prices can tend to fluctuate. Sherwin Williams primary focus is on industrial, commercial and retail paint customers across the world.
With the residential, commercial and industrial markets slowly rebounding across the world, Sherwin Williams has been able to continue to make new highs despite the cost for raw ingredients rising. The graph presented below is from the Bureau of Labor Statistics Producer Price Index for Paint and Coating Manufacturing.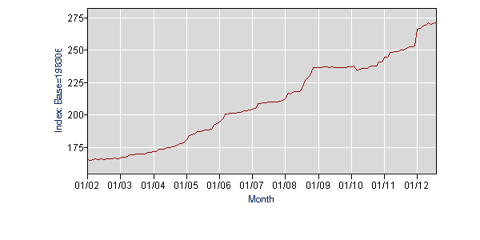 Raw ingredient prices for paints have been rising, and one ingredient used in paint is titanium dioxide (TIO2). Approximately 57% of titanium dioxide production is used in paint, and the price has been steadily increasing. Other raw materials include propylene, epoxies and acrylics that have also seen a rise in price, but have stabilized in 2012.
During Sherwin Williams 2012 second quarter earnings and first six months financial results, the company noted in their Paint Stores, Consumer Group, Global Finishes and Latin American segments that raw material cost increases were an issue, but were offset by price increases and stronger operating results. Sherwin Williams next quarterly results will be reported the week of October 25, 2012 and the company is expected to report $2.20 per share with an expected range of $2.12 - $2.38 Since 2009 the third quarter has done well for Sherwin Williams, and the company has met or beat expectations.
When taking a further look at Sherwin Williams, the company is continuing to see growth in other areas outside of housing. The protective marine, auto and architectural markets are continuing to make rebounds, and better than expected manufacturing data can give a boost to Sherwin Williams. Sherwin Williams is also expected to continue to open up more paint stores that generally compete with local hardware stores Home Depot (NYSE:HD) and Lowes (NYSE:LOW). Despite competition and price increases, Sherwin Williams paint stores group was able to maintain great margins with increasing raw material costs. Lower oil prices can also add an additional benefit to Sherwin Williams, as crude oil is used to make chemicals that are found in paint.
When it comes to dividends, Sherwin Williams paid their first dividend in 1979 at $0.01 and since then has increased their dividend every year and now pays shareholders and annual dividend/yield of $1.56/1.07%
In conclusion, for investors that are bullish on housing, manufacturing and improving global conditions, Sherwin Williams stock price can continue to rise on improving gains in eps and net sales, despite the great gains made this year. Sherwin Williams has a higher p/e ratio than their peers at 29, but for a company that keeps delivering positive results, this premium is worth paying for.
Disclosure: I have no positions in any stocks mentioned, and no plans to initiate any positions within the next 72 hours. I wrote this article myself, and it expresses my own opinions. I am not receiving compensation for it (other than from Seeking Alpha). I have no business relationship with any company whose stock is mentioned in this article.