It is rare to find a company that has future growth potential (eight acquisitions year to date), low volatility (beta of 0.90), increasing earnings (15.91% CAGR diluted EPS), increasing dividends (17.26% CAGR), and a share repurchase program ($3 billion repurchased in Q2 2012). If such a stock existed it would likely trade at a significant premium to the market, right? Well, the stock I am talking about does exist and is named IBM (NYSE:IBM).
Based on a few scenarios, we can see a stock that has the potential to be a growth company but trades like a value stock. Value investor Warren Buffett's Berkshire Hathaway (NYSE:BRK.A) is currently the largest shareholder in the company, owning 5.83% of the shares outstanding. The diagram below focuses on some of the main points in this article.
Click to enlarge images.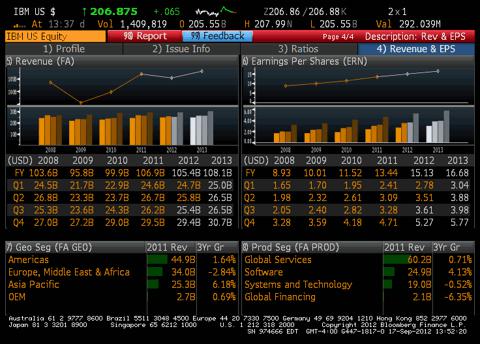 Source: Bloomberg.
Dividends
One thing the market loves about IBM is consistency and stability. The company has raised its dividend payment every year for the past decade. This is something the market has come to expect from IBM, and with the company paying out a very conservative 20% of earnings, you can likely expect this trend to continue. The chart below shows the dividend yield (left-hand scale in white) and 12-month dividend (right-hand scale in orange).

Source: Bloomberg.
Earnings
As mentioned above, over the past decade IBM has grown diluted EPS at CAGR of 15.91%. This has been accomplished through a mix of pure earnings growth and very robust share repurchase program. The chart below shows the diluted share count (left-hand scale in yellow) and the diluted earnings per share (right-hand scale in green). Management has indicated this trend will continue for the foreseeable future. In the company's most recent quarterly earnings release, full-year 2012 diluted earnings per share was raised to "at least $14.40" from "at least $14.27."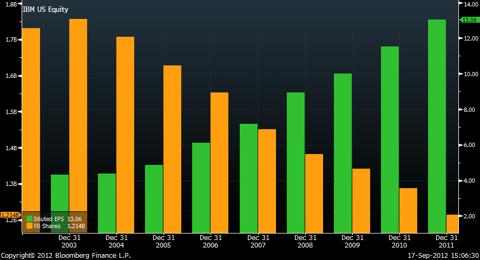 Source Bloomberg.
Growth Potential
IBM ended the second quarter of 2012 with $11.2 billion of cash on hand and generated free cash flow of $3.7 billion. We have already seen a portion of this cash deployed to share repurchases and dividends; the other portion is going directly to acquisitions. You can see in the table below the eight acquisitions IBM has made year to date.
| | | | | |
| --- | --- | --- | --- | --- |
| Announcement Date | Target Name | Announced Total Value | Payment Type | Deal Status |
| 8/27/2012 | Kenexa Corp | $1,230,310,000 | Cash | Pending |
| 8/16/2012 | Texas Memory Systems Inc | | Undisclosed | Pending |
| 5/2/2012 | Tealeaf Technology | | Undisclosed | Completed |
| 4/25/2012 | Vivisimo Inc | | Undisclosed | Completed |
| 4/13/2012 | Varicent Software | | Undisclosed | Completed |
| 4/4/2012 | SIX Automacao | | Undisclosed | Pending |
| 1/31/2012 | WorkLight Inc | | Undisclosed | Completed |
| 1/4/2012 | Green Hat LLC | | Undisclosed | Completed |
Many companies on the list were privately held and relatively unknown. This acquisition strategy has proven very profitable for IBM as it gains access to some of the fastest-growing markets in the world. Asia-Pacific, one of the fastest-growing segments in the world, presents one of the greatest opportunities ahead. Revenue from this geographic segment contributed to just 19.74% of the top line in 2007 and has growth to 23.64% in 2011. This trend will likely continue for the foreseeable future.
Europe, which has been a drag on both the top and bottom lines, appears to be bottoming out. When corporate spending begins again, we will likely see a major increase in sales from the euro area as "catch-up" spending begins. Corporations looking to increase productivity and efficiency can turn to many of IBM's services.
Valuation
With the stock currently trading at a similar multiple to the S&P 500 (see chart below) and, in my opinion, much greater earnings growth potential, long-term investors have an attractive entry point.
Historical P/E Ratio IBM (While Line) and SPX Index (Orange Line)
Source: Bloomberg.
If the company continues to increase its annual dividend by 5% annually (my very conservative estimate), at the end of five years you would be receiving $4.34 in dividends. Assuming the market continues to value IBM stock with a dividend yield of 1.5%, shares would trade at roughly $290. Assuming dividends were not reinvested over this period, you would have an annual growth rate of roughly 8.4%.
IBM isn't going to be the home run tech stock for the next decade. Investors with a higher level of risk tolerance may look toward Apple (NASDAQ:AAPL), Google (NASDAQ:GOOG), or eBay (NASDAQ:EBAY) if they want to achieve plus-sized returns. When building a portfolio geared for income and growth, IBM is a great addition. As companies learn to become more productive, increased technology spending will demand more and more of the budget. IBM is extremely well positioned to deliver the services, data storage, and infrastructure to help companies across the globe become more efficient.
(Note: All data reported and graphed is pulled directly from IBM's SEC filings and press releases.)
Disclosure: I have no positions in any stocks mentioned, and no plans to initiate any positions within the next 72 hours. I wrote this article myself, and it expresses my own opinions. I am not receiving compensation for it (other than from Seeking Alpha). I have no business relationship with any company whose stock is mentioned in this article.