As many who have read my articles on real estate and housing are aware, I believe that housing is off the bottom and has begun to grow. For months, data has supported my assertion, and on Wednesday, the market got more data that supports my thesis. The Commerce Department released August's new residential construction data. Among the highlights are:
Building Permits:
Privately-owned housing units authorized by building permits in August were at a seasonally adjusted annual rate of 803,000 (-1% sequentially, +24.5% YOY)
Single-family authorizations in August were at a rate of 512,000
(+0.2% sequentially)
The Northeast and West were the weakest sequentially, but showed the strongest growth YOY (-7.7%/+35.5% and -1.7%/+39.3%, respectively)
Housing Starts:
Privately-owned housing starts in August were at a seasonally adjusted annual rate of 750,000 (+2.3% sequentially and +29.1% YOY)
Single-family housing starts in August were at a rate of 535,000 (+5.5% sequentially)
Starts came in below expectations (767k), but growth is still positive
Housing Completions:
Privately-owned housing completions in August were at a seasonally adjusted annual rate of 689,000 (+0.7% sequentially and +11.7% YOY)
Single-family housing completions in August were at a rate of 489,000 (+5.4% sequentially)
The chart below shows actual starts and percent change YOY. When looking at the chart, it appears that actual starts have gradually changed, but when viewed as a percent change, it reflects a decent growth.
(click images to enlarge)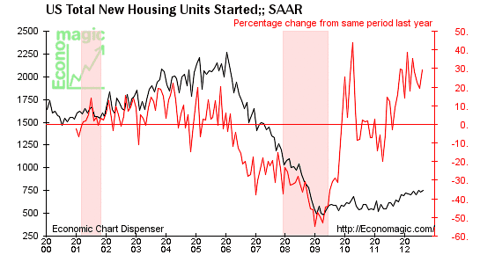 Looking at the pipeline, we see the following for permits: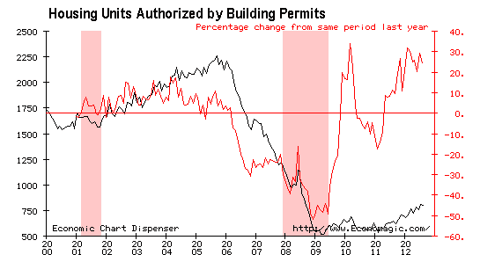 Permits have been somewhat volatile, but continue to show growth, which should then be seen in units under construction: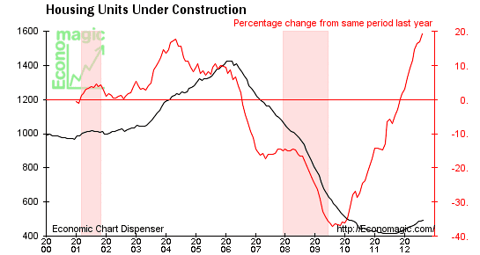 Again, we see the dramatic growth of units under construction. It must be noted that multifamily units have been the under construction growth driver. Finally, the end of the pipeline (completed) should begin to show growth (with the realization that multifamily projects take longer in the construction process):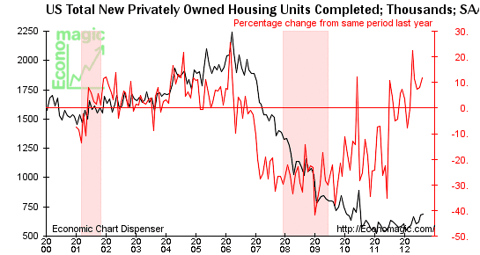 As we would expect, completions have begun to turn up and show positive year-over-year growth as the upturn cycle lengthens.
This data follows Tuesday's release of the National Association of Home Builders/Wells Fargo Housing Market Index, which rose for a fifth consecutive month in September to a level of 40. This latest three-point gain brings the index to its highest reading since June of 2006. NAHB Chairman Barry Rutenberg had the following to say on the confidence index:
This fifth consecutive month of improvement in builder confidence provides further assurance that the housing market is moving in a positive direction, but there's still a long way to go on the road to recovery and several obstacles are slowing our progress, in particular, unnecessarily tight credit conditions are preventing many builders from putting crews back to work -- which would create needed jobs -- and discouraging consumers from pursuing a new-home purchase.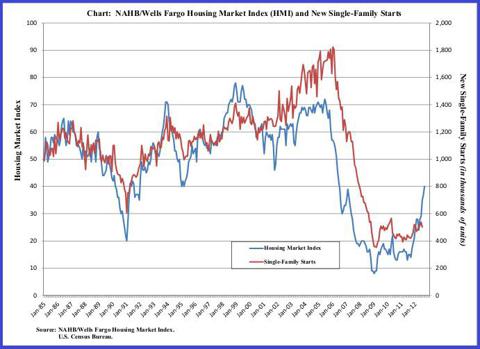 Growth in starts (and the entire pipeline) has lead to increased builder confidence and corresponding increases in the share prices of home builders such as:
Homebuilder have been riding the growth wave, and as a result, are trading at their highest price/book in years, with only Lennar trading below 2x.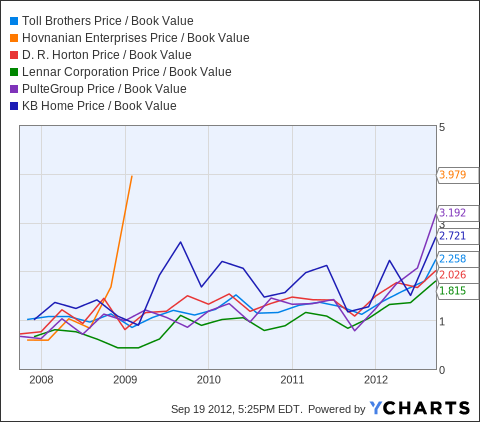 TOL Price / Book Value data by YCharts
Bottom Line: I continue to believe that housing is recovering, but investors must mind the headwinds, such as shadow inventory, banks feeling more confident on auctioning/foreclosure sales, and somewhat limited capital being set aside for housing based consumer credit.
Disclosure: I have no positions in any stocks mentioned, and no plans to initiate any positions within the next 72 hours. I wrote this article myself, and it expresses my own opinions. I am not receiving compensation for it (other than from Seeking Alpha). I have no business relationship with any company whose stock is mentioned in this article.
Additional disclosure: This article is for informational purposes only, it is not a recommendation to buy or sell any security and is strictly the opinion of Rubicon Associates LLC. Every investor is strongly encouraged to do their own research prior to investing.