Three weeks ago, I marveled that Yelp.com (NYSE:YELP) had surged 22.7% on the heels of the lock-up expiration of its IPO but suggested that the rally provided a better risk/reward entry to bet against the stock's extreme valuation. Since then, YELP has gained another 15%, trading within a wide range for the last two weeks. The extreme skew in implied volatility has also finally settled down from a 2x difference between calls and puts to a more "reasonable" 1.3 (for October expiration). The stock has yet to reverse, but it is now relatively cheaper to buy puts.
However, before plunging into fresh bearish bets on YELP, traders should take a step back and appreciate the opportunities for downside AND upside. The YELP counter-surge has been described as a short squeeze although the available data cannot prove this assumption. YELP short interest moved from 21.8% of the float in mid-August to 28.4% on August 31st (two days after lock-up expiration). Shares short soared a whopping 35% from 3.2M to 4.2M shares. YELP's ownership is dominated by venture capital firms instead of employees and so this setup is also supposed to explain the counter-surge. These are convenient explanations after the fact, but now that executives are selling stock, YELP continues to levitate.
9/3/12: Rob Krolik, CFO sold $21,990 worth of stock
9/9/12: Geoff Donaker, COO sold $873,250 worth of stock
9/11 and 9/12/12: Jeremy Stoppelman, co-founder and CEO sold a whopping $15,087,619 of stock
These were all automatic sales so more are sure to come. Given the proximity of these sales to the IPO lock-up, I think we decrease the likelihood that the absence of insider sales sufficiently explains YELP's surge. Combined with the resilience of short interest, this behavior raises the possibility that YELP could soon surge yet again.
YELP has experienced three blow-off tops, each of which I have used to time some good entries for buying puts. This time, the stock is lingering just below this important level of resistance. This different behavior increases the odds that a breakout could finally happen. IF, and only if, YELP achieves a fresh all-time closing high, I think it will be time to get bullish on what could turn into another rapid rise. In fact, all YELP needs now is another catalyst that triggers more positive sentiment. The chart below summarizes the stock's short history. The dark, horizontal line describes the current all-time closing high.
image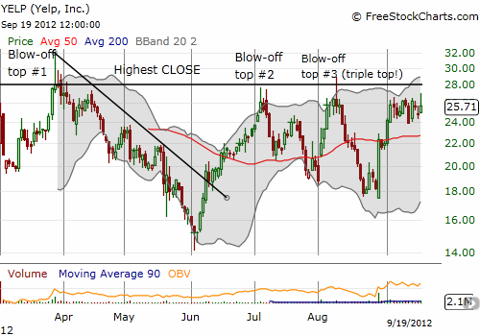 YELP lingers below important resistance - the location of three blow-off tops to-date
Source: FreeStockCharts.com
So what about the bearish case? YELP is an over-valued stock, but this valuation does not matter until the rest of the market cares. At a bare minimum, the current consolidation must break down for a new bearish trading case to make sense. That breakdown must take the stock below $24. A break below the 50-day moving average would be even better.
In other words, trying to anticipate the next move in YELP is much riskier now than trying to follow the momentum.
In the meantime, I am still sitting on October puts I bought with the premium from selling September puts (a calendar spread). These puts are nearly worthless now, and I do not expect to do more than breakeven on that trade. I am essentially ignoring them as I setup for the next move.
Be careful out there!
Disclosure: I have no positions in any stocks mentioned, but may initiate a long position in YELP over the next 72 hours. I wrote this article myself, and it expresses my own opinions. I am not receiving compensation for it (other than from Seeking Alpha). I have no business relationship with any company whose stock is mentioned in this article.
Additional disclosure: As explained in the post, I may initiate a short position (through puts) instead of a long position depending on certain conditions.