We are bullish on American Tower (NYSE:AMT) based on its recurrent revenues as well as impressive growth across its three business segments. Moreover, telecom operators' move towards upgrading their networks to accommodate bandwidth-hungry smartphones will serve to be the catalyst for the company's growth. The stock has gained almost 20% since starting operations as a REIT, and we believe a further upside potential exists. The company, after obtaining REIT status, is required to maintain a payout of 90% to its shareholders, which makes the stock attractive from a dividend standpoint; it currently yields 1.2%, which is well covered by its FFO yield of 4.5%.
American Tower Corp. owns, operates and develops wireless and broadcast sites in the U.S., Brazil, Chile and Columbia, among others. The company leases antenna space on various sites to businesses that range from telecom operators, to radio and television broadcast companies, as well as governmental agencies. AMT started its operations as a real estate investment trust from January 1, 2012.
The company derives the majority of its revenues from its rental and management business, accounting for almost 98% of its total revenues as of the most recent quarter end, with a greater exposure to the U.S. market.
The company had a strong second quarter with all three business segments generating impressive revenue growth over the previous quarter. AMT's local operations generated revenue growth of over 10% with expansion in gross margins of 14%. An even higher growth was seen in its international operations, which reported a 30% increase in revenues with gross margin expansion of 28% over the previous year's quarter. It is very obvious that the company is enjoying the rising use of wireless services by customers, as telecom operators around the world are upgrading their networks in reaction to high speed data demand from consumers. With telecom operators upgrading their networks to the next generation LTE technology, cellular traffic will rise, which will automatically increase growth prospects for companies like AMT that operate towers and lease antenna spaces to those telecom companies. And now with the launch of the iPhone 5 and products by Samsung (OTC:SSNLF) and Nokia (NYSE:NOK), data demand will further increase in the second half of the year, which is good news for AMT.
The majority of the company's revenues are recurrent in nature, as its contracts with telecom companies are usually five-to-ten years long. According to the latest quarterly results, the company expects to generate revenues of over $17 billion from its lease services, based on the prevailing exchange rate as of the quarter ended June, 2012. Moreover, under the contract terms, the lease costs are indexed to inflation, which will lead to an increase in rent for the company.
The company has a track record of solid revenue growth, with consistently upward trending revenues. Over the course of the last four years, its revenues have grown at a CAGR of almost 15%. Moreover, it has historically posted high gross margins, which have remained stable near 75%. In the financial year ended 2011, AMT posted gross margins of 75% as compared to 71% for Crown Castle (NYSE:CCI) and 72% for SBAC. AMT also ranks higher than its peers in terms of operating margins. In 2011, the company posted operating margins of 40% as compared to 37% for CCI and 21% for SBAC.
As mentioned previously, the company started operating as a REIT, and is thus subject to a number of regulations, one of which is that the company has to distribute 90% of its taxable income to its shareholders. In the first half of the year, the company paid dividends of almost $87 million, while generating operating cash flows of $762 million, which grew by 35% over the same quarter of the previous year. The stock currently offers a dividend yield of 1.2%, which is well covered by its high FFO yield of 4.5%.
The stock is trading at 35 times its forward earnings, which is at a discount of almost 35% to the forward P/E multiple for Crown Castle. Earnings have grown by 25% in the past five years. Moreover, earnings growth of almost 20% over the next five years will likely boost the stock up, which has gained significantly since the start of the year (see graph below). Currently, 56% of sell side analysts are recommending a long position on the stock. The recent upgrade has come from UBS, which has upgraded the stock to buy from neutral.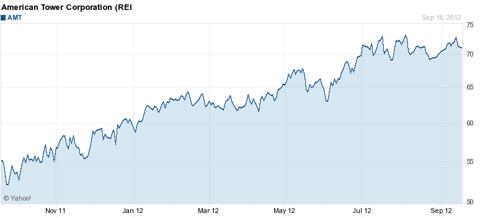 Disclosure: I have no positions in any stocks mentioned, and no plans to initiate any positions within the next 72 hours.
Business relationship disclosure: The article has been written by Qineqt's Telecom Analyst. Qineqt is not receiving compensation for it (other than from Seeking Alpha). Qineqt has no business relationship with any company whose stock is mentioned in this article.