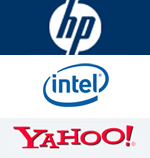 The mystery announcemnet we mentioned yesterday was just released - Yahoo (YHOO), Hewlett Packard (NYSE:HPQ) and Intel (NASDAQ:INTC) are jointly announcing a new cloud computing research initiative called the Cloud Computing Test Bed. Users will be able to build and launch new applications on the platform.
It's being described as "a globally distributed, Internet-scale testing environment designed to encourage research on the software, data center management and hardware issues associated with cloud computing at a larger scale than ever before." Other partners include the Infocomm Development Authority of Singapore (NYSE:IDA) (which is distinct from the MDA, I believe, which is unfortunate), the University of Illinois at Urbana-Champaign, and the Karlsruhe Institute of Technology (KIT) in Germany:
The test bed will initially consist of six "centers of excellence" at IDA facilities, the University of Illinois at Urbana-Champaign, the Steinbuch Centre for Computing of the Karlsruhe Institute of Technology, HP Labs, Intel Research and Yahoo!. Each location will host a cloud computing infrastructure, largely based on HP hardware and Intel processors, and will have 1,000 to 4,000 processor cores capable of supporting the data-intensive research associated with cloud computing. The test bed locations are expected to be fully operational and made accessible to researchers worldwide through a selection process later this year.

The test bed will leverage Yahoo!'s technical leadership in open source projects by running Apache Hadoop — an open source, distributed computing project of the Apache Software Foundation — and other open source, distributed computing software such as Pig, the parallel programming language developed by Yahoo! Research.

"The HP, Intel and Yahoo! Cloud Computing Test Bed furthers our commitment to the global, collaborative research community that is advancing the new sciences of the Internet," said Prabhakar Raghavan, head of Yahoo! Research. "With this test bed, not only can researchers test applications at Internet scale, they will also have access to the underlying computing systems to advance understanding of how systems software and hardware function in a cloud environment."

Researchers at HP Labs, the central research arm of HP, will use the test bed to conduct advanced research in the areas of intelligent infrastructure and dynamic cloud services. HP Labs recently sharpened its focus to help HP and its customers capitalize on the industry's shift toward cloud computing, a driving force behind HP's vision of Everything as a Service. With Everything as a Service, devices and services will interact seamlessly through the cloud, and businesses and individuals will use services that anticipate their needs based on location, preferences, calendar and communities.
Conference Call
Executives from the three companies held a conference call to discuss the new venture. Participating were Prith Banerjee, Senior Vice President, Research, HP and Director, HP Labs; Prabhakar Raghavan, Head of Yahoo! Research; and Andrew Chien, Vice President, Corporate Technology Group, Intel and Director, Intel Research.
My live call notes are below.
Notes, in chronological order:
…waiting for call to begin
Prith Banerjee from HP began the call and introduced Andrew Chien and Prabhakar Raghavan. Summarizing the key news: HP, Intel and Yahoo are partnering with governments and academic institutions to create an open source cloud computing test bed with six distributed centers. Global, distributed, Internet scale platform. The main goal is to remove financial and logistical barriers for people to develop cloud computing application. Partners include the University of Illinois at Urbana-Champaign, and the Karlsruhe Institute of Technology (KIT) in Germany.

HP believes we are entering an era of "everything as a service." Businesses and users will use the services, which will anticipate your needs based on location, etc. This shift towards everything as a service will require a new approach. HP will conduct research in two areas: intelligent infrastructure and cloud services. They say they'll experiment with radically new data center structures.
Andrew Chien from Intel: Cloud computing is a big challenge. Important technology issues around hardware stack to drive performance, energy usage, etc. This isn't a "test tube" study, it's a large scale distributed global platform. "Intel has a long history of open collaboration" he says.
Prabhakar Raghavan from Yahoo says Yahoo is pleased to be a cofounder of the project. Want to take Internet research "to the next level." Says the next generation of the web demands collaborative research. Discussing M45 data center they launched with Carnegie Mellon and other projects where they experimented with cloud computing. Says this announcement is in the spirit of the earlier partnerships. Building and contributing to an "intellectual commons."
Questions:
- How is each company contributing?
Each company is providing people and resources, and each is creating one of the six test beds. Research can be conducted across the stack. Yahoo has contributed open source software, from the OS to Hadoop. Chien reiterates support for open source software. Says some of the pieces of the data centers are up and running now.
- Size of investment by each company?
Not disclosing financial terms. each facility will have 1,000- 4,000 processor cores.
- Web needs a new architecture…please expand?
They want people to take the cloud for granted, so people can create applications at any scale.
- Have they measured how much collective computing power? Why not part of IBM/Google research announced last year?
We're complimentary to IBM/Google (NYSE:IBM) (NASDAQ:GOOG), and also different. they are going to allow people to run low levels of customized software. IBM/Google is focused on application level right now. In terms of scale, they say not to focus on total computational capability, but to focus on scalability.
- Idea of timeline? what will finished products look like?
Some of this is underway and being used. M45 datacenter has been in operation since 2007, this takes it to a broader level. They are looking to see publication of research by all parties, contribution to an intellectual commons.
- Have they received government R&D funds?
Says they are partnering with the national science foundation and various academic organization, never really answered the question.
- Can others join this group? IP ownership?
Chien says they are taking a leadership step. Open to more people contributing. On IP ownership, they are making clear statements about what is open source, commitment to openness.
Note: I was not allowed to ask a question for some reason. Things I would have asked:
1. How do third parties open their own facilities/data centers? What if Stanford wants to open a facility?
2. Pricing: How will resources be allocated to people building on the platform?
3. Where to people go for information on APIs and other tools needed to access the platform?
4. Yahoo kept referring to M45 as a version of this already deployed. Is that their contribution or are they building out a new facility.
Overall this is super squishy, and appears to be more of a hype release than anything. More details are needed. A lot more.