There has been a lot of discussion attached to articles on Annaly Capital Management (NYSE:NLY) concerning the dividend level in a world of shrinking rate spreads and the Fed's new QE-forever policy.
On Sept. 19, Annaly announced that the third quarter dividend to be paid on October 1 - record date - will be reduced to 50 cents per share from the previous 55 cents. The half-a-buck dividend will be 26% lower than the 68 cents paid for the third quarter of 2011. At Wednesday's closing price, Annaly now yields 11.6%.
In recent articles, I discussed how falling mortgage rates would eventually squeeze the interest spreads of all of the mortgage REITs. Dig in here for a refresher course:
American Capital Agency (NASDAQ:AGNC) has already announced that its third quarter dividend will remain at the $1.25 rate. American Capital likes to maintain a level dividend until forced to make a change, while Annaly adjusts its dividend quarter-to-quarter based on actual profitability.
The flip side of falling mortgage rates is higher MBS prices, and the mREITs should post either nice gains on sales of assets or higher book values for the quarter. It is conceivable that the mREIT sector will soon be stocks with sub 10% dividend yields and nicely rising stock prices. A lot depends on how the different companies manage their investment portfolios. QE-3D throws a wrench into the equation, with the Fed buying up an Annaly worth of assets every three months.
Today (Sept. 20) could see a significant sell-off of the mREIT stocks. Investors who like these companies for the big dividends and longer-term potential may find some buying opportunities through the rest of the week.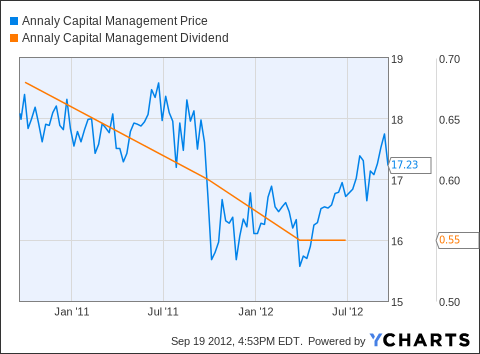 Disclosure: I have no positions in any stocks mentioned, and no plans to initiate any positions within the next 72 hours. I wrote this article myself, and it expresses my own opinions. I am not receiving compensation for it (other than from Seeking Alpha). I have no business relationship with any company whose stock is mentioned in this article.