After I returned back to the States from a late-July trip to India, I had written an analysis on the benefits of buying the Indian Rupee through ICN (WisdomTree Dreyfus Indian Rupee ETF).
My reasoning was based on the political and economic changes I had witnessed in India that I knew would be positive for the economy as well as the currency.
The main reason for the fall of the Rupee was a fall-off in foreign direct investment (FDI) due to the imposition of back taxes on foreign corporations.
The other reason was the petrol subsidy in the face of higher imported prices which was leading to inflation. The government had to reduce the subsidies to stem inflation and restore the confidence in the foreign corporations, so they would restart the FDI flows into India.
Furthermore, falling FDI and a poor current account balance had prompted the rating agencies to issue calls to downgrade India's debt to a junk status.
But it seems that the government of Prime Minister Manmohan Singh has taken some bold steps to restore confidence in the Rupee and keep the investment grade rating.
The law that would have imposed back taxes on foreign corporations has been rescinded.
Second, on September 13th, the government instituted a 14% increase in the price of diesel which helps in cutting budget deficits and also reduces diesel imports which reduces current account deficits.
And finally, in a bold move towards privatization, India threw open its retail as well as aviation industries to foreign investment.
Overseas retailers like Wal-Mart Stores of the United States and Carrefour of France will now be able to own a 51% share in Indian supermarket chains. This move should also lead to massive FDI inflows.
The government also hopes that these measures will also prevent the threatened credit rating downgrade by Standard & Poor's and Fitch.
The net effect of these positive changes has seen the Indian Rupee break out of its sideways channel and rise 2% over the last couple of days and I see another 10% gain coming over the next 6 months.
There is some political risk to the ruling coalition party as some of the coalition members might not back this unpopular move. But in the end this is exactly what the country needs to kick-start economic growth which has fallen below 6% and also to restore confidence of the international investors.
image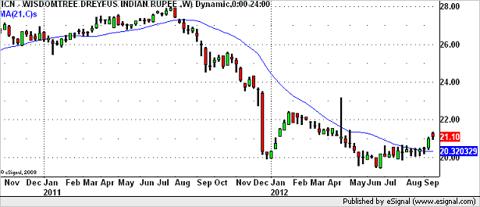 Disclosure: I have no positions in any stocks mentioned, and no plans to initiate any positions within the next 72 hours. I wrote this article myself, and it expresses my own opinions. I am not receiving compensation for it (other than from Seeking Alpha). I have no business relationship with any company whose stock is mentioned in this article.