The thesis of this article is that there is a boom in the making for mREIT investments. Since mREITs are one of the few investments that offer double-digit dividends, many investors are plunking their hard earned savings on these issues. This boom can make money for those who understand the business model of these companies and the dynamics of leveraging. Many investors who don't will lose money. The goal of this article is to inform and educate readers of the dangers inherent in this boom and to alert them to the indicators that may signal the burst of the bubble. Let's look at some highly touted mREIT charts to illustrate the boom. The charts of AGNC, MFA, CMO and NLY have been taken from freestockcharts.com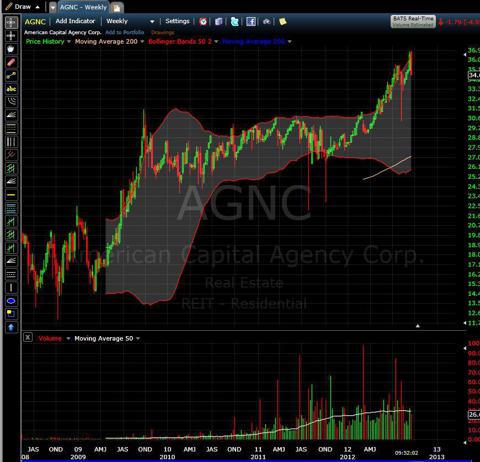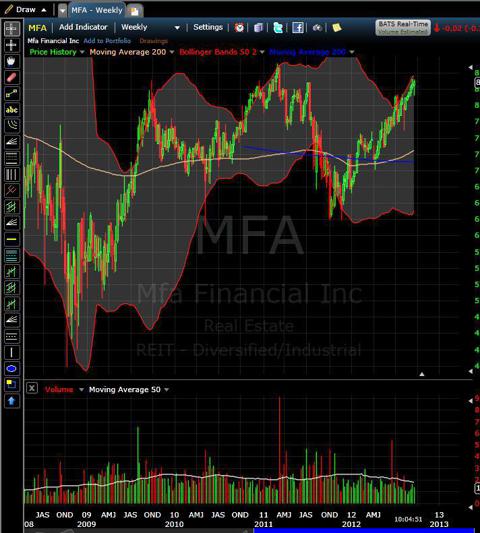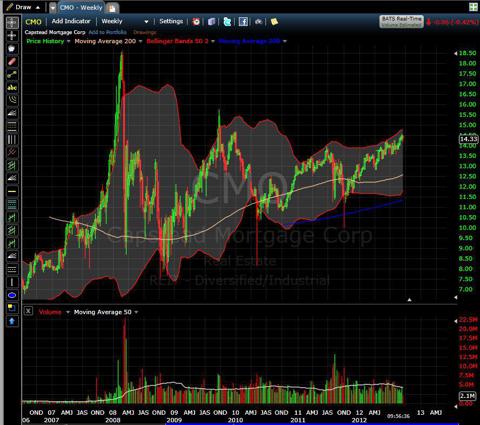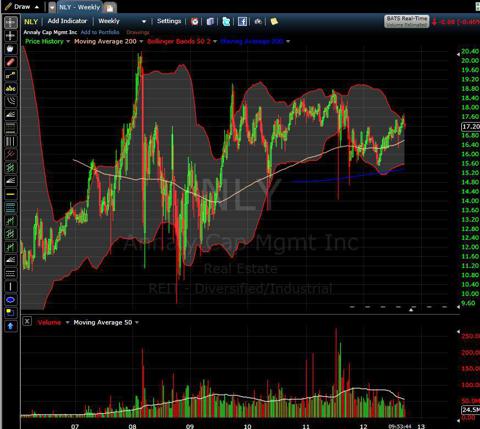 The upward bias of all these mREITs shows on these charts. These companies have been issuing more common and preferred shares to increase the amount of mortgages they can buy. Everything points to a booming business.
There are recommendations for mREITs being offered on the Seeking Alpha website daily. Current economic conditions make it possible for these companies to offer good dividends and hence capital appreciation. As long as current economic conditions prevail, these recommendations are reasonable and instructive since these companies will continue to prosper. But when interest rates begin to rise and the Federal Reserve begins to tighten, many folks who don't understand the dynamics of leverage and interest rates will lose money instead of profiting from these investments. Many writers on this website touting these issues often offer some cautionary words, but the warnings are usually weak and offer little insight into the dangers.
The business models of mREITs are dependent upon financial leverage for their profits. Wikipedia offers a good explanation of financial leverage. The section on Leverage and Risk states, "The most obvious risk of leverage is that it multiplies losses." It also can have the opposite effect, that is, it can also multiply profits. With mREITs, the objective of financial leverage is to borrow at interest rates lower than the asset's returns. They buy retail loans (assets) such as mortgages and other loans that have a set rate of return over a period of time. They purchase these assets with short-term borrowings, which come due long before the purchased loans are paid out. As interest rates go up, borrowing costs to finance these assets rise. Home and commercial mortgages have set rates that can last over extended periods of time, even up to 30 years. Therefore these long-term mortgages do not produce any more income but the costs of short-term loans to finance them go up as interest rates rise. The possibilities of profit and/or loss with financial leverage is clearly shown in the following example taken from Retail Investor.org.
EXAMPLE 5% Asset's Projected Rate of Return
4% Debt's Interest Rate
8:1 Debt to Equity ratio
LONG-FORM MATH
| | | | |
| --- | --- | --- | --- |
| Investment in Assets | 8+1 | * 5% | =45 |
| less Interest | (8) | * 4% | =(32) |
| equals Equity | 1 | *13% | =13 |
SHORT-FORM GENERIC CALCULATION
| | | |
| --- | --- | --- |
| Interest Rate Differential | 5 less 4 | 1% |
| Debt to Equity Multiple | 8/1 | 8 |
| Multiply Line1 * Line2 | | = 8% |
| Add Asset's Return | | + 5% |
| Equals Equity's Return | | = 13% |
LOSS EXAMPLE Never, ever forget the possibility of lower-than-expected asset returns. Leverage is just as punishing on the downside as it is helpful on the upside.
3% Actual Realized Return on Asset
4% Debt's Interest Rate
8:1 Debt to Equity ratio
| | | |
| --- | --- | --- |
| Interest Rate Differential | 3 less 4 | =(1)% |
| Debt to Equity Multiple | 8/1 | 8 |
| Multiply Line1 * Line2 | | =(8)% |
| Add Asset's Return | | 3% |
| Equals Equity's Loss | | = (5)% |
This illustration clearly demonstrates how easily double-digit returns can quickly turn into losses. Most mREITs are leveraged from 6 - 8 times their capitalization. This example offers a clear picture of the risks inherent to mREITs as interest rates rise. Not only is the dividend at risk in this scenario, but the very life of the company could be in danger. One could lose part or all of one's investment when this occurs. Having personally lost hard-earned savings in the past owning one of these companies motivates the writing of this article.
While the dangers accompanying this boom have been presented, the answer of when the bubble will burst is still up in the air. Here are some of the warning signals to look for:
Better interest income from bonds and money market instruments
Inflation rate of 2.5% or greater.
Probably the first indication of a problem for these companies is a rising inflation rate. When the inflation rate starts rising, the federal reserve will begin tightening. This tightening will result in higher interest rates. Watch the financial news regularly to see if any of these indicators are flashing. When they appear take them as a warning that the boom is about to end. Sell these stocks and get out before the bubble bursts!
Disclosure: I have no positions in any stocks mentioned, and no plans to initiate any positions within the next 72 hours. I wrote this article myself, and it expresses my own opinions. I am not receiving compensation for it (other than from Seeking Alpha). I have no business relationship with any company whose stock is mentioned in this article.