The recent anxiety over lowered guidance at Intel (NASDAQ:INTC) has the shares trading lower. With the declines, Intel's P/S ratio is at the lowest level in ten years -- indicating that it might be worth a quick look. O'Shaughnessy's book What Works On Wall Street calls the price to sales ratio "the king of value factors." Why? The P/S ratio is informative because it remains "pure" of non-cash accounting expenses such as impairment and amortization. According to O'Shaughnessy, strategies using the P/S beat the market more frequently than strategies using different value ratios. Here is a look at Intel's price-to-sales multiple: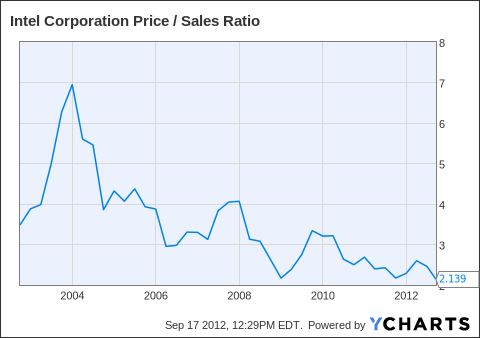 INTC Price / Sales Ratio data by YCharts
Third Quarter Guidance
The recent lows made by Intel are partially due to a reduction in guidance for its third quarter earnings. Intel has also suspended full year guidance until the third quarter results are out. This comes in the face of speculation of what it means that Intel's presence is lacking in the mobile and tablet market. Their absence ought to make us question: does Intel has an innovators dilemma problem with ARM (NASDAQ:ARMH)?
The most recent declines also come as Intel's mobile Atom processors enter the mobile market through the Motorola RAZR i -- it is "the first smartphone that can achieve speeds up to 2 gigahertz." (Here is a review. Here is a news story. Or watch the launch event here.)
Value Network
Intel is firmly between the giants of the x86 "value network" -- its major customers in 2011 were Hewlett-Packard (NYSE:HPQ) representing 19% of sales and Dell (NASDAQ:DELL) representing 15% [1]. Therefore, if the retail players like Staples (NASDAQ:SPLS) are right when they say consumers are deferring purchases of PCs due to the forthcoming Microsoft (NASDAQ:MSFT) Windows product cycle, then it seems like we ought to have expected earnings to increase in this quarter -- that is, the one which just received the guidance cut -- as the PC OEMs build up inventory levels for the release. But Intel noted on the last conference call:
"Inventory levels across the worldwide PC supply chain are healthy, but are being managed below historical averages based on macroeconomic uncertainty and ahead of the Windows 8 operating system release."
Given that HP is currently in the process of refreshing their product line, perhaps HP's historically large contribution to Intel's revenue is lagging. HP is apparently aiming at the holiday season. Such plans could push Intel's revenue from HP upward into the last quarter of the year. Since HP singlehandedly represented 19% -- or $10 billion -- of Intel's revenue in 2011, this sort of hypothesis is not far fetched.
And that PC sales are down is obvious from Hewlett-Packard last quarter. They reported that sales of PC's were down 8.5% year over year for the nine-months ended July 31st, 2012. They were down 10.1% year-over-year for the three month period ending July 31st 2012:

(Source: Hewlett-Packard Third Quarter 2012 10-Q, p. 67)
But even while sales at the traditional OEMs are falling, Apple's (NASDAQ:AAPL) Mac, which uses Intel chips, is growing sales at 7% year-over-year. So while it seems popular to think the success of Apple is a negative for Intel -- presumably because Intel's chips are not in mobile devices -- the truth of the story is mixed. Incidentally, and according to Interbrand, Intel's brand is still worth more than Apple's (although I suspect that will be shortly reversed).
The Future PC Market
While there is little doubt the tablet market has taken a permanent bite out of PC sales, the armies of Windows users will most likely continue using a Windows based system -- if not for loyalty, for simple status quo bias. That means that, for now, the old x86 ecosystem is not dead. Microsoft Windows is also still wedged snugly within the enterprise ecosystem and will not be removed easily.
All this is to say that Intel's position as the premier chip maker in the world remains unchallenged. And even while its position in this regard remains steady, Intel is slowly diversifying its income stream away from PCs, which made up approximately 66% of revenue in 2011 -- down from 71% in 2009.
Valuation
Warren Buffett, according to his 1992 letter, uses the theories of investment valued laid down by John Burr Williams in The Theory of Investment Value. Williams spells out various formulas for determining the "intrinsic value" of a stock. Warren Buffett explains:
"The value of any stock, bond or business today is determined by the cash inflows and outflows -- discounted at an appropriate interest rate -- that can be expected to occur during the remaining life of the asset…

The investment shown by the discounted-flows-of-cash calculation to be the cheapest is the one that the investor should purchase -- irrespective of whether the business grows or doesn't, displays volatility or smoothness in its earnings, or carries a high price or low in relation to its current earnings and book value." (1992 Investor Letter)
In 2011, Intel had free-cash-flow [2] of about $10 billion. Intel's longest-term debt securities are its $1.5 billion in senior notes due 2041, which bear an interest rate of 4.8%. If we take their longest-term debt rates as a proxy for the appropriate discount rate [3] to use, but add a few percentage points (2.5%) for conservatism/risk/safety, then we get an discount rate of 7.3%. Also, let us assume there will never be another day of growth again.
Intrinsic Value = Net Cash Flow / (Discount Rate - Growth)

IV = $10 billion / (7.3% - 0%)

IV = $136 billion
With Intel's current market capitalization of approximately $116 billion, Intel is slightly undervalued by some 10% in our estimate. What this really suggests is that, given their is a high likelihood of revenue growth in the long-term, this minor discount by the market looks like a big discount when seen from the angle of growth. The advent of the mobile computing market is an opportunity for further revenue growth -- it is not purely a condemnation of the old business model. Such growth would skew our intrinsic value estimate upward, probably by a material amount. Intel has, historically anyway, successfully grown its business: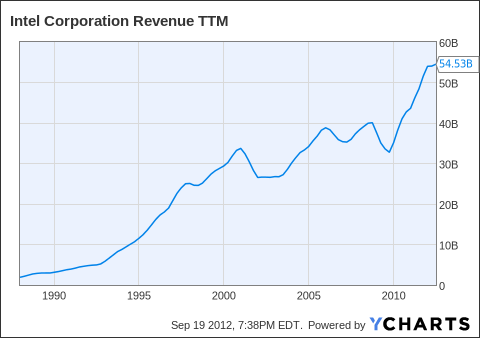 INTC Revenue TTM data by YCharts
Conclusion
Given current pessimism in the market, it is reasonably possible that Intel's share price might decline further in the short-term. But with each price decline, the earnings, free-cash-flow, and dividend yield improve: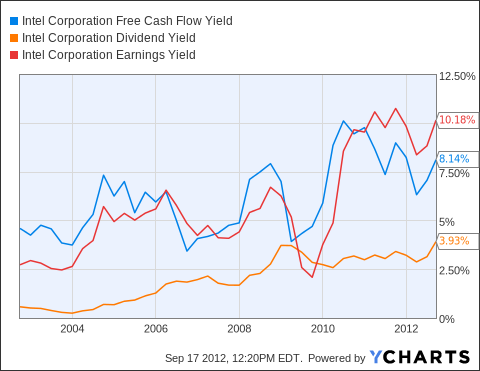 INTC Free Cash Flow Yield data by YCharts
The lower the share price, the higher the yield on the shares. Present prices offer an opportunity to purchase shares of this best-in-class company at an attractive valuation. Hopefully, Intel is buying back shares at these prices. With a 3.9% dividend yield, the company will pay you for patience.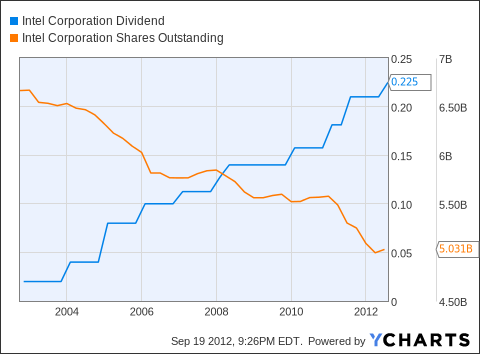 INTC Dividend data by YCharts
Notes:
Intel 2011 10-K, p. 9
Free-Cash-Flow = FCF = Operating Cash Flow - Capital Expenditures
There are a lot of ideas about discount rates, I tend to follow the work done by Keynes on this matter (as it is cryptically expressed in Chapter 11 of The General Theory Of Employment, Interest, And Money).
Disclosure: I have no positions in any stocks mentioned, and no plans to initiate any positions within the next 72 hours. I wrote this article myself, and it expresses my own opinions. I am not receiving compensation for it (other than from Seeking Alpha). I have no business relationship with any company whose stock is mentioned in this article.