As many readers know, I have been questioning the valuations of many REITs recently [including the untouchable Realty Income (NYSE:O)] as premiums to net asset value [NAV] and funds from operations (FFO) multiples are high. One sector that came into my crosshairs is the multifamily/apartment sector. Back in April I recommended a swap out of the apartment sector based on the following premise:
The rationale for this is straightforward: the massive shift from owning to renting has mostly occurred. While there is certainly more to go, the bulk of the shift has happened and outperformance going forward will be harder to achieve.
My opinion has not changed, rather it has become firmer. The following is a valuation table containing the larger and more liquid multifamily REIT, namely:

At a consensus 2012 Price/FFO multiple of 19.9x, the average of these REITs is approximately one turn higher than the REIT universe (which is admittedly dragged up by some of the 800lb gorillas such as Simon Properties (NYSE:SPG) and American Tower (NYSE:AMT), which sport multiples of 21x and 23x respectively). Interestingly, they trade - on average - at a discount to net asset value ((NYSE:NAV)) of 2.65%. The two largest, Avalon Bay and Equity Residential, trade at reasonable valuations of +3.60% and 0% to net asset value.
Given the "semi-reasonable" FFO multiple and premium/discount to net asset value, why do I think they are played out? The major catalyst has occurred - the foreclosure to rent movement. This is not to say that there will not be further former homeowners that are forced to rent, but the major shift has been priced in. There will continue to be growth as the "American dream" is no longer homeowner focused and the 18-34yr old demographic is content to rent.
Then there is the supply and demand dynamic. As I stated, I believe the massive demand shift has taken place and going forward we will see more "normalized" levels of demand. That leaves us with supply.
Taking a look at Wednesday's housing starts data (and prior releases), we see that the strength in new builds is in the 5+ unit construction: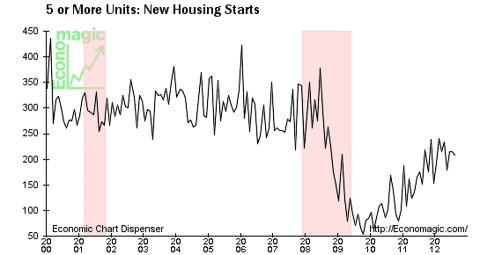 Starts, of course, lead to units under construction: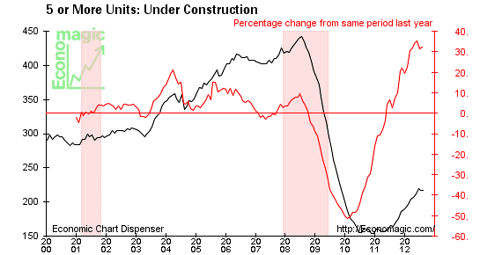 The development pipeline of these REITs is also very strong. Ultimately, an investment in the apartment REIT sector is based on the premise that rent growth will continue strong (although it is becoming disadvantaged relative to owning in many markets), absorption will continue to be strong and there will be a continued transition from ownership to "rentership".
The price action of the referenced apartment REITs does not seem extreme relative to many other sectors or the S&P500 (SPX) [I had to break the group into two graphs due to limitations in the number of equities that can be compared]: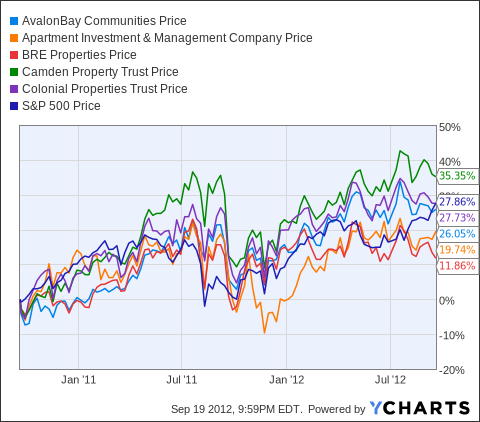 The next five: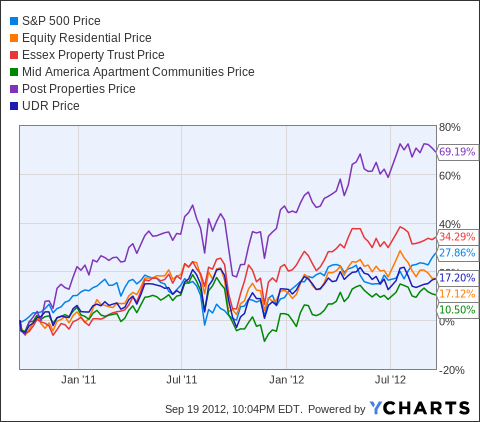 Bottom Line: The apartment sector is a bit of a conundrum for me. On the one hand, valuations are not much more stretched than the REIT sector, but on the other hand the catalyst for further growth eludes me. Ultimately, if you can't see the growth driver and the income is low - why be involved? It does not look like there is a decent balance of valuation and yield available in the sector. There are other REIT sectors that have better growth drivers and higher yields or other equity sectors that can provide more growth and income.
Disclosure: I have no positions in any stocks mentioned, and no plans to initiate any positions within the next 72 hours. I wrote this article myself, and it expresses my own opinions. I am not receiving compensation for it (other than from Seeking Alpha). I have no business relationship with any company whose stock is mentioned in this article.
Additional disclosure: This article is for informational purposes only, it is not a recommendation to buy or sell any security and is strictly the opinion of Rubicon Associates LLC. Every investor is strongly encouraged to do their own research prior to investing.