Every investor should make a point to listen to conference calls as well as presentations company executives give to the analyst community. If you own or follow a stock, there's really no reason not to. Most companies webcast these events, if not live, shortly after the fact.
That's the type of due diligence that helps you go beyond the standard "research" most individual investors do.
It's much more fun to catch these events live, although if you have a Twitter account you can generally follow play-by-play on most of the relatively big ones.
Wednesday was one of those days when some stocks moved because of what CEOs said at conferences. Two stocks - J.C. Penney (NYSE:JCP) and Pandora (NYSE:P) - gyrated quite wildly intraday when their respective leaders rocked the mic.
Two Stocks, Two Pops, Two Drops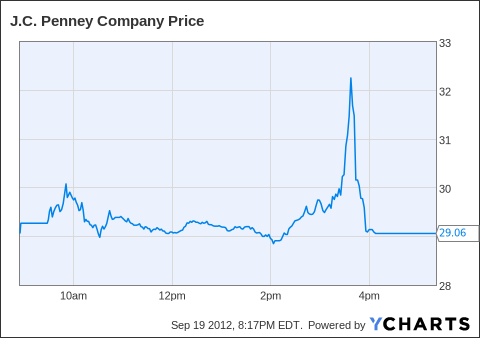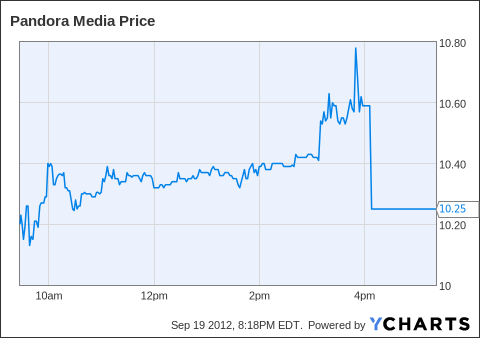 After surging past $32 a share as CEO Ron Johnson spoke to investors at the company's Plano, TX headquarters, JCP retreated closing Wednesday's regular session up just 0.1% at $29.09.
When Pandora CEO Joe Kennedy addressed analysts at the Goldman Sachs Communicopia Conference, his company's stock increased steadily, though not as hard and fast as JCP. P lost additional ground later in the day and in after hours trading, but it managed to finish up nearly 4% at the close of regular trade.
One Buy, One Sell
Pandora remains a buy. JCP a sell.
The rumor that Apple (NASDAQ:AAPL) might start a competing service halted Pandora's best attempt in recent weeks to break out, sending the stock from an impressive September 6th closing high of $12.57 to as low as $9.41 intraday last week.
As Kennedy pointed out on Wednesday, Pandora continues to build out a business in the early stages of development with the same views towards competition it has had all along.
While Pandora now dominates the Internet radio and personalization spaces, it did not invent them. Kennedy credited early services such as ShoutCast as the pioneers. He took things in that direction simply to say, Pandora has faced and has expected to face competition from day one. They never expected that to change. And, through it all, Pandora continues to grow.
Intensified competition merely validates Pandora's business model. And you cannot take away the company's first-mover advantage in mobile. Of the recent IPOs, it's easily the best performer in the burgeoning space.
On royalty rates, Kennedy continued the more aggressive stance Pandora has taken in recent months, ever since Co-Founder and Chief Strategy Officer Tim Westergren appeared on Capitol Hill to advocate for a more equitable system of paying artists. Kennedy pointed out the obvious - it's unfair and unprecedented that Pandora should have to shell out 55 to 60% of revenue for content, while other services, such as Sirius XM (NASDAQ:SIRI), pay a fraction of that and terrestrial radio pays nothing.
Beyond that, he just laid out the game plan, which has not changed in the year or so I have been interfacing with company executives.
Connectivity in the car. The mobile revolution. Pandora's share of the terrestrial radio advertising market. These things are all still in "the first inning," according to Kennedy.
I plan to flesh out each of the three above-mentioned areas later this week or next on Seeking Alpha, but I can summarize the takeaway from Kennedy's talk in one word - confidence.
That ingredient allowed Pandora to naturally pull back on Wednesday, but hold on to a fair share of its conference-induced gains. It's a completely different story at JCP, where Ron Johnson continues to prove that he rode the back of Steve Jobs's genius at Apple.
JCP soared when Johnson reported that sales in Penney's new boutique stores-within-a-store outperform numbers from the rest of the store. It fell when Johnson conceded that this will not lift sales for the year. Even worse, the second half will likely turn out as pathetically tough as the first.
The more I study Ron Johnson, the more I think smoke and mirrors.
I argue that the 20% number contains some bias.
Specifically, it's sensible to think that A) JCP, as an organization, is pushing the boutiques to its employees and customers and B) even if they're not, employers are likely more excited to sell the new and relatively exciting over something old and stale. So, of course, with more focus and attention on the boutiques, sales should be higher. In fact, they had better be.
Johnson has done nothing imaginative at JCP. No innovation whatsoever. He continues to pull from the same beaten down retail toolbox that has failed brick and mortar outlets for years. It's "easy" to ride shotgun with Steve Jobs, but much more difficult to go out and accomplish the incredible on your own.
The abrupt, late day sell-off was warranted. I wouldn't touch JCP with your brokerage account.
I continue to hold and buy P on dips, particularly when it moves below $10. Use caution with the stock Thursday and Friday as it could get an artificial boost from a Bloomberg report quoting analysts who predict the company could fetch up to $20 a share in a buyout.
While I agree with the premium, this is more overreaction to the Apple news. Bloomberg contends it puts Pandora in play with Google (NASDAQ:GOOG) and Clear Channel (CCMO.PK) as potential suitors. I don't buy it. As a long, I wouldn't cry, but as somebody who wants to see the Pandora story play out organically, I would be disappointed by M&A.
Disclosure: I am long P. I wrote this article myself, and it expresses my own opinions. I am not receiving compensation for it (other than from Seeking Alpha). I have no business relationship with any company whose stock is mentioned in this article.