You don't have to have been an investor for long to understand that there are no guarantees in the financial markets. However, when companies have consecutively raised dividends for 50, 43 and 40 years like Johnson & Johnson (NYSE:JNJ), Abbott Labs (NYSE:ABT) and Sysco (NYSE:SYY) below, you can be nearly certain that they will do so again. Investors can take advantage of this relative certainty by using these investments to grow dividend income over time. This method of investing in companies that continually raise dividends is a powerful method of compounding returns over time, making the dividend picks below a safe and consistent means of building wealth.
Johnson & Johnson has long been a favorite with dividend investors, raising its dividend for 50 consecutive years dating back to 1963. JNJ is one of the premier global healthcare product manufacturers. The company, which boasts a roster of highly valuable consumer healthcare products in addition to investments in pharmaceuticals and medical devices, has nearly 120,000 employees and a market capitalization of $189 billion. JNJ offers compelling value from both a dividend perspective and a fundamental perspective. The company has experienced impressive revenue growth considering its size: JNJ grew revenue 7% between FY 2010 and FY 2011 from $61.5 to $65 billion. Analysts expect that impressive growth to continue, as the company is forecast to increase revenue 11 percent (5 percent annually) between FY 2011 and FY 2013. The company is exceptionally strong at generating free cash flow, with over $10 billion of free cash flow over the past year. JNJ's balance sheet is also strong, with the company recently extinguishing a sizable percentage of the long-term debt and a strong cash and short-term investment position of over $16 billion.
In April of 2012, JNJ continued that growth declaring an increase in the dividend of 7%, to $2.44 per share, representing a dividend yield of 3.6%. That strong initial yield provides a relatively high base for long-term dividend investors to increase their effective yield over time. During the past 50 years, JNJ has never increased the annual dividend yield by less than 5.9%. The long-term value returned to shareholders by JNJ is best illustrated by presenting the increase over the long run. As shown in the chart below, JNJ has increased its annual dividend from 17 cents in 1990, to $2.44 in 2012, a 14-fold increase. JNJ offers compelling value from a fundamental and income perspective and as such should be on the radar of all long-term investors.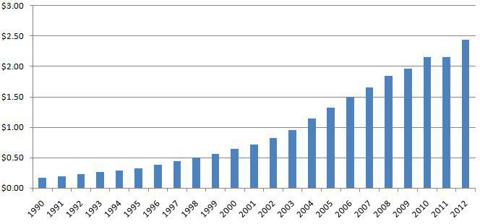 Abbott Labs marked its 40th-consecutive year of dividend increases in February 2012, raising the company's annual dividend by 6% to $2.04 per share. ABT is a highly diversified consumer health products and pharmaceutical company. Investors in ABT have enjoyed robust share price gains in 2012, with company shares trading at $68.91, at yearly highs. At the current share price, ABT pays a 3.0% dividend yield, robust in an era of historically low interest rates. ABT's dividend increases have been remarkably stable over time, with annual dividend increases dating back to 2000 averaging 8.8%. Therefore, investors purchasing shares today at a 3.0% effective yield could expect the dividend to increase to $5.16 and their effective yield to increase to 7.5% if ABT preserves an 8.8% rate of dividend increases in the future.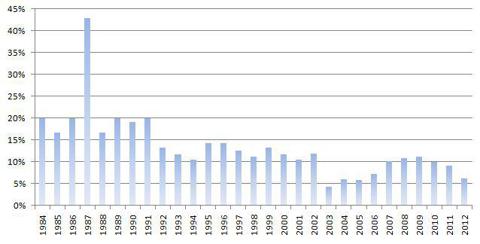 In terms of fundamentals, ABT has a market cap of $105 billion. It is generally fairly valued on present terms, with a trailing price-earnings ratio of 22 and a future p/e ratio of 12 based on moderate profit growth of 3%. The company does carry a hefty long-term debt load of $12 billion, offset to some degree by an impressive $7 billion in cash on the balance sheet. That debt load is likely to keep future dividend increases at the lower end of the recent range, at between 5 and 10 percent growth. For long-term investors, this projected rate of increase is more than sufficient for sizable long-term income generation. ABT offers compelling value for income investors with substantial opportunities for equity appreciation as well.
Sysco, which has increased its annual dividend each year for the past 43 years dating back to 1969, is the primary food service supplier to businesses and institutions for a whole host of inputs to food service operations. The company has grown rapidly since its inception in 1969, and has a market capitalization of $18 billion. SYY has slowed its dividend growth rate since 2009, likely due in part to a desire to improve its balance sheet by increasing its cash position against a backdrop of significant debt, as described below. For each of the past four years, SYY has increased the dividend by $.04, representing increases of 4%. The low dividend increases of late are offset to some extent by the relatively high yield that the current dividend represents. At the current price of $30.40, the dividend yield is 3.7%.
Fundamentally, Sysco appears slightly overvalued when considering both the company's income statement and balance sheet. From a revenue and profit perspective, SYY is attractive, sporting a price-earnings ratio of 16 and a price-sales ratio of just 0.42. However, SYY is highly leveraged, with a massive $3 billion of debt (against a market capitalization of just $18 billion), and under $1 billion in cash. That debt requires debt service of $29 million quarterly, which crimps net income by 10 percent. With analysts expecting profit growth of less than 7% annually, SYY is likely to continue modest dividend increases of around 4% in the future. Considering the slightly rich metrics of the company currently, investors would be wise to wait for and take advantage of pullbacks in the price of shares to institute a new position.
Disclosure: I have no positions in any stocks mentioned, and no plans to initiate any positions within the next 72 hours. I wrote this article myself, and it expresses my own opinions. I am not receiving compensation for it (other than from Seeking Alpha). I have no business relationship with any company whose stock is mentioned in this article.