The price charts for gold (NYSEARCA:GLD) are approaching a "golden cross," in which the 50-day moving average surpasses its 200-day moving average. That suggests the start of a bull market, but is it a buy?
Joe Terranova of Virtus Investment Partners said "yes" on CNBC's "Fast Money" Wednesday. "I think everyone should own gold, everyone should own silver (NYSEARCA:SLV). To me, it is the true buy-and-hold asset right now," he said.
But as far as precious metals go, Terranova didn't stop there. "If there is something that I would trade, it would be platinum," he said. "Platinum is a metal that has seen significant short-selling pressure throughout the year. That has been reversed because of the fundamentals we're seeing in South Africa."
Terranova said the platinum ETF (NYSEARCA:PPLT) was the way to play it. (Quotes courtesy of Bruno J. Navarro, CNBC.com.)
No options are available on PPLT currently. For platinum, investors and traders may utilize other ETFs -- such as UBS Long Platinum ETN (NYSEARCA:PTM) and First Trust ISE Global Platinum Index (NYSEARCA:PLTM) -- with a more liquid choice being iShares MSCI South Africa Index (NYSEARCA:EZA), which holds up to a 25% weighting in platinum miners.
In regard to the gold Golden Cross discussed above, take a look at the daily and weekly charts of GLD seen below. You can see on the daily chart that the crossover of the 50-day and 200-day simple moving averages is imminent. Also note how Percent R is trending higher in a manner that it hasn't throughout the whole time frame covered on this chart -- pullbacks in Percent R should be contained around mid-levels and may be good, low-risk long-side entry points.
On the weekly chart, using the 10- and 40-unit simple moving averages (roughly equivalent to 50- and 200-day), a bullish crossover is occurring this week. There hasn't been a bullish crossover on this time frame since early 2009, which was followed by a 2.5-year strong rally in GLD. Also note that GLD weekly Percent R has peaked into bullish territory for the first time this year.
GLD Daily Chart
Click to enlarge images.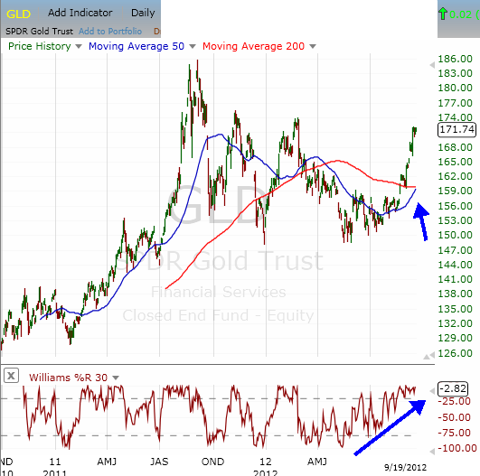 GLD Weekly Chart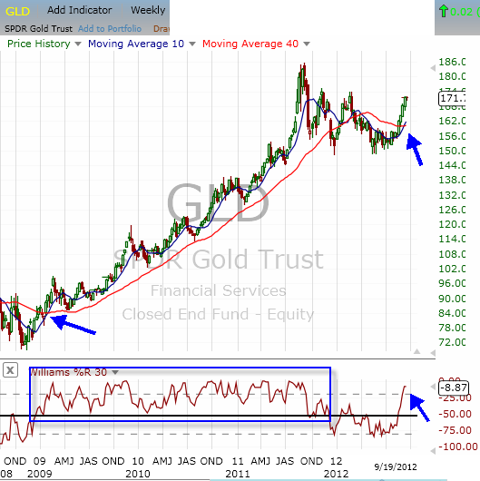 Disclosure: I have no positions in any stocks mentioned, and no plans to initiate any positions within the next 72 hours. I wrote this article myself, and it expresses my own opinions. I am not receiving compensation for it. I have no business relationship with any company whose stock is mentioned in this article.